A great piece of literature is the best companion you can ever have. Keeping up with the same, I am listing out best book series of all time for the people who can't make it on a journey without a good book in their hands.
25 Best Book Series of All Time
Books never cease to amaze us and for someone who loves to imagine, get your wings from these books. This is the time to let your imagination fly high with these best book series mentioned below.
1). Harry Potter by J. K. Rowling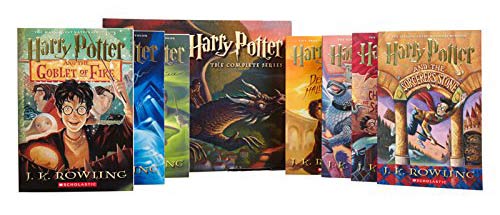 I am kickstarting this list of best book series of all time by the most famous series Harry Potter written by author J. K. Rowling.
There are total 7 books in this series namely, The Philosopher's Stone, The Chamber of Secrets, The Prisoners of Azkaban, The Goblet of Fire, The Order of the Phoenix, The Half-Blood Prince and The Deathly Hallows (1997-2007).
This is a fantasy and adventure based novel where the protagonist Harry and his friends Ron and Hermione fights the evil and defeats Lord Voldemort in the end. This is an exciting series of novels and there is a film series based on this too.
2). A Song of Ice and Fire by George R. R. Martin
Another one is also a popular best book series of all time which has a show too with name Game of Thrones. It has 5 books in the series, namely Game of Thrones, A Storm of Swords, A Feast for Crows, A Dance with Dragons, Clash of Kings (1996-2011) and two are about to release later.
Just like Harry Potter, this is also an epic fantasy novel series which has elements of magical creatures, kings, wars and a lust for power.
The plot is set in the fictional lands of Westeros and Essos and several dynasties are fighting with each other to take control of Westeros.
Most Visit: TV shows Game of Thrones: The Complete Seventh Season
3). The Chronicles of Narnia by C. S. Lewis
This is another fantasy based novels which is also counted as one of the best-selling book series. This is mainly considered best for the kid's literature and this book series has sold more than 100 million copies in 47 different languages.
It has 7 books in the series which are The Lion, The Last Battle, the Witch and the Wardrobe, The Silver Chair, Prince Caspian, The Horse and His Boy, The Magician's Nephew, The Voyage of the Dawn Treader (1950-1956).
storyline but adults too became its fan and eventually a film series was also made on it.
4). The Hunger Games by Suzanne Collins
The Hunger Games is a book series which is the story of young characters Katniss Everdeen and Peeta Mellark. This is a trilogy which is comprised of books namely The Hunger Games, Catching Fire and Mockingjay (2008-2010).
You must have even seen the movies based on this novel series. The plot of these novels are set in fictional Hunger Game Universe.
This first two books became New York Best Sellers and the last one became US Best Seller. This book series made a huge success and hence enlisted in best book series of all time. It even broke the selling record of Harry Potter on Amazon.
5). Twilight by Stephenie Meyer
Twilight is a super hit novel series which is based on the concept of vampire themed fantasy romance and various other supernatural things. This book series has 4 novels in it which are Twilight, New Moon, Eclipse, Breaking Dawn (2005-2008).
The reason of listing it out amongst the best book series of all time is because it has not only sold 120 million copies in 38 languages but also set a record for biggest selling novels in 2008.
Twilight is portrayed from the point of view of a girl named Isabella "Bella" Swan who falls in love with a 104 years old vampire Edward Cullen.
6). Lord of the Rings by J. R. R. Tolkien
If you have not read Lord of the Ring yet then trust me you are missing an epic novel series based on the high fantasy theme and amazing portrayal of a world that you wish could be true. This book series consists of three parts namely, The Fellowship of the Ring, The Two Towers and finally The Return of the King.
This novel series remained to be the best-selling books for a really long time and sold more than 150 million copies. This top book series shows the adventure in which Frodo Baggins is on a journey to destroy a ring which can defeat the antagonist Sauron.
7). Kingkiller Chronicles by Patrick Rothfuss
It seems like fantasy books are the ones which remain on the top of the best book series of all time. The next in the line is Kingkiller Chronicles which is the autobiography of Kvothe who is an adventurer. There are two books in this series namely, The Name of the Wind and The Wise Man's Fear (2007-2011).
The plot travels between the past and present life of Kvothe which is narrated by himself. This is a completely fictional compilation of the stories narrated by Kvothe which he hears from different characters. The book series is mentioned as one of the most popular one.
8). Percy Jackson and the Olympians by Rick Riordan
Percy Jackson is a pentalogy which is based on the theme of adventure and mythological fiction. The five books in this series are The Lighting Thief, The Sea of Monsters, The Titan's Curse, The Battle of Labyrinth and The Last Olympian (2005-2009).
Percy Jackson is the most loved book series by children and counted as one of the best book series of all time which ended up selling more than 45 million copies in 35 countries.
It showcases in the form of a movie and the book is still loved by the people around the world. You can buy it easily from the given Amazon link.
9). Jack Reacher by Lee Child
Jack Reacher is a book series which is quite different from the rest of the famous book series enlisted here. This is about the missions of a former major in US Army Military Police Corps who roams around in the US and investigate suspicious events.
Actually, this book series is the largest amongst all and contains 23 books in it which were published between 1997 and 2017. In fact, there are movies made on this character too.
This book series sold over 60 million copies around the world and turned out to be one of the most recognized and popular book series ever made.
10). The Broken Empire Trilogy by Mark Lawrence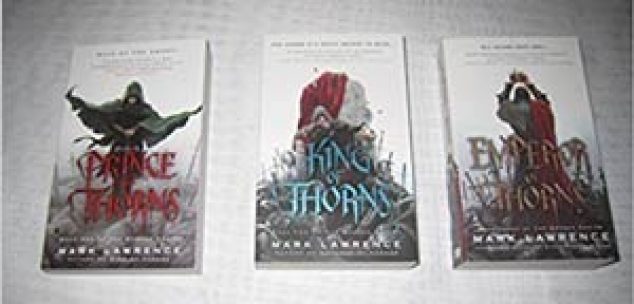 We are back on the fantasy-themed best book series of all time with The Broken Empire. It has three books namely, Prince of Thorns, King of Thorns and Emperor of Thorns. These are the perfect set of fantasy and adventure based novels which are so much loved by the audience.
The main protagonist of this book series is Jorg Ancrath who goes through a lot of mental and emotional ups and downs throughout the series.
This series turn out to be a huge hit and sold millions of copies of it. For someone who is in love with the adventure and fantasy based novels, The Broken Empire is a treat for them.
11). Divergent by Veronica Roth
Divergent is another trilogy in this list of best book series of all time. You are going to find it a bit different than other ones includes theme. Rather than fantasy, it focuses on science fiction of just another level.
The three books in this series are Divergent, Insurgent and Allegiant (2011-2013). The plot of these books are based on post-apocalyptic dystopian Chicago.
This series also have a book named Four which contains short stories from these three books. The books are quite indulging and it will take no time for you to get fully submerged in them.
12). The Mortal Instrument by Cassandra Clare
The Mortal Instrument is a book series comprising six exceptionally amazing fantasy based novels. In fact, this series is the third one from The Shadowhunter Chronicles series. The six books in this series are City of Bones, City of Ashes, City of Glass, City of Fallen Angels, City of Lost Souls and City of Heavenly Fire (2007-2014).
This book series remained in the New York Time Best Seller's list for 102 weeks and made it to the category of good book series of all time. I am sure you are going to get lost in the paranormal romance which has been mentioned in this book.
13). Maze Runner by James Dashner
Maze Runner is a type of dystopian science fiction best book series of all time. It has five books in this series which are The Maze Runner, The Kill Order, The Fever Code, The Scorch Trials, The Death Cure (2009-2016). The last two are the prequel novels of this series.
It is set in such a time period where the world has been devastated by a series of brutal solar flares and mass ejections. This novel came out strong and eventually adapted in from of film series too. It may seem like a slow start with book 1 but as you proceed, this might get too much to take in for you.
14). Millennium by Stieg Larsson
Millennium is an award-winning book series which are based on the theme of crime and drama. It has five books in this series which are The Girl Who Played with Fire,  The Girl in the Spider's Web, The Girl Who Kicked the Hornests' Nest, The Girl Who Takes an Eye for an Eye (2005-2017) and The Girl with the Dragon Tattoo.
Millennium is the best book series of all time and sold more than 100 million copies till date. It is based on a woman Lisbeth Salander and an investigative journalist Mikael Blomkvist. Originally in Swedish, the book later published in English too.
15). The Last Survivors by Susan Beth Pfeffer
The Last Survivor is a series of young adult science fiction novels which is also one of the most famous book of all time. It has total four books in this series which are Life as We Knew It,  This World We Live In, The Shade of the Moon and The Dead and the Gone.
The Last Survivors is counted as one of the most famous books of all time because of its epic story line and millions of copies being sold. It is set in such a world where an asteroid hits the moon and as a result, it comes closer to the Earth.
16). A Series of Unfortunate Events by Lemony Snicket
A Series of Unfortunate Events is a compilation of thirteen books in a row which are basically children's novels. This is written by Daniel Handler with the pen name of Lemony Snicket.
This book portrays the story of four children Violet, Klaus, Sunny and Baudelaire whose parents got died in a fire incident and now they are under the custody of their relative. This book series is counted as one of the best book series of all time whose publishing took place between 1999 and 2006.
This series sold more than 65 million copies in 41 different languages. There is even a television series of the same name on Netflix too.
17). Outlander Series by Diana Gabaldon
Outlander is not only a series of novels but also short stories, comics too. If we go by the book series then it has eight novels in it which were published between 1991 and 2014. Apart from it, there is a book, a short story and a comic too.
This is also one of the most renowned best book series of all time which also has a TV series made on it too.
The theme of Outlander series is historical fiction, roemance, adventure, and mystery. The series got critical acclaim and the entire work got tremendously applauded worldwide which even include a musical too.
18). Fablehaven by Brandon Mull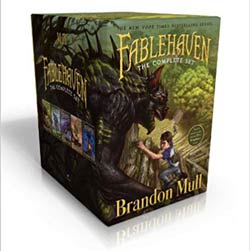 You must have already known to this book series called Fablehaven. This is a fantasy book series which is specially made for the children's literature. This book series has five book in total which are Fablehaven,  Grip of the Shadow Plague, Secrets of the Dragon sanctuary, Rise of the Evening Star, and Keys to the Demon Prison (2006-2010).
The book did wonders and made it into the New York Times Best Seller's list. There is also a movie coming on this book series too. Fablehaven is counted as the most admired and most read kids' fantasy books of all time.
19). Inheritance Cycle by Christopher Paolini
Inheritence Cycle is a compilation of four books which comes with the theme of young adult high fantasy books. The books in this series are Eldest, Brisingr, Eragon and Inheritance (2003-2011). The story of these books are set in the fictional world of Alagaesia.
It showcase the adventure of a teen boy named Eragon and his dragon Saphira who are in a fight with evil king Galbatorix.
This is one of those few best book series of all time which did not get positive reviews from critics but still got huge popularity as well as commercial success as it sold more than 35 million copies worldwide.
20). The Wheel of Time by Robert Jordan and Brandon Sanderson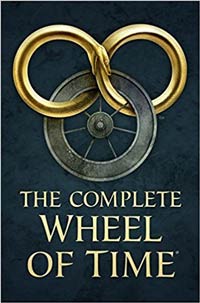 This book series is the work of two authors and its theme is high fantasy. It started by James Oliver Rigney Jr. under the pen name of Robert Jordan but as he died it got completed by Brandon Sanderson. It has total fourteen volumes in it which were published between 1990 and 2013.
You can see the elements of European as well as Asian mythology in it where even the peculiar details of an imaginary world is mentioned.
The Wheel of Time got great success and sold over 80 million copies of it which is the highest after The Lord of the Rings and making it the best book series of all time.
21). His Dark Materials by Philip Pullman
His Dark Materials is a trilogy which is consisted of the epic fantasy novels. The novels in this series are the Golden Compass, The Subtle Knife and The Amber Spyglass (1995-2000).
This book series is based on the coming of age of two kids namely Lyra Belacqua and Will Parry whose adventure around a series of parallel universe is mentioned here. This book series not only became a huge commercial success but also won so many awards too.
His Dark Materials is also counted as the important part of top ten Children's novels of all time. In fact, it even got adapted in form of movies too.
22). The Dark Tower by Stephen King
Who doesn't know Stephen King, and this book series called The Dark Tower is his work of eight books which were published between 1998 and 2012. The book series starts from The Little Sisters of Eluria and ends at The Wind Through the Keyhole.
The books are based on the theme of dark fantasy and science fiction which even has elements like horror and western work which distinguishes it from the rest of the best book series of all time.
This book series impressed everyone and was even termed as Magnum Opus of epic visionary.
23). The Little House by Laura Ingalls Wilder
The actual name of this book series is Little House on the Prairie which has eight books in it which are written in an autobiographical manner. This is a children's novels compilation which has other books too in form of spin-offs.
This is the best book series of all time for the kids and still loved by a lot of readers throughout the world.
This is a very old book series which kick-started in 1935 and contains a lot of characters and insights of the author's family members. This is a must read book series for the kids.
24). The Dark Elf Trilogy by R. A. Salvatore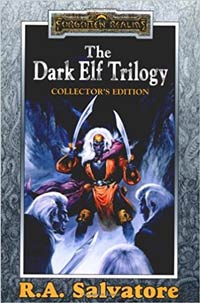 As the name of this book series makes it clear, it belong to the world of fantasy and magical creatures. This series is a prequel to Icewind Dale trilogy and it has books named, Homeland, Exile and Sojourn in its series.
It showcase the story of Drizzt and his birth and then his upbringing amongst the dark elves. The interesting story of this character is then followed in the rest of the books of this series.
The last one of The Dark Elf Trilogy namely Sojourn was even enlisted amongst the New York Best Seller's list too and also emerged as great commercial success too.
25). Mistborn Trilogy by Brandon Sanderson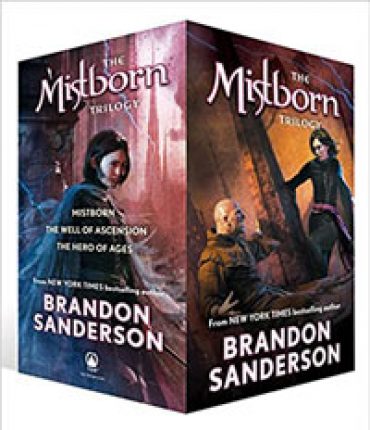 And the last one in this list of best book series of all time is Mistborn which is comprised of three books. The books under this series are The Final Empire, The Well of Ascension and The Hero of Ages (2006-present).
These are the epic fantasy novels which are divided into several series. The plot of these novels are based in the imaginary world called Scadrial from where the story begins.
This world is ruled by Lord Ruler who has immense powers and magical capabilities. The success of this book series can be imagined by the fact that it has movie, RPG game, Board Game etc. on it.
Handpicked best books blog post for you:
Conclusion
There is no way movies can ever replace what magic can be created by original books. For the people who do not want to put a limit to their imaginations and visuals, you must keep on reading great books. This section is particularly dedicated to such people who are always in a habit of reading best book series of all time.