As you know, each and everything is going digital these days and at this time having a knowledge of best typing software is must. I mean, come on, who we are kidding to? You cannot do anything if you do not have an appropriate above average or great typing speed.
10 Best Typing Software for Learn Typing like a Pro
The concern is massive and I am here to help you out for the same. Here is a list of some of the best typing learning software for anyone of any age who wants to learn typing. From beginner to the journey of becoming a pro at typing, you can travel it in just a few days through these amazing typing software.
1. Typing Master 10
Website: http://www.typingmaster.com/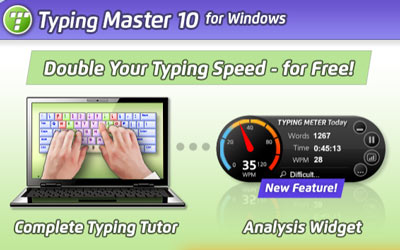 The list of best typing software starts from the Typing Master 10 on the first position. This is a software intended for learning to develop and improve typing skills for various commercial and personal purposes. You can literally double up your typing speed through the tips and tricks provided by this software.
Well, as they claim that it's free but this is only half of the truth. Talking about the free learning lessons then under the free plan you get only two of them.
The other plans here Standard for $9.90, Premium for $14.90 and paid Business plan too with varying features and number of learning lessons. Well, talking about the overall features then you get various typing courses, typing meter, typing tests, courses in different languages, ad-blocking and step by step professional keyboarding.
This is basically a 10 hours customized exercise to learn about how you can improve your typing speed and accuracy too. Other things you get under this software are typing games, customized reviews, step by step approach, visual training, skill tests and various other typing oriented interesting features.
Supported with:

2. Typesy
Website: https://www.typesy.com/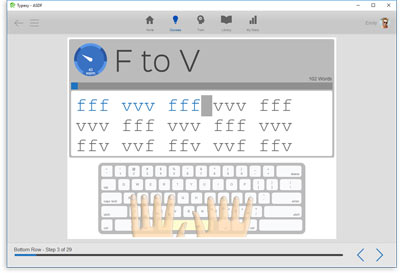 Typesy is considered one of the most popular and best typing software which claims to make people learn typing in the easiest way possible. As they claim, it just takes 7 minutes a day for the users to learn typing through Typesy.
Under the basic price, for less than $10 you can start using Typesy and they even claim that if users do not get guaranteed results then an amount of $50 will be refunded to them.
Well, now talking about the features of this amazing software then you get real touch typing expert guidance, social and cloud connectivity, exercise and video approach, fun and easy to learn, speed and accuracy oriented at the same time, various drills, lessons and much more.
Typesy is considered the unique and only software which claims to make users learn typing just by donating 7 minutes a day. Through Typesy, you can even learn in groups too. You just need to create a profile after downloading it to get started. It is simple and effective and of course promises wonderful results too.
Supported with:



3. KeyBlaze
Website: www.nchsoftware.com/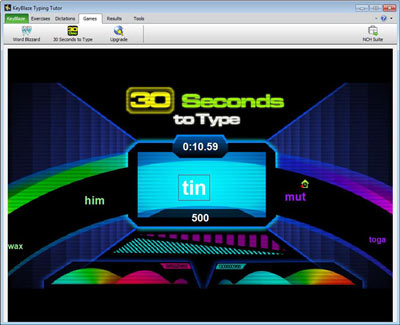 The next one for the list of best typing software is KeyBlaze. This is a typing tool by NCH Software and it is amongst their hundreds of other software which works as the easiest typing software ever. It helps you to learn basic things like speed typing, touch typing and 10 key.
KeyBlaze is available for multiple platforms and it really makes the process of learning typing a really fun procedure for the people.
This software works in the form of leveling and you are supposed to move ahead from easy to difficult stage. For a start, you will be learning home keys and neighboring keys and then you will proceed to capitalization, punctuations, which later on moves to poetry, lessons and advanced typing tests.
Well, unfortunately, KeyBlaze is not the kind of typing software for PC which is free to use. So, for KeyBlaze Plus home edition you need to pay $25 while for its commercial edition you need to pay $30 with relevant features. Apparently, it is a software worth investing in and I am sure you would surely witness the improvement pretty soon.
Supported with:


4. Typing.com
Website: https://www.typing.com/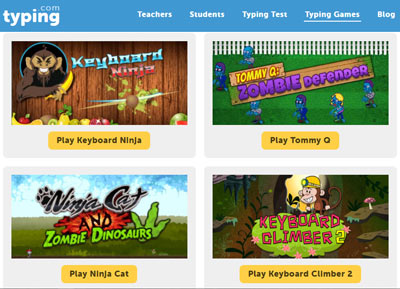 You cannot call this to be a software as it works in the form of a site. Still I found this important to list out this amongst the best typing software because of the simplicity factor. I found this site to be one of the unique ideas behind learning typing accuracies and speed enhancing skills.
All you have to do is go to this site and create a student account as you are here to learn. This is absolutely free and the best option to use on the go.
No matter where you are, you can even use it from your smartphone too. The features of this program are fun typing games, typing lessons, tests, powerful reporting and analytical study of performance, unlimited use, engaging exercise, newsletter subscription and many more.
I can assure you that you are not going to find such a unique and simple option to learn typing from. In fact, the site comes under the category of most popular ones and the course is fun and reliable too. The best part is that its interactive and free to use system attracts people towards it even more.
Supported with: Online Tool
5. Rapid Typing
Website: http://www.rapidtyping.com/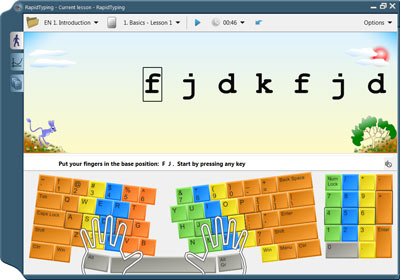 Rapid Typing is not only popular for providing one of the best typing software but it is actually a complete package. It provides typing software, typing game, typing champions, online test and many more and I am going to talk about the free typing software here.
The great thing about it is that you can have its license for free of cost which I guess is quite rare when you are getting so much in return.
The typing tutor software not only focuses on speed but accuracy too. The program is arranged in form of various lessons so that you can proceed with step by step guide to work on your typing skills. In fact, this is one of the best typing software for kids too.
It provides various typing games and fun ways for the kids while for adults, it has specific configured classes. This software even tracks your every activity and performance and provides you a statistical analysis of it so that you can get to know what the areas you need to work on are.
Rapid Typing is very easy with interface too and you can even use it as a group which makes even the boring things fun to learn.
Supported with:

6. UltraKey 6
Website: https://www.bytesoflearning.com/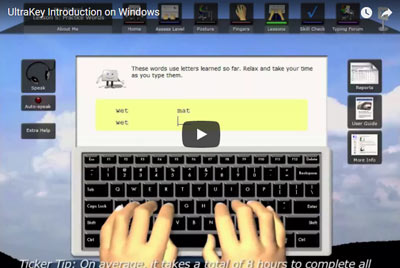 Powered by Bytes of Learning, Ultra Key 6 is another best typing software in this list. You can consider this software to be a typing coach what makes it worth having is that it is clear with the instructions and follows a set format.
The learning process of typing from Ultra Key 6 is quite simple and straightforward. It uses voice, videos and graphical representation which is loved by kids as well as adults too.
Ultra Key 6 prescribes an eight hours program which is divided into 20 minutes a day. This means in less than a month you will learn to type with high speed and higher accuracy too. This program is especially for home edition use and not suitable for schools or companies.
You can buy it for $35 for up to 3 installations. Ultra Key even works as typing game too and you can hear it many kids claiming it to be their favorite one too. This is a typing tutor program which is way higher and advanced than other ones in this list.
Supported with:


7. GS Typing Tutor
Website: http://www.typingstar.com/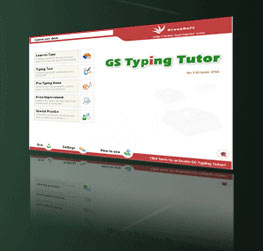 Moving further in this list of best typing software brings us across another tool which is GS Typing Tutor. This is an exclusive approach towards touch typing and intellectual typing lessons. You can download it in just few seconds and the installation process is quite simple too.
This software works different for beginners and experienced users and I am sure this fully featured typing tool will prove to be a great teaching assistance.
Well, GS Typing Tutor is not a free to use tool and you would have to purchase it. For basic GS typing tutor you need to pay $29.95, it is $19.95 for GS typing tutor lite and there are quite high charges for GS typing tutor network.
Talking about the features of this best typing tutor software then there are plenty of them. There are three courses for different levels, 5 typing-based games, 28+ keyboard layouts, and complete statistics of performance, customization and many more.
Supported with:

8. Max Type Pro
Website: http://www.askmesoft.com/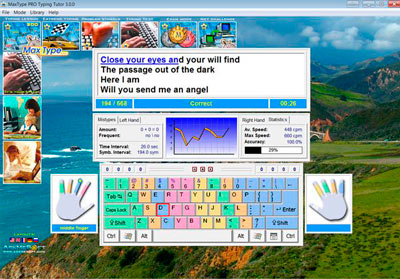 Max Type Pro is a wonderful typing software by Askmesoft. It is a typing tutor which helps you to improve your typing skills no matter whether you are a beginner at it or on a higher level. After using this software you will realize that there are a lot of things which are yet to be learned by you.
The best thing which I found about this software is that it is completely free to use. However, it is for personal use only and not for professional one.
The features you get along with this software are computer exercises, universal software irrespective of age, multiple language support, easy interface, 6 modes of learning, statistical data, speed measuring, multi-user interface and many more.
There are various modes in this software like extreme typing, exam mode etc. which makes it one of the best typing software available right now.
Supported with:

9. Master Key
Website: http://macinmind.com/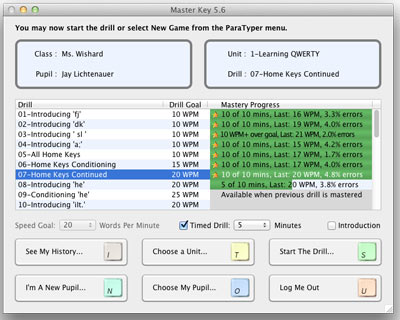 Master Key is quite a straightforward kind of tool in this list of best typing software. It not only focuses on your typing speed but makes you learn great skills of typing and that too on various types of keyboards.
It utilizes the concept of using various drills and text files to keep the user engaged in learning. It even provides different games for the learning process too.
Master Key is not free to use and to use it you would have to pay $15 as a one-time fee. The basic features that you get under this software are, standard OS interface, drill editor, ParaTyper game, pausible drills, correction, anonymous typing, comprehensive, audio feedback and many more.
This is a complete package for learning typing techniques and I think it is quite cheaper than other software available here. You can also use it for schools too along with personal use.
Supported with:

10. Type Fu
Website: https://type-fu.com/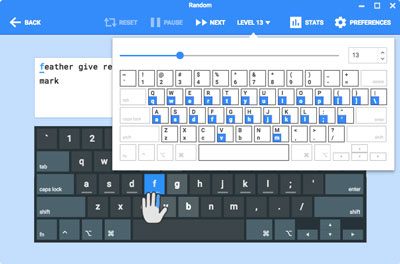 Having Type-Fu is almost like using best free typing software. However, it is not completely free to use but I guess $4.99 as a one-time fee is not something huge too. Well, yes, you get Type-Fu for such a mere price and the features you get in return are just amazing.
This is like having a typing app which will not only teach you how to get fast at typing but also how to get accurate at it too.
Some of the features of Type Fu that you should know are universal approach for every age group, engaging exercise, multiple level of learning, adaptive according to your level of performance, audio and visual hints, analytical study of performance, various keyboard layouts and many more.
This is the reason I included Type Fu in the category of best typing software.
Supported with:


11. Typing Trainer
Website: https://download.cnet.com/Typing-Trainer/3000-2051_4-10046660.html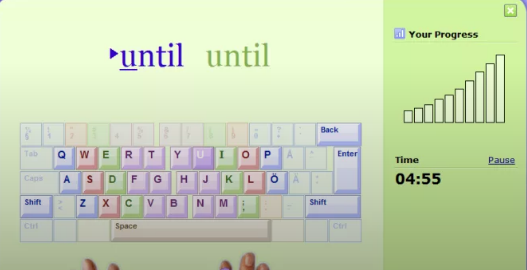 Typing Trainer is an advanced typing tool, packaged in a playful environment and interface. It primarily offers a game-based typing simulation, a total of 4 games like WordTris, Cloud and other Bubble games are available. These make the user press a key or type a word based on what's displayed on the screen.
It however has advanced analytical and reporting capabilities. A user can measure his/her performance, detect flaws with specific keys and fix them. It also features a number of lessons which need can be completed and mastered. The lessons however in my personal opinion should've been shorter. Also it lacks novelty and the same exercises are repeated over and over again.
It extends its capabilities beyond just the "tool", it also is capable of detecting your use of the keyboard on other applications and help you improve areas which need improvement (no it's not a Spyware). Can be customized to be auto-launched and/or record/exclude other key inputs.
The interface is a bit too colourful and not very appealing especially if you're anyone above 15. Additionally, It's a freeware, although a paid package which costs USD $29.00 is available. The tool also comes pre-included with a 5-hour typing course!
Most visited articles that you may like:
Conclusion
I hope you know the importance of typing in today's world. From your projects to high-end business reports and presentations, it is all going to possible if you are good at typing. I am sure you can learn it really fast and quick through these best typing software mentioned above.
If you are using some other software other than ones I have mentioned then too its fine but before that you must compare the features with these ones. I would recommend you to use the free ones and if you want it for professional use then you can upgrade any time you want.