Anime sites like KissAnime should always be there as alternatives because you never know what may happen. When KissAnime suddenly broke down, majority of Anime-fans started searching frantically for Sites like KissAnime. Although the site did get recovered through another platform, Fans still want KissAnime alternatives.
Disclaimer:Proceed only if you've read and agree 100% to our Disclaimer and Terms. 
10 Anime Sites like KissAnime
Here are some of the best websites like KissAnime that will not let your entertainment be stopped even for a second. All these sites like KissAnime for TV shows and for movies are really amazing and you would totally forget KissAnime after browsing them.
1. AnimeStreams
Website: http://www1.animestreams.net/
If you're searching for a KissAnime alternative which also doesn't bombard you with ads and keeps the watching experience somewhat pleasurable; AnimeStreams is the platform to go for. It features both Movies as well as T.V Series.
For starters it doesn't have any hidden, on-click ads which generally popup in a new window whenever a user clicks anywhere on the site, the only two types of ads are banners ads which can be totally ignored, and one, single ad in the "play" button of the videos which too is acceptable.
The top-bar isn't super loaded with options, although it does offer "Ongoing", "Anime Series" and "Anime Movies" to choose from. The Ongoing section shows Series which are still being telecast and haven't reached their finale yet.
The movie-thumbnails are pretty informative, they indicate if it's a Movie or a series and if it has Subtitles or is dubbed in another language.
Hovering on the thumbnails reveals their Synopsis, year, country as well as Genre. Users can also have the option to "Favorite" content. The site doesn't ask for any registrations or payments.
One click is all that's required to get from a Movie thumbnail, to its streaming-page. Does offer multiple streaming servers. Switching between episodes too is done using an extremely basic list provided under each series.
Website: https://www.primevideo.com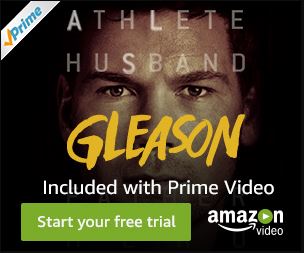 This one's at the bottom of this list for one simple reason- It's not free. Apart from that, it in every way is a much better source to stream anime online as compared to Kissanime.
For starters, it's extremely professional (as can be expected with one of the world's biggest companies- Amazon). Then, it's legal. So you can watch anime without any legal, or moral consequences.
Additionally, you can either stream the content online, or download the mobile app for on-the-go streaming. Furthermore, there are absolutely no annoying, hidden ads.
The site also provides for a very informative synopsis and information-page. Even while watching the videos, "trivia" about scenes and incidents tend to pop up. The names/photos of voice-over artists, director, and such information is accessible as well.
The content is available in the highest possible video quality, with the option of letting you downgrade it in case you're on a limited data plan. It even lets you download entire episodes and series for later, offline watching!
Most anime also has subtitles in multiple languages (English, Spanish, Deutsch, Italiano, Francais etc). built in! The interface needs no praise-songs, it's more professional, easy to use and well-carved than almost all the above sites combined!
It costs INR 199.00/month, or you can go for the yearly subscription of INR 999.00/year.
3. 9Anime
Website: https://www.9anime.nl
Another pick in the category of anime sites like KissAnime is 9Anime. The idea is to provide best of the anime shows, movies, and videos to users via streaming and without any download needed.
What makes 9Anime different from other anime sites like KissAnime is that it is too much of user-friendly. It got so many filters which make searching for the desired anime show very easy. You get to choose from genres, seasons, year, quality, type, status, sort, and language.
Yes, it has so many filters that sometimes you think whether you are digging for anime show or some top secret project?
Just like other anime sites like KissAnime, you are going to love their very large database of anime on their site. The registration is optional but I would recommend you to go for that for more advantages. You can even request for the show you want to see and they will provide you ASAP.
The only backdrop that you see here is lots of ads. Sometimes it becomes so annoying that you feel like opting out but the high-quality videos compensate for them.
The registration on this site is optional but still, it has 9 million registered users to avail different facilities. You can pick whatever you like from a vast collection of about 22,000 shows uploaded here.
4. Anime Ultima
Website: https://www10.animeultima.eu
As the name makes it clear, it obviously is a platform which lets users stream anime. The site has an unique layout which differs from all other sites on this list.
Its top-bar is moved to the top-right side of the screen, and most of the top-bar is actually a search-bar which can be used to search for content.
The top-bar buttons next to the search-bar are Anime, Community, Register and Login. Hovering over "Anime" displays a slide-down list which consists of links such as "Explore", "Ongoing", "Schedule" or "Request Anime".
The "Explore Anime" button lets users search for Anime based on a number of filters such as Genres, Year, Type and Sort-by. So it's more like a "filtered-search option". Other options such as Ongoing or Schedule can be clicked upon to land on either the currently Ongoing Anime, or the Anime schedule for previous or future episodes.
The site is quite liberal with ads and doesn't bombard users with them. It's is more than just a "Streaming platform" and is more like a community. Users follow, like, rate and actually engage with the content.
Clicking on an anime thumbnail takes users to its description page, which shows the number of likes, followers and views for the content along with its synopsis. Users need to click on the "Title" in order to finally reach the streaming page.
No registration is mandatory for streaming however for some other community-related actions it's required. The database seems to be updated almost everyday (based on recent "upload time" displayed on the site).
5. Chia Anime
Website: http://www.chia-anime.tv/
Chia-Anime is among those anime sites like KissAnime which are not only focused upon anime series but also cover  other kinds of media as well. You can browse Manga, Drama and dubbed shows here. To make this website and content user-friendly they have left no stone unturned.
All the Anime shows are uploaded episode wise so that user faces no problems and confusion in browsing them.
Although you will not find that much of content on this site but still as a lukewarm this is not bad either. You may find it kind of difficult to browse the anime on the basis of the genre but still, they have covered each and every anime-media possible.
You can also browse some movies here because they do not want to disappoint their viewers in any way. After all the things, if you are still not able to find the one anime that you have been looking for then you can search it out through the search bar. You can also make a request for this show as well.
You may also like: Top 20 Most Weird Websites
6. Animefreak
Website: http://animefreak.tv/
Another one in this list of anime sites like KissAnime is Animefreak. You can easily find subbed and dubbed anime shows right here without any confusion or ambiguity. The home page of the site is enough to let you know that Animefreak is no less than any other anime site.
You have lots and lots of options to find out the best anime cartoon. There are bifurcations done on the basis of genres, alphabetically, popularity, time etc.
Still, if you have any doubts about this site then feel free to check out the FAQs and your doubt will be possible sorted.
When you will take a look at this site then you will come to know that the anime shows and movies uploaded are just endless. It means legit entertainment for as long as you want. Forget everything else and enjoy yourself fully on such anime sites like KissAnime.
If you are an anime buff then you would be surely updated about recent releases. There is a section named latest episodes which will help you to maintain your flow of anime browsing.
Other guys are checking: Best Funny Wifi Names for Your Routers
7. Crunchyroll
Website: http://www.crunchyroll.com/
Crunchyroll is an American publishing company which not only focuses upon anime but also provide other East Asian media like Drama, music and Manga and other contents too. This means you are going to see a complete package if you would browse such anime sites like KissAnime.
This site was founded in 2006 and the creators never thought that it is going to be such a success across the world. This amazing site has more than 20 million users which mean it is no less popular than KissAnime.
They care for their viewers and that is the reason they have features like video on demand. If you want to watch a particular video or movie; you can ask for it and they will provide it on the basis of majority. There is no procedure for mandatory registration and you can browse it without registration too.
The database on this site is well maintained and you get to pick from 800 anime shows, 50 Manga titles, and 200 Asian dramas. You will get to see some other stuff too which is not available on other sites.
8. Anilinkz
Website: https://aniwatcher.com/
Anilinkz is no less than a treasure in this list of anime sites like KissAnime. You may find the site a bit confusing but after browsing it for some time you will get to know about the different features. This is an anime site where there is no provision of mandatory registration but it depends upon your will.
You get several advantages for it and also you get updated with the series, which is going to be uploaded soon on this site.
The database of anime videos, shows and movies is so darn large that you would be wondering when it is going to get completed. No matter how old or latest is that anime video, you are surely going to find it here.
If you want to find out the anime according to the genre then go to the option of Anime list and you are going to discover a lot of genres out there. You can browse from categories like adventure, action, supernatural, fantasy etc. Among all the options of anime sites like KissAnime, you are going to love Anilinkz thoroughly.
9. GoGoAnime
Website: http://www4.gogoanime.io
GoGoAnime is another KissAnime alternative which feature a magazine-like layout with a top-bar which provides for options to choose from Movies, Popular and New seasons for the available series.
It also features a full fledged Anime-list which displays all the available content alphabetically, and from a first-glance I'd ballpark the total number of available videos anywhere in the 10,000+ range.
There are however couple ads, the center-screen banners, sidebar banners, and even slide-ins from both the sides of the screen. The Play button too has multiple ads before actually playing the video.
There is a search-bar which can be used to search for specific content. The video-thumbnails do not have the "hover" feature and lack the "information" feature in general and there's no information available for the videos being played.
The left-sidebar however provides a long list of "Ongoing" series, followed by a list of Genres which help users land on their movie/series of choice faster.
There is a registration and login option however it's not mandatory. It does however offer over 8 streaming servers for most content in case the primaries aren't working.
10. Master Anime
Website: https://www.masterani.me/
The first pick in the category of anime sites like KissAnime is Master Anime. This site is really well maintained and comes with very ease of access. The best part about Master Anime is that they always update their site. You can find videos uploaded just minutes ago out here.
That is the reason that people love them so very much. The thing that differentiates this site from the rest of others is that they reveal their schedule to the users. This means you can see which series or movie is going to be uploaded at what time.
You can adjust your own schedule according to that. You can watch various types of TV series, movies, ONA etc. on this site with great quality video streaming.
Such anime sites like KissAnime are a great alternative and they should serve your needs well. You can follow them on different social media too or subscribe them to stay updated for the next release on their site. Although do spend some more time going through the other sites like KissAnime which we've enlisted throughout this article.
11. KuroAni
Website: https://ww1.kuroani.me
A KissAnime alternative needs to let you stream Anime and Cartoons for free, without registration. Isn't that what KissAnime offers? Well fortunately that's exactly what KuroAni does too.
Although fair warning, the site is flooded with ads. Every click you make will most likely not only open new tabs, but even redirect your primary tab to other pages. Although if you can bear with the ads the site makes for an acceptable KissAnime alternative.
The site not only facilitates the streaming of Anime and Cartoons, but also Hentai. The top-bar has options such as Popular, Info, Donate, Search etc.
What's impressive is, the thumbnails display the name of the Anime, and also have a "Subbed/Dubbed" tag which lets us know if the content has subtitles or has been dubbed.
The search-filters are more extensive than I've seen with any similar site in quite some time. They let us filter content based on Letters (alphabet), type (Series/ Movie/ Special/ Ova etc), Status (Ongoing/ Completed), Season, and Genre.
Streaming-pages do display additional info such as the number of episodes, Genre, Alias as well as a Synopsis for the content. Most videos are in the HD quality. Videos are played instantly without any video-ads.
12. Anime Land
Website: https://www.animeland.us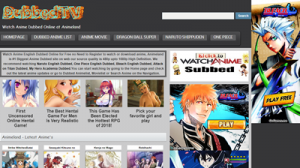 Anime Land is another Kissanime alternative which primarily focuses on "Dubbed content". Its tagline goes- "Watch Anime dubbed Online at AnimeLand" so that's there.
It also mentions multiple times on the site that no registration is required in order to watch anime online on Anime Land. The site isn't very interactive though, as in you won't get more information about links or content simply by hovering over them.
Rather, you'd have to manually click on the links and then get to the next pages for more information. The one element I found missing on the platform was a "Genre" filter. So you can't choose the exact genre of anime you wish to watch.
However, the top bar does offer some options such as "Dragon Ball Super", "Naruto Shippuden", "Anime Movie" and "Dubbed Anime List". The Dubbed Anime List would take you to an alphabetical list of anime content on the site.
There are hidden as well as banner ads. The best part about the site is, it features one-click downloads. So you can simply click on the "Download episode" button to instantly and directly download whatever it is you were watching.
Or, you can even download the entire series by clicking on the "Download All" button. No signup or page-hops needed for this either. And for the overly extroverts,  it also lets you leave comments and reactions on the videos if that's your thing.
13. Anime Park
Website: https://www.animepark.net/ 
The site boasts a collection of 4,000+ Anime which is totally believable considering how the homepage has 3537 PAGES of content and each page has 20 Anime episodes or movies!
The interface is no rocket-science either. Either choose from one of the many displayed Anime on the homepage, or choose one from the "Popular Anime" right-sidebar, or simply click on a Genre on the same sidebar.
A wide range of Genres are available, starting with Action, Adventure, going all the way upto Yaoi and Yuri. Most of these Genres have content in the three digits quantitatively (100+) and some even go upto 4 digits (1000+).
Server availability is amazing, nearly 6 streaming servers are available for every content on the site making sure you can stream it no matter what. Ads are more than acceptable, just one or two popups at best, but not overwhelming at all.
Additionally, you can not only watch anime online, but even download it directly in one-click from the same streaming page. The video-player offers quality-control and most content is either 480P or 720P. Downloadable files in both the quality-versions is available.
Even supports "Resuming" of the video which was being played earlier even after a session is completely closed. No registrations/payments required. It's a site like Kissanime not just with its name, or niche but also "qualitatively".
14. Anime Season
Website: http://www.animeseason.com/
Anime Season is no new name in the anime industry. It has got everything that an anime lover wants and hence it is a huge success in anime browsing world. Like every other anime sites like KissAnime, it has various great anime seasons uploaded on its site.
The reason that people love watching videos on this site is that they are very well organized. This is like you can even browse this site when you are sleepy and still you are going to get the perfect results.
However, Anime Season does have such content that people exceeding the age of 13 are allowed to browse this site only. The best part is no Japanese language which means you can run the content in English which avoids dubbing and subtitles.
These anime sites like KissAnime are made in such a way that you feel no issues while browsing them. However, Anime Season does not take responsibility of any of the video because they are streamed by the third party. Also, you are not allowed to post anything offensive otherwise you will be blocked.
15. Daisuki
(Discontinued)
Website: http://www.daisuki.net/us/en/
Daisuki is a Japanese site which was founded in 2013 and its main focus is on Anime only. This video streaming service by Daisuki serves users across the entire world and hence it got listed here in the category of anime sites like KissAnime.
Just like most of the sites listed here, it also serves the facility of video on demand which means if you want it then you will surely get it. Also, the registration on this site is optional. However, you get some upgrades when you get yourself registered on this site and it is absolutely free too.
You can find different anime series here like Sword Art Online, Mobile Suit Gundam SEED, Puella Magi Madoka Magica and various others too. The best part of this site is that you can browse it easily with the help of its iOS and Android apps.
Daisuki gave a tough competition to other anime sites even in the starting time period of its release and still going strong with its ultimate anime collection.
16. Watch Anime
(Discontinued) 
Website: http://www.watch-anime.net/
Feeling like surfing net to find some good anime sites like KissAnime? Well, you can end your search here on Watch-Anime. This is a site which is hands down should be your or anyone else's destination to watch the best anime shows and movies.
Not only Anime, but this site works upon reading Manga too which means twice the fun than other anime sites. Ever since KissAnime broke down people wanted a new site where they can browse as much as they want and Watch-Anime proved to be a great option for them.
Although KissAnime got recovered but the charm of Watch-Anime only grew more and more. And why it would not have happened because you are going to instantly get knocked up seeing its vast anime library.
The best part of this site is that you can even browse an anime show as old as 1950. Feeling old? Well, you should not be because Watch-anime would not let you. You can alphabetically search for whichever show you want and see it anytime you want. The anime world is limitless on this site so enjoy it as much as you can.
Conclusion
There is no denying the fact that KissAnime is one of the most popular sites among anime lovers. But still, it is good to keep some of the alternatives with you. All these sites like KissAnime for movies are enjoyable and easy to surf as well. These anime sites like KissAnime are a great option for if KissAnime gets broke down once again.