Came across a great work out or some entertaining video on some random site and thinking how to download video from website? Well, don't worry now because I have got your back on this. The idea of saving videos from websites are truly easy now. Despite the fact that they do not have any option to save videos from out there.
This usually happens when you are looking on some important tutorial videos on your favorite websites. This can be like browsing Quora or Pinterest for some "How to" videos. They usually do not have any options to save video from website.
I am sure this is not going to be the case now. Here are some of the most useful methods through which you are not going to feel puzzled on how to download video from website.
Top 3 Methods for How to Download Video from Website
Lt's go through their step by step guide given below and have a happy downloading experience!
Method 1: Save Videos by iSkysoft iMusic Software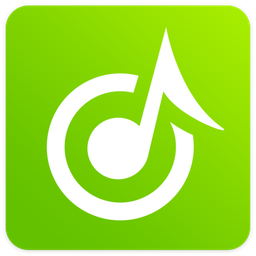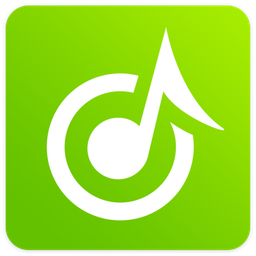 The first method that you can try out for how to download video from website is through a very popular software named iSkysoft iMusic. This is a type of music organizer and downloader software which runs on windows and macs. It has great connectivity with both Android and iOS devices.
So, once you have downloaded the video then you can even transfer it to your devices too. If you are someone who has never heard the name of this software and a beginner on it then you can go through the step by step guide below. This tutorial will help you to know to save video from website easily.
1). Get to the official website of iSkysoft iMusic from Here. Click on the option of "Try it for Free". This is going to start the downloading of this software. After this process, install the software on your system and register on it so that you can start using it.


Must Read: iSkysoft iMusic Software Review
2). Now, the software will show you the home screen as "Music Library". This is the place where all your downloads are stored. To begin with downloading choose the option given on the left side of music library namely "Get Music".
3). Now, it will take you to the screen named "Discover" where you will see a vast music library in front of you. To download audios, you can directly search in it and download them. But for the issue of how to download a video from website, click on the option given to the right side of discover namely "Download".
4). You will be shown a text bar on which it is written that "Copy & paste URL to start downloading". You are supposed to do exactly the same here.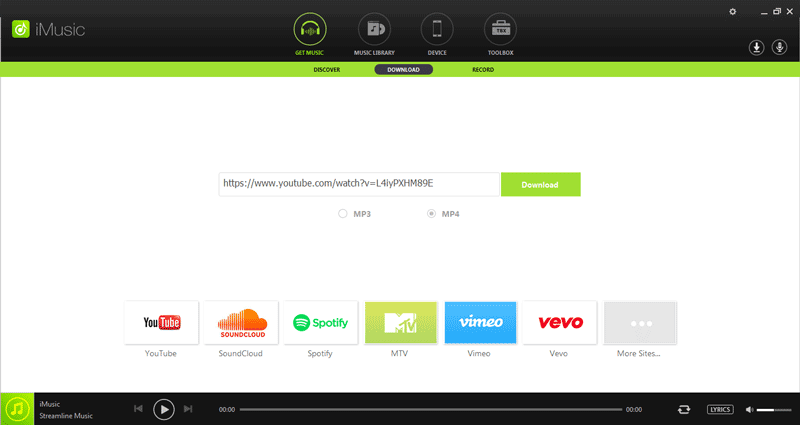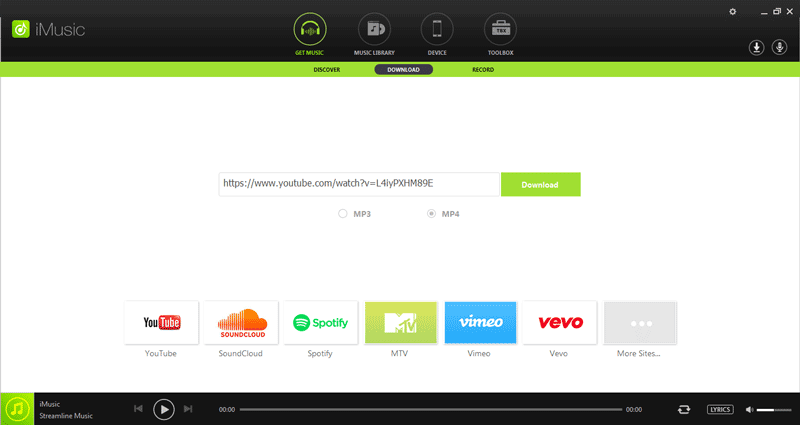 5). Go to the video which you want to download from some random website. Click right on it and choose the option of copy URL. Now paste this in the text bar and choose the format of mp4 given below it.
6). Press the Download option given beside the URL bar to initiate the downloading process. The video will be downloaded in no time with good quality just like it was on website.
7). Go to the stored videos on "Get Music" platform and tap on it to start playing it. You can also export it out to your system through "Export" option given on the right side of the "Get Music" screen of the software.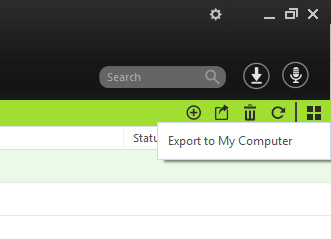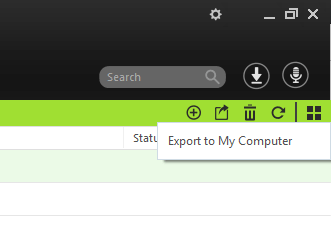 8). This was all about how to download video from a website, you can check out the special instruction section for more details about the software.
Special Instructions
Apart from the steps for how to download video from a website, I would like to draw your attention towards some special features of this software. This additional information is going to make the most out of the iSkysoft iMusic software.
Go to the section of Toolbox and explore various options from out there. You can connect your device and transfer all the files in it no matter whether Android or iOS. Other things which can be done are preparing playlists, burn CDs, format conversion etc.
Method 2: Download Videos by YouTubeByClick Software
The next method in this list for how to download video from website is through another software named YouTubeByClick. This is also a windows or mac based software just like the earlier one iMusic. Almost all the features too run in the same way.
You just get this one advantage here that it's free of cost version is quite good. You are also going to find it easier to use. Still, to remove any scope of doubts, I am providing a step by step tutorial right below so that you can learn to operate the software on your own.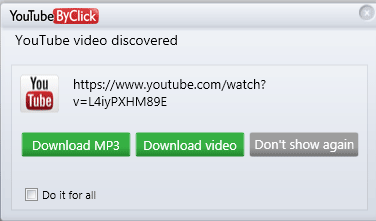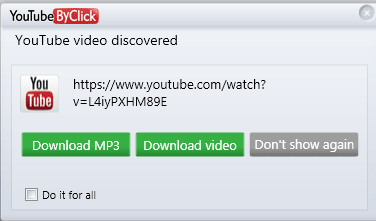 1). To start the process, first you need the software. So, go to the official website of YouTube ByClick from Here and click on the Download option to download the software. This is free to download with no registration process. You can upgrade anytime to premium version too.


Must Read: YoutubeByClick Software Review
2). So, now that you have installed it, open it and you are going to see the home and only screen of YouTubeByClick here. If you are a premium user then you will have access to more options than normal users.
3). Before, we head to the actual solution of how to download video from website through YTB, there are some settings which are needed to be done here.
4). Firstly, go to the option of Choose Location and set the desired location of your system where you want the downloaded videos to be saved. Unlike iMusic software, you are not supposed to export them later as they automatically get saved directly to your system.
5). Now, on the right side of the earlier option, you will see the option to choose format. As we are downloading video so set it on Mp4 instead of Mp3.
6). Moving on to further right side, you will see the option of Choose Quality. Set it on whatever you want amongst choices like Best, Normal and custom.
7). Now, that you are done with everything, you can finally move on to learn how to download video from website. For this, first go to the website whose video you want to download. Right click on the video and copy its URL.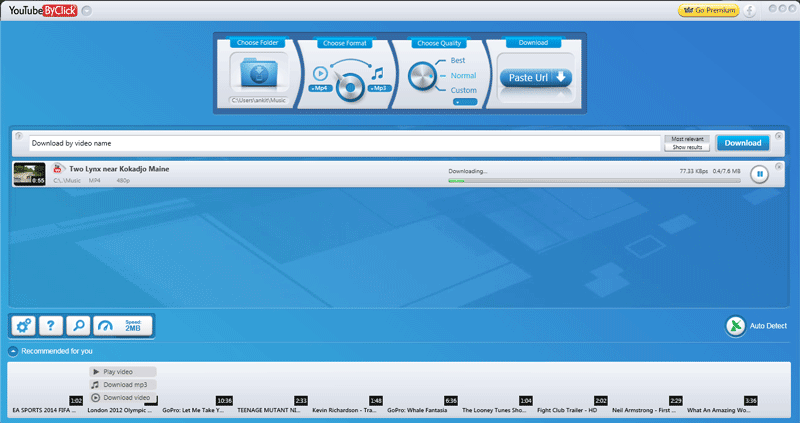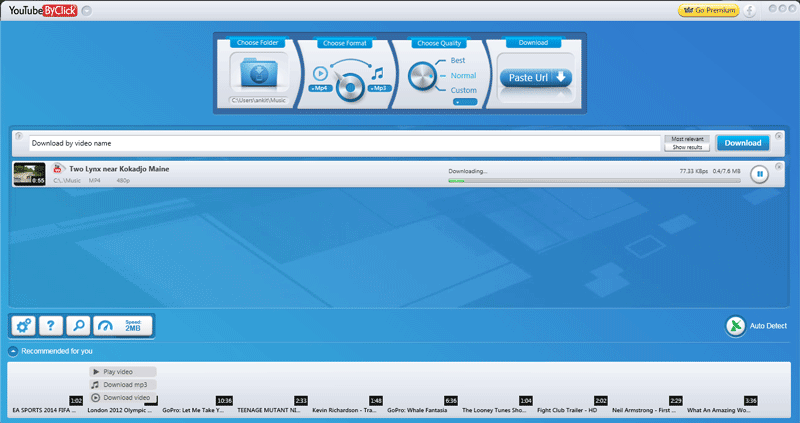 8). YouTubeByClick will automatically detect the copied URL and will show a popup. You can directly click download from this popup and the video will start downloading. You can turn off the auto detect option if you want.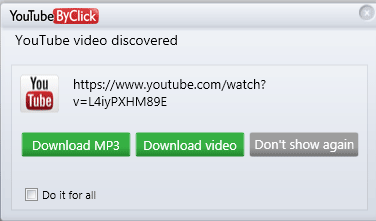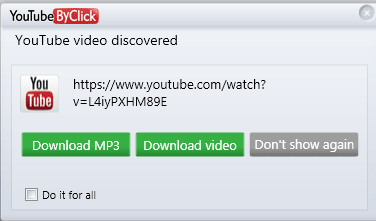 Special Instructions:
Just like iMusic, YouTubeByClick possesses some special features too. I truly believe that as a user you should know about them so that you can take full advantage of this amazing software.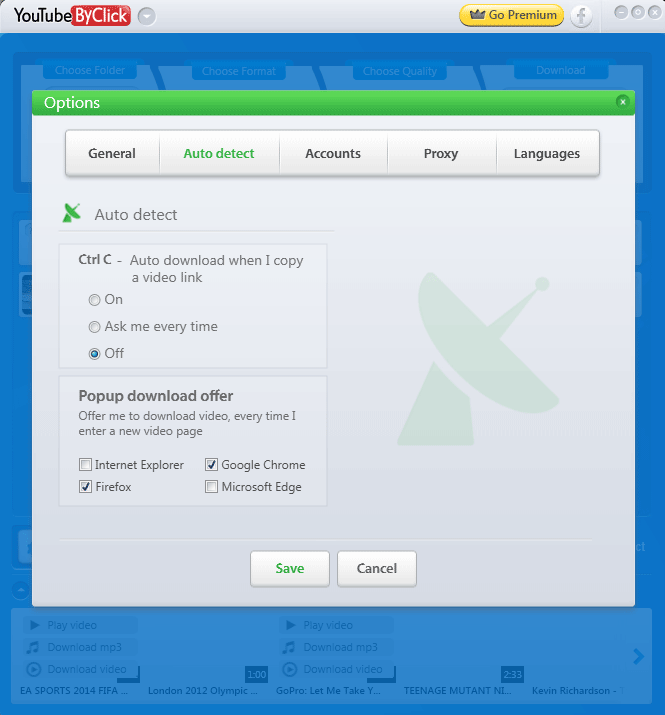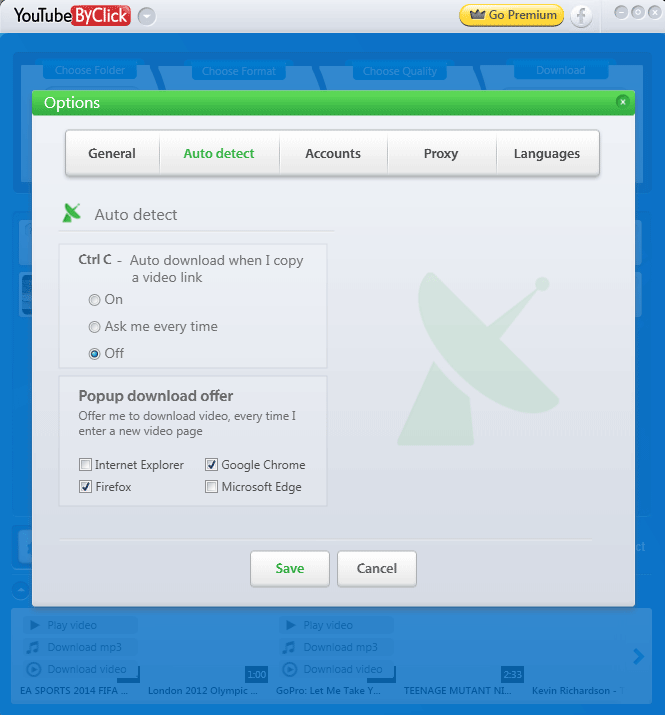 So, apart from being an excellent solution to how to download video from website, there are other functions of YouTubeByClick too. You can download entire YouTube playlists, Instagram pages and live videos through it. You can organize music, check out recommended videos, transfer files to devices etc. through it as well.
Method 3: Save Videos by the help ClipConverter Site
Website: http://www.clipconverter.cc/
ClipConverter is a very popular online method which can be truly suitable to work on how to download video from website. This is a type of website which not only allows you to download videos from different sources but also to convert them in whatever format you want.
The site is free to use and most importantly, it does not even require you to register on its site either. So, in this way you get great advantage with it. Here is a complete step by step tutorial mentioned below for the same.
1). Firstly, go to the site whose video you wish to download and open the Clipconverter in a simultaneous tab.
2). Now, copy the URL of that video either by opening it in a separate tab or by clicking right on it.
3). Paste this URL on the Video URL bar of the website.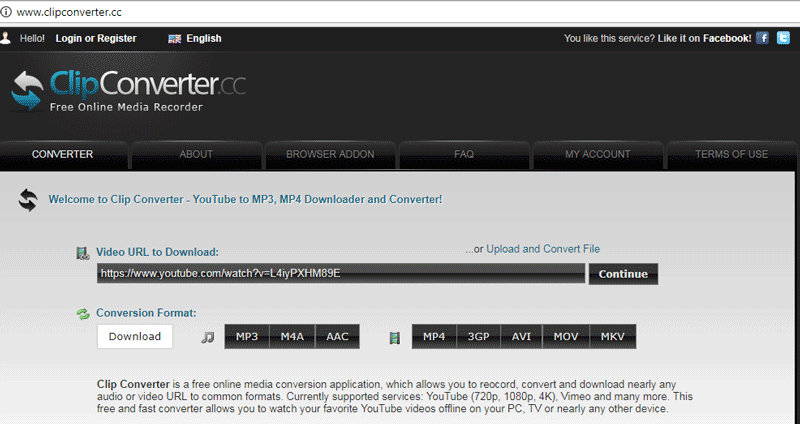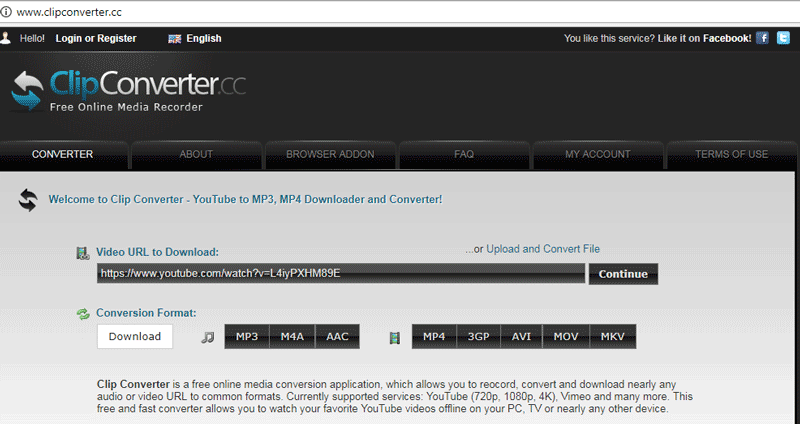 4). Now, before heading towards the download process, first select the format of the video. You have options like Mp4, 3GP, AV1, MKV, MOV etc. I would suggest you to simply go for the Mp4 format for simple video downloading.
5). Now moving ahead for how to download a video from website. Then click on the option "continue" given on the right side of the URL bar.
6). The website will detect the media which is going to be downloaded and will provide you several option for the quality and size of the download. You get options like 1080p, 720p, 480p, 360p and 3GP. The size decreases as the quality decreases. You can choose the desired type from here.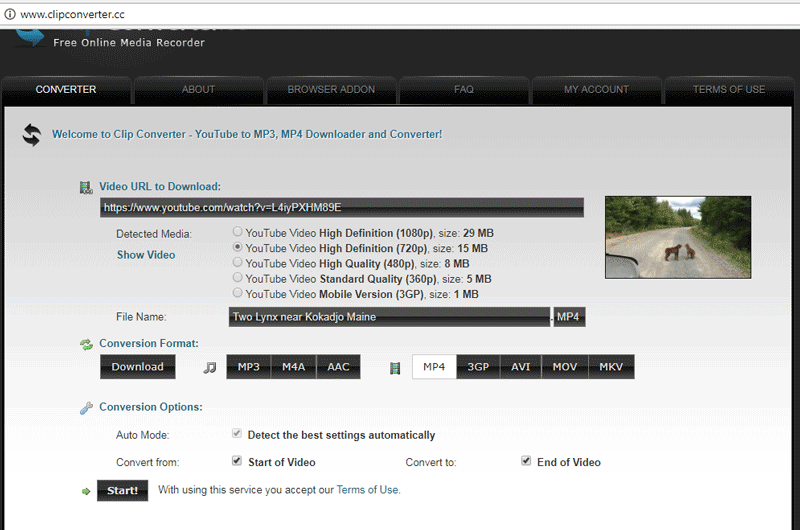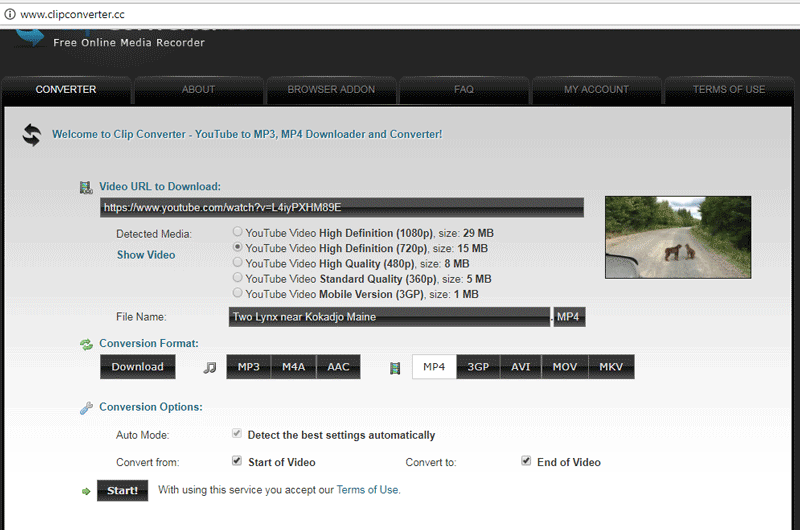 7).After the final selection press the option of Start given on the bottom side. The site will finally redirect you towards the Download option. Click on it to start downloading the video. Now, your video will be downloaded in no time.


Special Note: Do you want to download videos, movies, TV Shows and anime videos and looking right websites where you can download these type videos. Below I am sharing some websites list for you.
Final Words
If I were to give my personal review on how to download video from website amongst the three methods then I would go for the software ones. This is because once you have downloaded them, you got no issues to go on to their website again.
In fact, you get so many features to explore too along with the downloading process. I accept that you have to pay certain amount for their premium versions but every penny is worth. You can also go for their trial period of free subscription packs too.
I can surely say that after this piece of information you are not going to feel confused about the use of these software ever.