At first, you can question the existence of best download manager as every browser has their own downloader. However, despite that it lacks the speed and other features which are important for the efficiency of the download process. And this is why you need download managers to organize and fasten the process of downloading.
10 Best Download Manager for Windows
So, for this here is a list of top downloaders which are a big aid to manage multiple downloads at the same time and also integrates with your traditional browsers to catch up all the possible downloading files for you. For more information on it, you can check out the list right below.
1. Free Download Manager
Website: http://www.freedownloadmanager.org/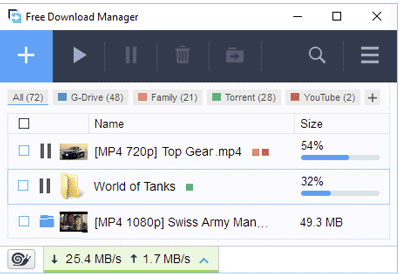 So, after going through tons of options I selected Free Download Manager or FDM on top as the best download manager. Staying true to their name, it offers all of its services for absolutely 100% free without charging anything for both Windows and Mac platforms.
Despite having a modern approach, FDM uses a really simple interface which makes it faster for the user to figure out the process of downloading. With the multi-lingual platform users from different countries can use it easily.
This software easily integrates with popular browsers like Firefox, Chrome, Safari, Explorer etc. with some settings after which it can directly download through the browser only. This eliminates the need of launching the program again and again because it automatically fetches media file to be downloaded.
In fact, with so many features being available for free, it stands out as the best download manager for windows 10 ever. Additional functions performed by FDM are downloading acceleration, torrent files supported, enhanced audio/video support, broken downloading resume, file management and organizing, adjusting traffic usage and many more.
Compatible with: 


2. Internet Download Accelerator
Website: https://westbyte.com/ida/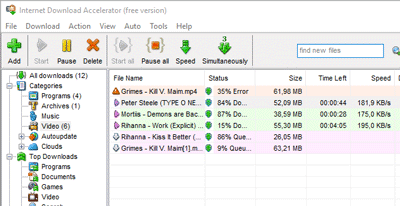 Next option for the list of best download manager is Internet Download Accelerator which is also a free program. It mainly works on three important aspects of downloading and improve them too which are speed of downloading, broken downloads resuming, managing downloaded files.
If you are not feeling satisfied with the free version then you can go for Pro version for $29.95 which works for 2-4 users at the same time. It works in an organized way when it comes to managing downloads allows you to search files, folders in file catalog easily.
Just like all the popular download managers, it also supports integration with various browsers like Opera, Netscape, Chrome, Firefox, Explorer, Safari and many more. Other features associated with IDA are user friendly interface, customizable approach, plug-ins and add-ons supported, various program skins etc.
The technical advancement which makes it one of the best internet downloader are multi-threaded downloads, resumes broken downloads, online updates, FTP explorer, support for download mirrors, various connection types supported like dial-up, ADSL, LAN etc. It also support scheduled operations too and also enables you to download entire folders in one go.
Compatible with: 

3. Ninja Internet Download Manager
Website: https://ninjadownloadmanager.com/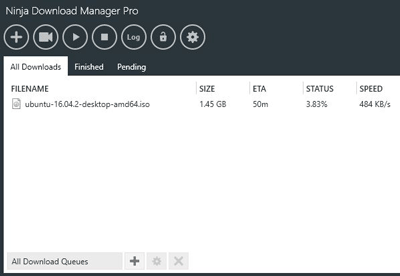 I am sure you must have heard the name of this best download manager called Ninja Internet Download Manager before too as it is a very popular downloading tool. It claims to provide 10 times faster speed for downloading the desired files of any type.
Apart from having a free version, Ninja offers various plans too which are $19 for 1 PC, $29 for 3 PCs and $49 for 6 PCs.
Now, talking about the features associated with Ninja IDM then these are download accelerator, shredding data and metadata once the downloading process is finished, auto-grabber allowing download with copying link by right clicking on it, control over the number of simultaneous downloads and many more.
Ninja IDM is a very handy tool and as stated above, it becomes very clear that it offers a great control in the hands of user to customize the program according to their requirements. Other technical advancement associated with it are speed control, audio/video downloader, media conversion, sequential file writing etc.
Compatible with: 

4. Internet Download Manager
Website: http://www.internetdownloadmanager.com/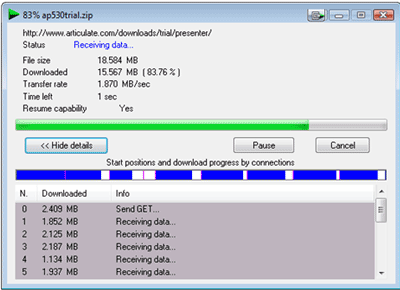 The most popular option you can ever get to see in this list of best download manager is the Internet Download Manager which is popularly called IDM. Although not a free tool, it is still used the most as compared to the other options of downloading files.
After the trial period of 30 days, you would have to purchase the license which costs $11.95 per year per user or you can also opt for lifetime license costing $24.95 per user. Despite being a very smart and modern tool, they have kept the interface user friendly and simple too.
Apart from supporting all the popular browsers in terms of integration/extensions, IDM also offers various high-end features which are not seen in any other downloader. Features offered along with IDM are support for popular browsers/apps, one click downloading, multiple downloads at the same time, video grabber, automatic antivirus checking, drag and drop feature etc.
It accelerates the speed of downloads which saves a lot of time for user. Other features are resume downloading, simple installation wizard, scheduler, customizable interface, quick update features, multilingual platform, complete manager and organizer etc.
Compatible with: 

5. Down Them All
Website: https://www.downthemall.net/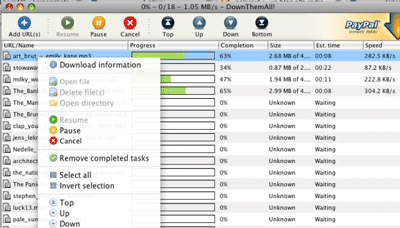 Counted amongst the top download managers, Down Them All is the next option for this list. However, it only integrates with Mozilla Firefox as extension but can be used as separate program too. This multilingual program comes with a fully customizable platform which is so handy to operate.
It features all the popular and modern advanced download capabilities and allows you to download all the images, links and media files available on a web page.
The auto-grabber function automatically determines the downloadable stuffs and the final nod of yours allows the DTA to decide whether to download such files or not. Other functions of DTA are download all files with one click, deep filtering for various types of files, auto-renaming option, accelerates download speed up to 400%, pause and resuming downloads and many more.
However, the only trouble is that it integrates with Mozilla Firefox only and hence you would have to manage all downloads through this browser only. Apart from this issue, there are no other troubles associated and this absolutely free to use software turns your browser into a smart platform.
Compatible with: 

6. FlashGet Download Manager
Website: http://www.flashget.com/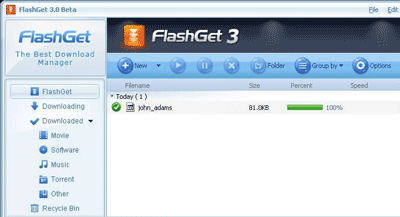 FlashGet Download Manager is a type of freeware which means apart from being free to use, it also restricts annoying ads and malware and provides the best downloading experience to its users. This is why it was worth mentioning it in the list of best download manager.
FlashGet uses a very clean interface which enables the users to easily install it as well use it for later downloading process.
FlashGet offers various features and services to its users, some of them are high-speed downloading, safe and secure to use, multiple protocols supported, downloading organizer and manager, no adware or spyware, call anti-virus automatically to clean viruses and suspicious files etc.
It uses the similar approach of one-click downloading so when you select a file it automatically detects the seed file and hence there is no need to explore the program again and again. However, it is not that advanced and faster when it comes to downloading multiple files at the same time.
Compatible with: 

7. JDownloader
Website: http://www.jdownloader.org/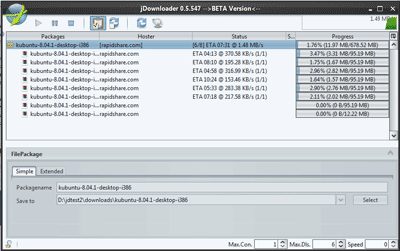 The main reason behind the popularity of programs like JDownloader as the download managers for windows is that they are open sources as well as free to use too. Generally, you do not get such an advanced software for free and hence JDownloader became famous in no time.
It is a very reliable internet downloader tool which is capable to download multiple files at the same time with just one click hosting.
It not only functions in the easiest way possible but also boost up the speed too which saves a lot of time for downloading the same file. Other features like pausing, resuming downloads, simultaneous downloads for multiple files, auto-extraction of archives makes it simpler for the user to access it.
Other special features which makes it worth being in the list of best download manager are multiple browsers integration, multiple file downloading over multiple connections, 300 decrypt plugins supported, multilingual, various themes supported and many more others.
Compatible with: 



8. Download Accelerator Plus
Website: http://www.speedbit.com/dap/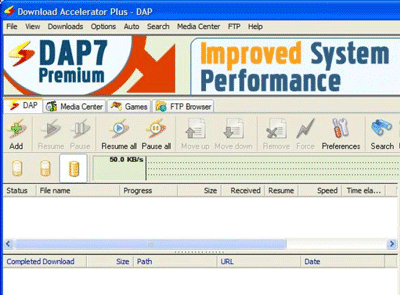 Although available for free, this is one such best download manager which provides the feature to upgrade at any time. You can buy the Premium Edition for $39.95 per year and use the high-end and way advanced features of Download Accelerator Plus easily.
Download Accelerator Plus is mainly used to accelerate the speed of downloading like fire no matter how many files you are downloading at the same time.
Other features associated with this program are automatic mirror speed boost, pause and resume download/broken download, expansion packs available, file converter, video preview available to save the data, high download security etc.
However, the browser integration is made available under the premium plan only. And you get additional features with it too. The usual features of file shredder and link checker are available under the normal plan too. You can also manage all downloaded files and keep an eye on the history too.
Compatible with: 


9. EagleGet
Website: http://www.eagleget.com/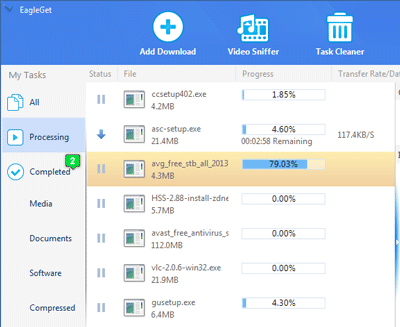 There are a lot of options available when it comes to downloaders for windows and next one in them is EagleGet. Although not as popular as other programs in this list but still makes an amazing option when it comes to finding completely free to use programs for downloading desired files.
The interface is not only simple but modern too which eliminates unnecessary confusion and messiness and makes the process even faster.
The all in one and one of the best download manager can be integrated with any browser and support any protocol which broadens the accessing for users. Other features which comes handy with EagleGet and that too for free are multi-threaded downloads, downloading scheduler, clipboard capture, automatic refresh for expired downloads and many more.
Despite being a free program, it offers all the features of any paid downloading manager. The appealing interface and multilingual platform makes it much easier for a user to get used to of it too.
Compatible with: 

10. Xtreme Download Manager
Website: http://xdman.sourceforge.net/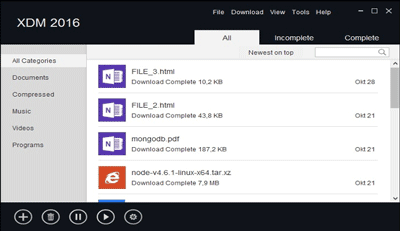 Xtreme Download Manager is no new name while looking for a solution for downloading various types of files, and this time I have listed it down as my final choice for the list of best download manager. With a single click processing, it is one of the easiest and smoothest programs in this list.
It is quite powerful and increases the speed of download like fire which makes multi-downloading quite simpler and effective too.
It also allows you to save videos from platforms like YouTube, Metacafe, Dailymotion and many more and also establishes integration with popular browsers. This totally eliminates the need of launching the basic application again and again.
Other features associated with Xtreme Download Manager are download streaming videos, schedule your downloads, pause and resume downloads, support for proxy servers, batch downloads on great speed, single click approach, resume expired or broken downloads, manage downloads and accelerate the process and many others.
Compatible with: 



11. GetRight
Website: http://getright.com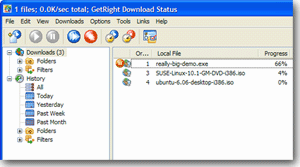 GetRight isn't the newest or most advanced download manager, however it totally brings all the common features that you'd expect to find in any best Download manager for Windows. At the same time, it flaunts one of the most classic and retro interfaces ever!
AS for features, it too supports "Pause & Resume" so we can pick off just where we left without having to download hundreds of MB of data all over again. Additionally, it supports downloads not just from direct download links (FTP and other web Upload servers), but even BitTorrent links!
There's no maximum download limit either, extremely huge files too are supported and can be downloaded. Automated, scheduled downloads for regular files can be set as well.
It can scan the contents of a webpage and extract audio, video, and download exact files. It also is capable of split-downloading, the feature which splits files into various parts and lets users download those parts simultaneously, speeding the overall download speed tremendously.
Downloading multiple at the same time too is possible. Also allows users to set custom rules to be applied once a download completes, for e.g. "Turn off the PC". The application is largely free, however it does have paid plans, one for USD $19.95 and the other for USD $39.95. Additionally offers a free GetRight coupon for completing offers.
Compatible with: 

12. uGet
Website: https://ugetdm.com/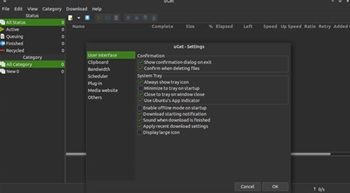 If you're looking for something truly 100% free, uGet servers that just right. It's an Open-Source download manager yet feature-rich nonetheless. The interface for starters could beat most other paid best download manager for Windows. It's modern, sleek, and auto-adjusts to a user's colour-theme.
Alike Internet Download Manager and most other similar tools, it too monitors the clipboard for downloadable links without the user having to manually paste it onto the downloader. Another impressive and important feature is segmented-downloads. uGet is capable of breaking down a file and downloading all the parts simultaneously to increase the overall download speed. The broken down parts are auto-attached and a complete file is presented to the users once it's fully downloaded.
Among many other "after-download" options, you can instruct uGet to even run custom scripts! And it's not just limited to HTML, FTP and other similar protocols, but also supports downloads from BitTorrent and Metalink protocols (although requires the aria2 plugin additionally).
Downloads can be automated so they won't require additional permissions and settings but are just initiated directly. It even offers command-line accessibility. Batch downloads via URL-list, txt file, clipboard, browser and many other modes is supported.
Other basic functions such as Pause-Resume, Schedule, Queue etc. too are available. All in all there isn't a lot missing with uGet Download Manager.
Compatible with: 


13. GoGet Internet Download Manager
Website: https://www.lifewire.com/free-download-managers-4129266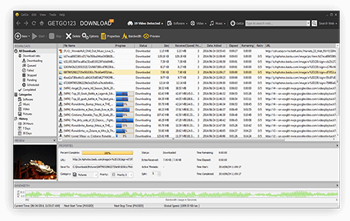 GoGet Download Manager is a free Download Manager yet it's packed with features to the brim. The very basic features such as resuming paused downloads, and multi-thread downloading are obviously available for starters. The multi-thread in case you're unaware of is the tech which breaks down a file, downloads those individual files, and then combines the parts together once download is completed.
The tool also claims to offer "Extreme Download Acceleration" but from our personal experiences even though the speed is slightly increased there's nothing "Extreme" about the acceleration. Scheduled downloads too are available if you know there's a certain time most favorable for your downloads.
What I found unique was not the ability that it can download Batch files, but that it can automatically rename batch downloaded files to match a pre-conceived rename pattern file.
Separate destination folders can be set for each file type, so .mp3 will only go to "Audio" and .exe will only go to "Games", or "Software" maybe?
Lastly, the download manager offers official Browser extensions for Chrome and Firefox which allow direct downloads from a web browser. It uses some kind of "cloud based technology" to detect content on browsers and let you download them instantly.
Needless to say, all major and minor file-formats are supported for downloads.It's completely free forever and no paid plans exist.
Compatible with: 

14. iDownload Manager
Website: https://www.microsoft.com/en-us/p/idownload-manager-idm-high-speed-youtube-file-downloader/9nqx4mtt2z9g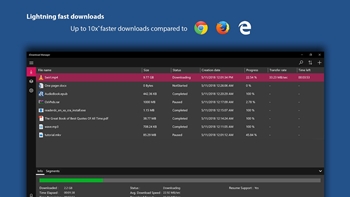 iDownload Manager, abbreviated as iDM is a completely different downloader than IDM (Internet Download Manager), yet no less in features.
Alike most other best Download Managers for Windows, it too boosts up the download speed as compared to browser-downloads.
While I personally felt it wasn't as fast as IDM, the difference wasn't very stark. It boasts error-recovery abilities which make sure the download can be resumed (in most cases) if paused abruptly.
Multi-threaded downloads too are available which segment the file and download it in parts. It also can be used to download Youtube Videos, and it supports quality as good as 4K! Links pasted on the Clipboard can be monitored and downloaded automatically.
Alike IDM, it too is capable of limiting the amount of bandwidth the downloader can use, comes in handy for those on a limited data plan. Scheduler helps schedule downloads without requiring manual interaction. Can be integrated with Edge, Chrome and Mozilla as well.
Offers a pretty modern and simplistic user-interface. Multiple color-schemes available keeping it fun. Is free to download although contains in-app purchases (optional).
Compatible with: 

Conclusion
It was impossible to list out all the popular and best download manager and hence I picked out selected ones only. There are some more options available which provides you over-all downloading features for free as well. I am sure after being introduced to these download manager, you would not want to get back to your old browser downloading process.
In fact, their subscription plans are also quite cheap and won't cost you too much. You can literally make a comparison between the traditional downloading process and downloading from these downloaders and the differences would be quite huge especially speed. So, do not miss out any of your favorite movies and download them right away.