One of the biggest problem that comes handy with current technology is the malware. From virus/ransomware attached to ads, all are a part of this vicious circle of malware. However, as every problem has a solution, you can sort out this situation with the help of best malware removal software.
10 Best Malware Removal Software for Windows/Mac
Used for various purposes and editions like for anti-virus, anti-phishing, adware etc. each of them comes with different features. Still wondering which one is the best for your system? This is the time that you should have a look at this list of best malware removal program which is comprised right below along with every necessary detail mentioned.
1. Malwarebytes Anti Malware
Website: https://www.malwarebytes.com/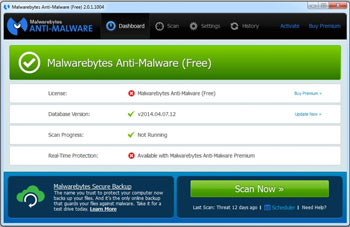 A program which totally deserves to be in the list of top 10 malware remover software is Malwarebytes Anti Malware program. Used vehemently and widely for both home and business use, this program ensures prevention from not only unhealthy virus but also everything relevant which can cause troubles in your system.
The smart technology used by Malwarebytes takes a bigger picture in perspective and works on everything like web protection, exploit mitigation, application hardening, application behavior protection etc.
However, the basic plan which is for free is compatible to only windows. You can go for advanced services with premium plan costing $59.99 per year and can be used for up to 10 devices. Comparing it to other such best malware removal software, I think it is quite affordable.
Other features of this program are real-time multiple protection layers, identifying malware and viruses instantly, complete analysis of likewise viruses, detects and blocks ransomware instantly, does not slow down system's speed and many more. Malwarebytes can also be used for business purposes and offers a different plan for it too.
Compatible with: 



2. SpyBot Search and Destroy
Website: https://www.safer-networking.org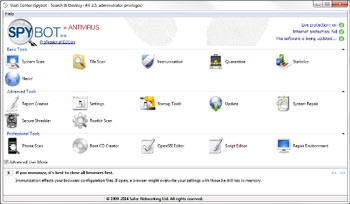 SpyBot works exactly like its name and hence detects and destroy all types of malware in real time only. Apart from Search and Destroy, SpyBot offers other programs too like FileAlyzer, RegAlyzer, Anti-Beacon etc. However, when it comes to malware removal Search and Destroy program works the best.
Being one of the best malware removal software, gives it features like complete security package, antivirus protection, ransomware protection etc. Although some of the services comes under the paid plan and only the basics one are available in free version.
Apart from the free edition, SpyBot also has other products to offer which are paid and they are advanced versions i.e. SpyBot Home for $15.99 per year and SpyBot Professional for $27.99 per year. However, it is compatible to windows operating system only.
Talking about the features of this program then they are timely scans and fix for malware, complete anti-virus protection, startup analysis and editing, rootkits scan and fix, system immunization, network drives scan and fix, secure shredding, report and log creation and many more other tools and services.
Compatible with: 

3. Bitdefender Antivirus Free Edition
Website: https://www.bitdefender.com/solutions/free.html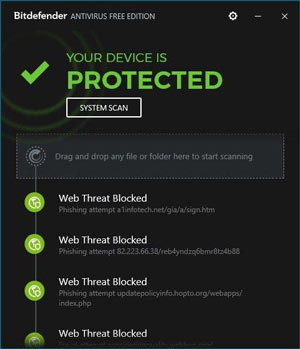 Bitdefender is not just another best free malware remover program but actually, an award winning and critically acclaimed product for saving your system from all the malware possible. As I am talking about the free edition, you are going to get everything for free here.
However, there is a catch that this edition is not a complete version of the services. And if you want to get the full edition then you would have to buy it for $49.99 which offers total security for your system.
However, talking about this free edition of Bitdefender then it is not that lukewarm that you are thinking. You get features like simple installation and lightning fast speed, light solution for overall protection, perfect for gaming, image and resource oriented applications, complete internet firewall, real time threat detection etc.
I really liked that fact that they have kept it really lightweight and hence it does not affect your system's performance for even a bit. In fact, this is exactly what you should have if you are looking for the best malware removal software.
Compatible with: 



4. McAfee LiveSafe
Website: https://www.mcafee.com/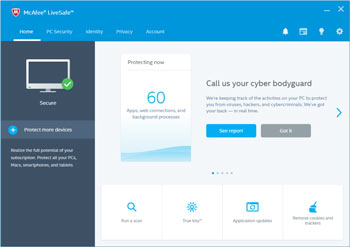 McAfee is a very popular name striking to people looking for perfect malware protection program. A perfect overall cover up for your system to stay immune to cyber-attacks and various viruses too. If you want something for more professional and advanced level protection then McAfee LiveSafe makes an excellent example of best malware removal software according to your requirements.
However, being an advanced protection, McAfee LiveSafe comes with a price too. After 30 days of trial, you would have to pay $99.99 per year for its use.
This price brings you a lot of features and services which you usually do not get in any other malware protection tools. These features are free customer support 24X7, award winning antivirus protection, password manager tool, support to multiple devices with a single license, secure cloud storage up to 1 GB.
McAfee LiveSafe is a very premium quality service providing privacy and identity protection for a user over various devices altogether. I am very sure that you would not be disappointed with its services at all.
Compatible with: 





5. Hitman Pro
Website: https://www.hitmanpro.com/en-us/hmp.aspx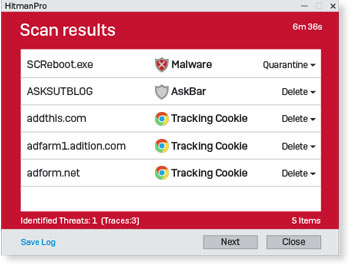 The next choice for the best malware remover tool is Hitman Pro. Well, not to be confuse it with any game because this powerful tool is something which can dig deep in your system to immune it from within from all the malware outside.
However, it does not come for free and after the 30 days trial period ends you would have to buy it for $24.95 per year. Apart from Hitman Pro version, there is Hitman Pro Alert version too which can be subscribed for $34.95 per year.
Focusing on Hitman Pro, it provides features like detection of potential threats in real time and fix them, behavior based analysis for malware detection, rootkits accompanied, built-in security and traditional antivirus program, cloud storage/backup, blocking of re-infection attempts etc.
Once you have downloaded this program, it does not require a lengthy installation process and this lightweight 12MB program runs directly making it one of the fastest and best malware removal software in this list. The timely updates keep the program up with latest technology.
Compatible with: 

6. Panda Free Antivirus
Website: https://www.pandasecurity.com/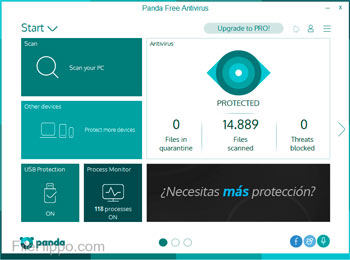 Looking for one of the lightest and simplest program to protect your PC? You can end your search on this wonderful software called Panda Free Antivirus which is there to protect your system from malware for absolutely free. This is probably the best malware removal software in free to use category.
The interface is quite simple despite being free you get really impressive features along with it which basically includes and scan and fix technology.
You can also upgrade to advanced plan for $3.99 per month and to complete protection program for $7 per month. Now, talking about the features of this program then they are protection against malware and other dangerous files, smooth running throughout internet surfing and online gaming sessions, URL filtering, simple interface, powerful performance etc.
Automatic processing of Panda Free Antivirus allows you to just install it and forget it. Once the settings are done then it can perform even the complex configuration on its own.
Compatible with: 

7. Adaware Antivirus Free
Website: https://www.adaware.com/antivirus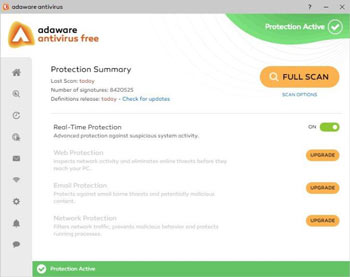 Finally, there is a solution for your hunt of best free anti malware which performs smartly to figure out solutions for malware removal. Adaware offers this absolutely free package of anti-malware program which guarantees to safeguard your computer from harmful viruses and other infections.
Currently, its latest version is Antivirus 12 which is their best program yet. You would not even realize it but with background running, Adaware handles everything on your system without bothering any of your tasks.
You can also upgrade to better options by Adaware i.e. Adaware pro for $50 and Adaware total for $67 as one-time fee. Focusing on the features offered by this antimalware program then they are active and real time virus control, web protection, email protection, on-demand scanner, parental control etc.
I think Adaware makes one of the best malware removal software when it comes to web protection specifically. Even in the free version you get great network protection tool which aren't offered by other programs. And hence I think this malware protection program should definitely be tried out.
Compatible with: 

8. Kaspersky Internet Security
Website: https://usa.kaspersky.com/internet-security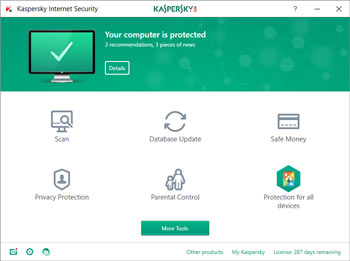 Kaspersky is a very big name when it comes to listing down best malware removal software. Offering some of the best services for protection and safeguarding your system from viruses and other malware, it also has a very smooth running giving much needed pace and speed to your system.
Kaspersky has various products to offer and I am listing down its most popular Internet Security version in this list which is going to cost you $79.99 per year for 3 devices.
Other programs are Anti Virus for $59.99 per year and total security for $99.99 per year. Now, talking about the features offered by this program then these are protection against virus, phishing, spyware, dangerous websites etc., simple set up, privacy protection, added security for transactions, parental control etc.
The internet security version not only make sure to work on ground issues of your PC but also focus on complete cyber protection too which is totally the demand of current times.
Compatible with: 



9. SUPERAntiSpyware
Website: http://www.superantispyware.com/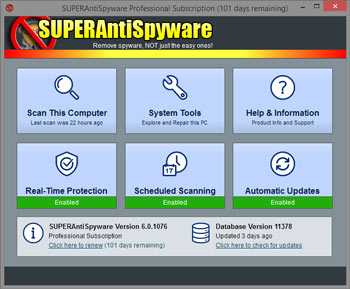 Used for home to professional and to enterprise/educational use, Super anti spyware is marking high on the list of best malware removal tool these days. Currently operating on its version 6.0, this anti-malware program is the simplest of all which can be download in its free edition too.
Apart from it, Super Anti Spyware offers professional level features with its pro version which charges $29.95 per PC per year.
This program works in real time and hence scan fixes every issues in the least time possible. Talking about the popular features offered by this malware protection program then these are real-time blocking, schedule scans, works against pop-ups and ads too, detailed scan logs and organized history, detect and remove spyware, adware, viruses, dialers, worms etc.
There are some interesting features too like system investigator and email notifications. It even repairs broken internet connections too and hence work amazingly as one of the best malware removal software and that too for free.
Compatible with: 

10. Symantec Norton Security Premium
Website: https://us.norton.com/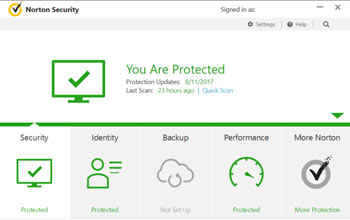 And finally, we are on our last option as the best malware removal software which is none other than Norton security premium plan. Because of being a premium plan you would have to spend $109.99 per year to avail all the features and services of this program and it can be used for 10 devices.
Along with providing protection from malicious software and internet worms, Norton Security Premium plan also offers backup and family safety services too.
Other features which you can enjoy under this plan are real time protection and fast processing, alterts about malware before downloading them, all time customer support, protection against ransomware and viruses too, added security for private and financial information, kids control etc.
Norton is preferred the most because of its backup plan as it provides up to 25 GB of cloud backup which is way higher than any other anti-malware program ever. This backup is kept with security and you can also add password protection for it too.
Compatible with: 




11. Intego Mac Internet Security x9
Website: https://www.intego.com/antivirus-mac-internet-security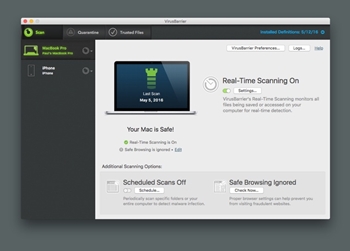 Intego specializes in quite a few things, Malware/Virus security is just one of them. Its Mac Internet Security despite having "Mac" in its name is quite capable of detecting and neutralizing threats not just on Mac, but also Windows PC.
It includes the VirusBarrier X9 and the NetBarrier X9 in the Internet Security X9 package. The former protects a system against viruses while the latter protects the network from web-based threats. The protection also extends to iPhones and iPads.
Its Automated firewalls automatically switch to the most appropriate settings depending on the location (work / cafe / travelling etc.) of the user. Allowing and restricting devices from accessing the network too is made possible. It also monitors the connection for outgoing and incoming data packets and notifies the user whenever a suspicious connection is initiated.
Basic firewall settings allow a user to block individual websites as well. The Malware scanner is capable of full-device scans, as well as partial or individual scans for faster and quicker results. Can detect malware in archived files as well. Auto-scans for new removable devices and E-mails , recording "trusted folders" and antivirus logs are just some of the many other commendable features. Scans can also be scheduled and automated.
Does offer a free-trial, however paid plans start from USD $49.99/month. Costs higher depending on the number of years, and the number of users you need it for.
Compatible with: 



12. IObit Malware Fighter
Website: https://www.iobit.com/en/malware-fighter.php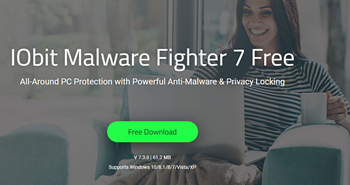 IOBit protects a computer from malware on all fronts, online, offline as well as local infections. It uses the Bitdefender engine which boasts a database of 200Million+ malware making sure nothing goes undetected. My favorite feature however is its locker. Files can be stored and locked (using a password) inside the locker. Once done, they're protected even from Ransomware as the locker is embedded with an Anti-randomware engine.
The online aspect of our daily habits is covered as well as IObit prevents phishing and other untrustworthy websites from being is fully compatible with browsers. It even acts as an adblocker and anti-tracker to quite an extent. It also prevents unwanted and malicious programs from auto-starting.
Mark Zuckerburg blocks his camera and microphone using tapes, IObit does about the same Digitally for our webcam and cameras by preventing unauthorized access. It also claims to have recently sped-up its fast-scan by 300%. USB-sticks when attached are auto scanned for any malicious files.
Downloaded files too are checked against the Malware database and the user notified if and when a red flag is triggered. Also protects against automated Cryptocurrency-miners from being run on our systems. Offers a completely free version, although additionally a IObit Pro version is available for USD $19.95.
Compatible with: 

13. Comodo
Website: https://antivirus.comodo.com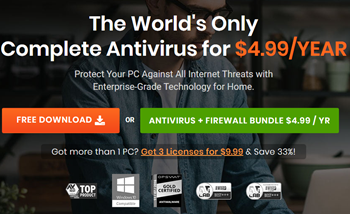 Comodo Antivirus isn't a new name in the industry. Despite being extremely feature-rich  and established, it's arguably one of the cheapest best Malware removal software for Windows/Mac.
For starters it boasts "Zero Trust Architecture" which uses personal identity verification measures to ensure both internal as well as external security. It can automatically scan devices and media when access is requested, or they can be scanned manually by the user.
It also brings in E-mail security, Anti-Spam as well as Web Protection with itself. Other features include Auto-Sandboxing, using the cloud based databases for whitelisting, firewalls and even personalization of alerts.
If you're a gamer, it also is equipped with a Game-mode which ensures no interruption to games and their lag-free experience despite Comodo being in use. Note that Comodo is a complete antivirus solution, so it protects users not just from Malware, but also Ransomware and other common threats. It combines Host Intrusion Prevention system and Defense+ which help it fight malware like a Pro.
It's also available for almost anything, which includes Android devices, Windows, Mac, and Linux. The product only costs USD $4.99/year which is why we termed it one of the easiest Malware removal solutions earlier.
Compatible with: 



14. WebRoot
Website: https://www.webroot.com/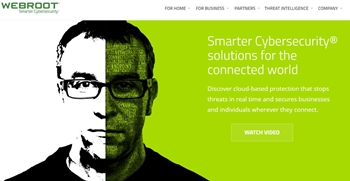 Webroot brings in some major differences when compared to mot other options on this list. These differences are actually what make it top 10 best Malware removal software for Windows.
For starters, it's much faster than most other options on this list. That's because unlike most other malware removal programs which download the malware definitions to our systems, Webroot doesn't. Rather it's a fully cloud-based anti-malware program. Infact officially, it claims to be complete a complete scan in as little time as 20 seconds.
Then again, because it keeps its virus definitions in the cloud it takes up only around 15MB of space on our systems. So that's another edge it has over other programs which generally take up hundreds of MBs of space.
It does provide an all-around protection not just from Malware, but also for our webcams, financial accounts and info etc. If you do not know which of their products is most suitable for you, they've an automated process which helps you find it.
The three products they offer are Antivirus, Internet Security Plus and Internet Security  Complete. They are almost identical, with a few extra perks in the latter two. The pricing differs based on the features, and the number of devices you use each product on.
Does offer a trial-version, however paid plans are priced at USD $23.20, USD $ 34.80 and USD $47.10/year for each product respectively.
Compatible with: 


Conclusion
Gladly, some of these best malware removal software comes with free plans too so you would not have to shell out much to keep your system clean. Make sure to go through their complete features and the stuffs offered along with them to ensure you are getting what you wanted to have.
Anti-virus and other relevant programs are a part of anti-malware programs only so choose wisely before investing that what you need the most. Although I could not mention but there are some equally popular programs too like Avast, Avira, Quick Heal etc. which can also be preferred for the same purpose.