Follow my blog with Bloglovin
If you want to know " How to make Google My Homepage " This is post only for you. Before telling anything I want to tell you basic history about Google Search Engine. Google is a largest search engine in entire internet world, mostly people searches his keyword string by help of Google, and Google also popular for his best result. Google main target is providing best and informative result to his visitor.
Google is a Multinational corporation, which providing internet related services and product, This organization introduced in 4 Sep 1998. This is introduced by 2 Ph. D. Student Larry Page, Sergey Brin. Source By http://en.wikipedia.org/wiki/Google
Before some basic introduction Now Come to the point, here our point is how to make Google my homepage. This is you can done by help of some very simple steps. Below I am describing all how you can make Google your homepage into Internet Explorer, Google Chrome, Mozila Fireforx, Opera. Here I am covering all popular browsers, because all four are most popular and mostly people use all these to surfing on Internet.
Do you know Internet Black World if not please check another popular post "Hidden Web Secrete" and "Deep Web Links Directory's " Post.
1. Make Google My Homepage into Google Chrome
Just Now Google Chrome is a biggest Internet Browser, This is very fast browser and approx. 60% people use this browser, Inside this section I am describing some necessary steps, through which you can easily set Google your homepage. Before this you need Google chrome browser, if you not have Google browser then please download Google Chrome, Below I am giving you direct Chrome download link.
If you have already installed Chrome into your PC then directly visit on step 2.
            http://www.google.com/chrome/
1. Here you need first visit on given website, and go to top navigation section, here you can see Download option click on Download, and choose valid option, if you have mobile the select for mobile option and if you have Computer then select for personal computer option. Click on "Download Chrome" button.

After this process, install your Chrome Browser into your PC. This is also very simple process only click on Chrome Setup Icon and follow the given instruction.
2. This is main step, launch your chrome browser by help of Chrome Browser Icon, Now you need to follow below given instructions.
3. Go to top right side corner page, Here you can see three parallel lines option, select this option, after select this button, you can see various sob option like New Tabs, New Windows, Bookmarks, setting and various other, select setting option, and click.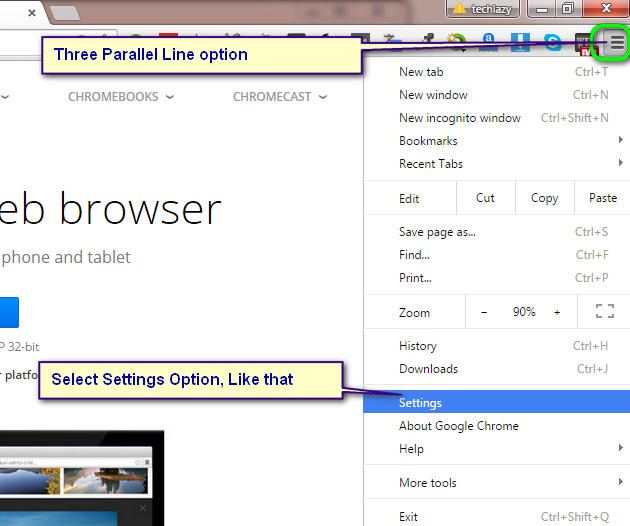 OR
You can directly access Google Setting option by help of Google Chrome browsers URL, Type chrome://settings into URL bar.
4. Now you need to go on Startup button, here three options are already available.
1.Open the New Tab Page.
 If you want to set blank page on your starting browser windows, this option if for you.
2. Continue where you left off
Many time people like this option because, if you need your last webpage where you left into browser. This option provides you automatically last webpage on your startup windows.
      3. Open a specific page or set of pages.
Set pages
It's option for, if you want to set any specific page on your start-up browser window. Now this option through us can achieve our task.

Now here we need to select last option "open a specific page or set of pages. Set pages" Now you need to click on Set pages option.

Now put your required website address here, but here we want to set Google on homepage, then we put Google search engine website address into given text box.

http://www.google.com/
2. Make Google My Homepage into Mozilla Firefox.
This is another part of this post, if you like Mozilla Firefox browser, and you want to make your homepage Google then this post provide you best step by step demo tutorials, though which you can easily set your homepage Google.
Mozilla is a best freeware browser, this is very fast and having lot's of advanced features like HTML5, CSS3.0 Support. Same as Google Chrome, you can increase your browser functionality by help of available million add-one. These add-one 's  are available in free and paid, you can select these add-one according to your need.  If you not have Mozilla Firefox into your computer then you can download and install in your system by help of below download link.

Why people set Google his browser homepage?
Now I have one question in my mind, why people like to set his Browser homepage as Google? Why not other browser? Finally I think, Google is providing best result and very short time, and many time people need more searches on internet that's why if he/she set Google as his browser homepage then he/she can directly search his keyword on new tab without put http://www.google.com in his browser URL address. I think this is the main reason for mostly people like to set Google as his homepage.
Step by step demo tutorial how do I make Google my homepage in Mozilla Firefox Browser:-
1). If you have successfully installed Mozilla Firefox browser into your system. Then you need to launch this browser by help of Installed icon, below i am giving you, Mozilla icon which is present on your desktop screen, by through you can easily find out means you can know how's look like Mozilla icon.

2). After click on this icon, now you browser is successfully open, Now you need for set Google homepage. Go to right side top corner, here you can see three parallel line, click on it and you can see same below screen. here you need to select option button. and follow another steps.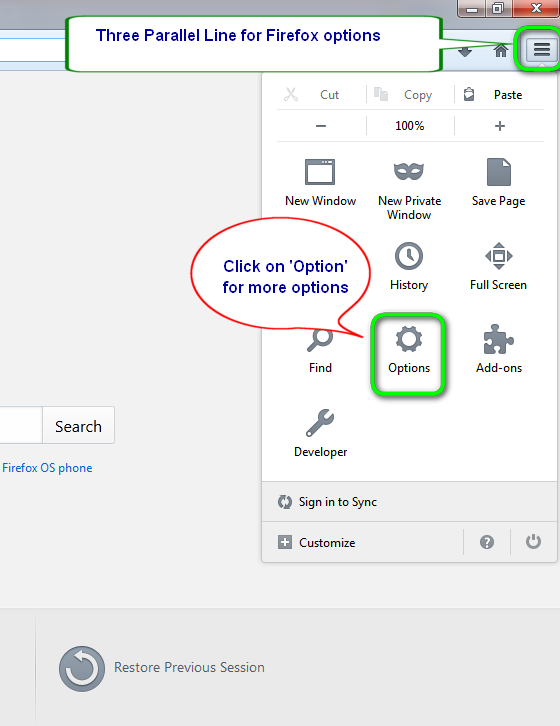 3). After click on option button, you can see bellow. Now you need to go on " General " tab, then go to Home_Page text field then set your required URL address which you want to set into your browser. But here our choice is Google Search engine. here we need to put http://www.google.com. after this step press "ok" button.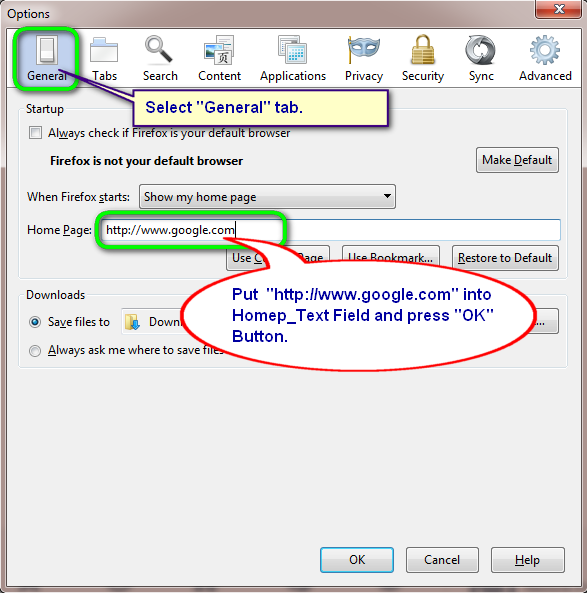 Holla, if your previous step is successfully done then your Homepage is set. you can. now restart your browser, and can directly access you by default new tab hold Google search.
If your previous steps are successfully done, now your homepage setting process is done.
Most Reading Article:
www-gmail-com Gmail login|Sign up or create New Account
     Hide All IP VPN Software Review: Solution for Anonymously surf on Internet
Top online video tutorials courses and Trainings websites
Ninja Blaster-Best Facebook Marketing Tool
How to root your Android phone or tablet without computer
Social Bookmarking SEO Complete Guide
Postradar : Facebook Auto Poster Complete Guide
Hide My IP Review: Best IP address Changer Online(Surf Anonymously, anywhere without Block Problem)
How to make Google My Homepage
Deep Web Secretes | Complete Guide of Hidden Web
Latest Hidden Sites Deep Web Links Directory Updated 2015