To most people, a Gantt chart seems to be nothing more than a set of horizontal lines or a timeline maker. But for planners and project managers, a Gantt chart is perhaps the most fundamental and valuable online scheduling software one can use  in order to track their project's timeline.
Wrike, famous online task management software, provides its clients with in-built Gantt charts and offers instant and high quality view of project progress to the project managers. They can let you plan around some of the important milestones and allow you to prevent delay. Project management tools online are even extremely useful for resource scheduling and production planning too.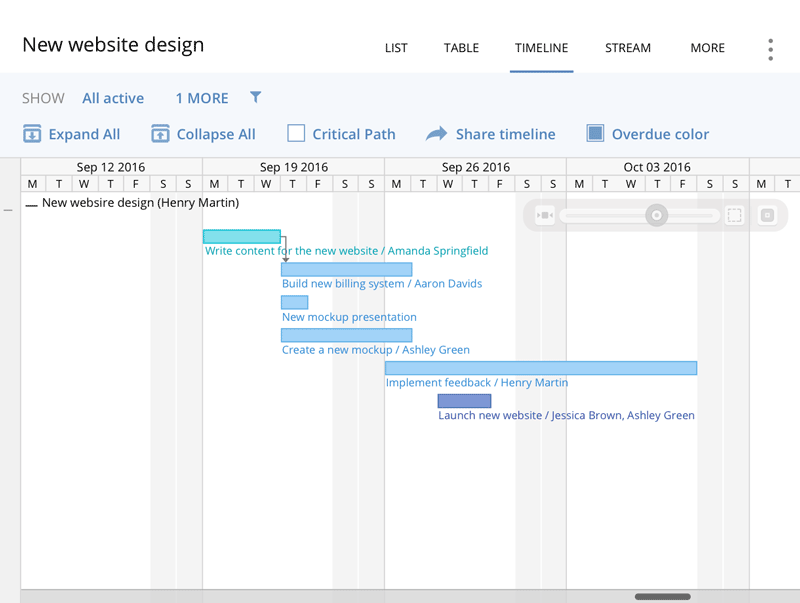 Wrike is a collaborative and IT project management software which is utilized by several companies throughout the world. They even have a project management iphone app. With the help of Wrike, planners and project managers can effortlessly create a visual Gantt chart online and take advantage of the time tracking software for project management. So, here's how you can start on Wrike.
Set a schedule of your tasks
In Wrike's task scheduling software, you will find a Task List view and when you want to schedule your tasks, you will need to click on the "+New Task" button. The process becomes easy and seamless due to this quick add feature of Wrike. There is an icon of a calendar beside each task which also lets you add the start date and expected completion date of the tasks. If needed, you can again edit these later on.
When you think you're ready to build your Gantt chart, finalise the dates and add your milestones for each project. Milestones are like deadlines, final and strict dates for finally delivering a project or a product launch. Even when a situation arises and priorities and deadlines change, which might happen, your milestones will be set in stone.
Mention task dependencies
There are some tasks which depend on others from the beginning to the end. Therefore, you have to mention this in Wrike and it is similar to dragging and dropping tasks to the chart. Your Gantt chart will move the connected task's schedule automatically when the date or time of one task changes later on.
Color coding of the project
Gantt charts from Wrike offer project status colors so that you can easily understand the timelines (1) of each project by checking their colors. Green color (2) implies that the task has been completed but you can still choose the specific task and verify whether or not it was completed on time. Red color (3) indicates that the task is still due and blue (4) shows that the task is presently in progress but yet not overdue.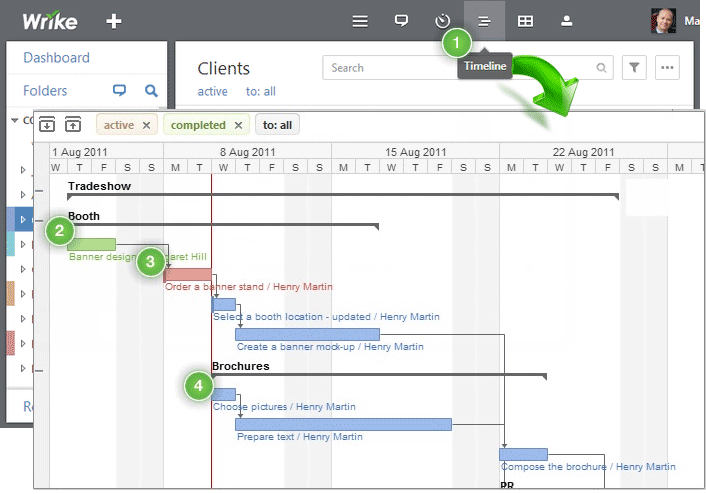 Finally, you should begin to analyse the data as this is done through Wrike filters. Filter down the Gantt chart data to view the progress of a project based on the statuses of the work, owners of the specific tasks and other criteria.
Therefore, if you want to handle different tasks at the same time and make sure your projects are all completed on time, you can use Wrike Gantt chart by following the above mentioned information.