How to transfer data from Android to iOS? If that's the question you're asking, you're in for a treat, that's exactly what I'll guide you through, step by step in this piece.
Now maybe you just got a new iPhone, or you just need to backup your Android device on one of your already existing iOS devices, in either case this piece should solve all your problems.
Transferring data from one cell phone to another can be a complicated process by itself, and here we're transferring data from one OS to another, it's supposed to be complicated, isn't it?
Well, it's not! Not with the tool I've got in my arsenal, it took me less than 4 clicks, and around 6 minutes of time in total to transfer over 1GB of data.
I'll advise you to make a backup of your data on the Android device  before proceeding further, so that if things go sideways you don't end up losing all of your digital life's savings!
How to Transfer Data from Android to iOS
Dr. Fone Toolkit Switch-Yup, that's the name of the tool that finally made it possible for me to transfer data from Android to iOS. Although let me be honest, I tried some other tools before coming to Dr.Fone as well.
In one case I lost most of my data, in the other the tool said I needed to use a new iPhone only then I could transfer the data.
And that's the reason when I finally got to Dr.Fone I already was pretty low on hopes, but I'm glad I was wrong.
First of all, Dr.Fone doesn't need a new iPhone, meaning you can transfer data to an already being-used iPhone as well, and none of the data on the iPhone would be erased or over-written!
Secondly, there's absolutely zero-data loss I got every single of the files which I moved from my Android device (Samsung J7) to the iPhone.
So yes, Dr.Fone Toolkit phone switch is the best-ever Android to iOS data migration tool I've personally ever laid my hands on, the prime reasons being its extremely easy interface, wide range of device and carriers support, and fast speed.
It can transfer Facebook/ Twitter / Google or any other social media accounts. Contacts, Messages Calendar, Photos, Music and Videos as well.
Worried if Dr.Fone would support your device, I'm positive it will, for now the devices that Dr.Fone-Switch supports include but aren't limited to Apple, Samsung, Google, LG, Motorola, Sony, HTC, Huawei, Xiaomi, Oppo, Vivo, Lenovo and many others!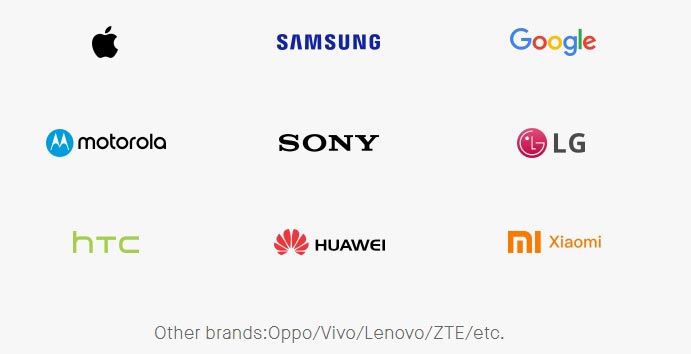 Let's get you transferring that data from your Android to iOS devices.
First of all, download the tool from the above link, run it, and connect both of your devices (the Android and the iOS device) to the computer using USB cables. Note that both the devices need to be connected to the computer at the same time for this to work.
Once the devices are connected, click on the "Switch" tab that you can see on Dr.Fone switch. It's the option which brings up the switching interface to switch from your Android to the iOS phone.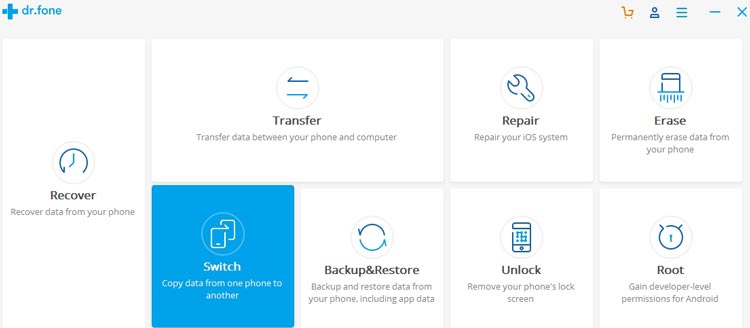 On the next screen, both your devices would be shown to you,  make sure that your Android device is shown under "Source" and the iOS device is shown under "Destination".
The source is basically the device you're copying from, and the destination is where you want your data to go.
If not, you can click on the "flip" switch to flip the devices. Then, select the content you wish to copy from the Android to the iOS device and click on "Start Transfer".
It's one of the features I love about Dr.Fone, you don't need to transfer all of your data, rather it gives you the power to choose.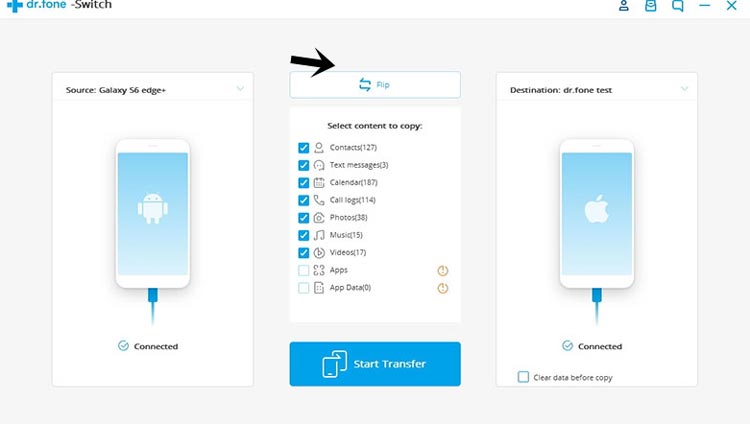 Done!  You can monitor the transfer in real-time through the popup  that should've popped up by now showing you the status of your transfer.
It's not just transparency, but it helps you calculate the remaining time, and lets you check that all the files you wanted are actually transferred without any misses.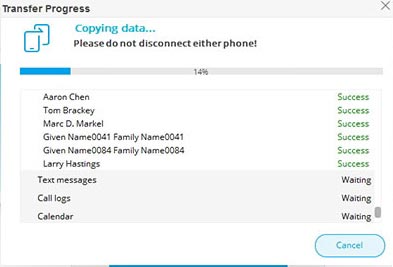 So let's recap how fast and easy the process was; connect devices > click on the switch button > select files we want to transfer > done (already?)
It takes less than 4 clicks for all of your Android data to be migrated to your iOS devices, can it be any simpler? I bet not.
Not to mention that the speed I got with Dr.Fone-Switch was probably the best I've ever seen. I transferred around 1.2GB of data and that took around 6minutes! Also, the previous iOS data still exists.
Note that the data is never shared or accessible by Dr.Fone's team or any other third-party, it's completely isolated to you and your devices only.
I've seen people talk of "Move to iOS" as a worthy option to transfer data from Android to iOS, it is. The only problem? It can't transfer music/ passwords, and it completely erases or overwrites the existing data on the iOS.
Also, Move to iOS is only compatible with some higher  iOS and Android versions, Dr.Fone's Phone Switch on the other hand works perfectly well on almost all Android and iOS versions (with some exceptions).
Wrapping it Up
So that's a wrap folks. Honestly enough I couldn't find a simpler, easier and faster method to accomplish the deed. It provides speed, compatibility, easy to understand interface and everything else which a first-timer like me needed.
Although obviously there are other programs in the industry for the same job, and as I said I tried some of them too but the results were less than satisfactory.
Also because Dr.Fone is a tool by "Wondershare" which by itself is a pretty well-established brand (as I realized later) there aren't really any trust, service or quality issues that you'll be facing.
Do let me know your verdict on Dr.Fone's Phone Switch and/or what improvements, changes you'd like in the program?