If you are a watch dealer, or just an individual wanting to maximize your selling potential, selling watches via online pages is the way to go. Look at it this way: if you are not online, your competition is. So you need to put your merchandise out there so that your potential customers (and the potential customers of your competition) will see it.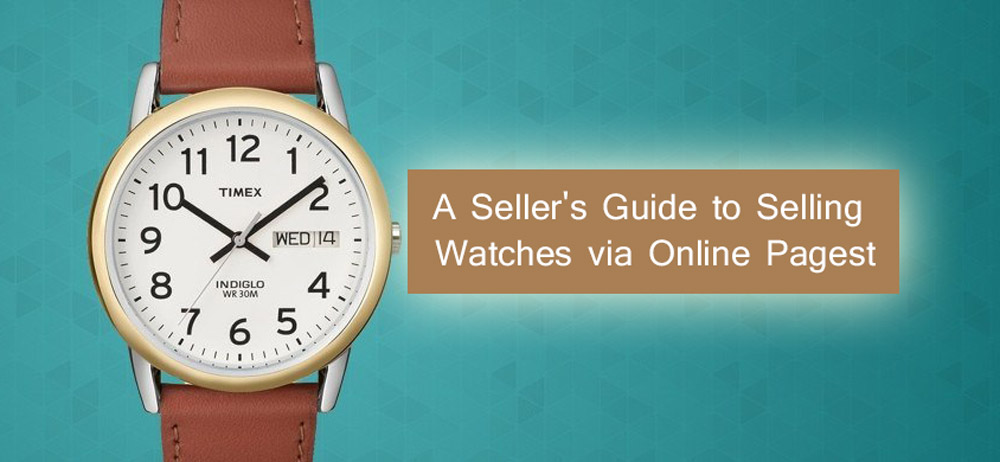 If you are a jewelry store, you will also want to offer ways to allow customers to have their watches appraised on site. By offering this convenient online service, you will put yourself above your competition and offer customers an excellent service.
But how do you effectively set up your sales funnel to sell your watches via online pages? And how do you set up an appraisal system online? Here are a few tips to incorporate both into your online watch business:
1). USE EXCELLENT CU PHOTOGRAPHS
One of the best selling features of online sales of watches (or any item) is in pictures. The old saying, "A picture is worth a thousand words," certainly does apply here. So start by taking excellent photos that you can put online to engage the potential customers visually. You will want all of the features to be clearly visible, and the image should be clear and free of blurriness. Make sure the photos are close-ups and extreme close-ups that people can see up close and compare to other products.
2). OPEN EACH ITEM IN A SEPARATE WINDOW
When presenting pictures of watches, it is a good idea to make them open in a separate window. Remember when people are shopping for watches, they often have several items open at the same time. You also want to keep them on your main sales page so that, once they do make a decision, they will be able to check out quickly and easily on your main page.
3). FOCUS ON YOUR MOST LUCRATIVE AND BEST-QUALITY PRODUCTS
While you want to show customers and visitors a wide variety of products, you are also in this for the money. So focus on some of your most high-quality items that are what you might call "big ticket" items on the front page or in an obvious place on your website. This way, customers will be drawn to these higher-profit items and it may increase your revenue as a result.
4). OFFER DISCOUNTS & SEASONAL SALES
Just like in the off-line (real-world) retail business, people enjoy a good sale. They like to feel they are getting their money's worth. By offering seasonal deals or special sales, you will increase interest in your site and also your bottom line. Remember, the beauty of the internet is that you can sell hundreds of items quickly. When you offer a sale, you will attract more people and thereby increase the potential volume of sales. The discounts will more than pay for themselves over time easily.
5). APPRAISAL SET-UP
To set up an appraisal system for your online watch store, you will just need to connect to an appraisal expert so that your customer will be able to get a quick and accurate estimate of their watch online. Remember, people on the internet want things to be fast. So you will need to focus on fast turnaround times. The best way to set up an appraisal system is to have an in-house appraisal expert who can do the appraising, then have people send in a picture of their watch or similar item, along with a description of the make and model, when they purchased it, and the general condition. You can do this via an online form that makes the process automatic. One such site to check out for online forms is surveymonkey.com. You could also just use an online form generated by your web server and ask the right questions for customers to answer.
You will probably want to avoid having to have the person actually send in their physical product most of the time since this will delay the appraisal process by several days or weeks, thus slowly down the internet experience immensely. Decide ahead of time what you will charge for appraisal then tie it to your PayPal address for payment.
6). PRICING WATCHES FOR THE ONLINE ENVIRONMENT
When it comes to price range, you will want to know both the perceived value and real value of your merchandise. This is a very big issue with online sales. The perceived value is the value it holds for the potential customer who is viewing our merchandise. What is it worth to them? The real value is the actual "street value" of your watch if they were to buy it in a real-world store, minus any shipping or other extra costs in getting it to them. Keep both in mind when pricing watches.
7). BRANDING MATTERS
When it comes to brand, this matters greatly in the watch world. You will want to refer to the top brands' general pricing range that you are offering and try to beat that price if at all possible. Only you know what you can afford to price your watches you are offering for sale online. But you will want to make sure you are offering customers a deal that is generally better than what they could get on the company's website.
8). OFFER MULTIPLE PAGES
People judge a book by its cover, and they judge a website often by the number of pages. By offering a wide variety of pages, you are communicating that you have a lot to offer. The "less is more" theory does not apply here. Take several pictures that you can place within the pages with full descriptions of your products so that you can give a lot of detail about your watches you are offering.
9). OFFER VIDEO FOR INCREASED SALES
Over 65% of people who make a purchase online do so after watching a video on the product they are considering buying. Create a great sales video high lighting the features you want to show off about your watches and put it in the video. Then upload your video to YouTube. You'll get some visitors as a result of the YouTube video alone!
10). USE SOCIAL MEDIA TO ATTRACT SALES
Lastly, you do not want to forget about the power of social media. Twitter, Facebook, and Instagram, are all money magnets when it comes to the sales potential of their following. Millions of people are on Facebook and Twitter daily talking to their friends, and many won't make a purchase before asking their friends what they think on social media. You can leverage the power of this phenomenon by putting out occasional "tweets" and posts that are targeted to specific people. Social media platforms also offer a way to find out what customers want and give it to them.
11). IN A NUTSHELL
So, take great photos. Create a sales video. Put it on YouTube. Price your watches below your big brand name's price when possible and offer discounts to drive more sales. Create an appraisal platform where people will come to get their watches appraised and you will often drive more sales indirectly from this service alone. You can also capture many leads from your appraisal process.
Remember selling online is an adventure, so take it one step at a time and you'll establish a reputation for being the best online watch appraisal and sales company around.