Rocket VPN Review: Internet is one of the most useful resources that mankind has ever come across. Though it provides us with just everything, but a user is always under a threat while browsing across the internet. A number of spies or hackers are eyeing at your activities and any of them might just break through your firewall and access your important data. So, it is always recommended to choose your ISP after a proper research. Internet privacy is only a myth. But a VPN can ensure your safety across the internet. While browsing through the internet, the VPN hides your identity even from your ISP. Your ISP is unable to track what content you are browsing on the web.
If you wish to be secure while browsing on the internet then using a VPN can serve as the best option. If you are looking for a good VPN network then Rocket VPN is the one to be considered. Let us learn more about it in the Rocket VPN review.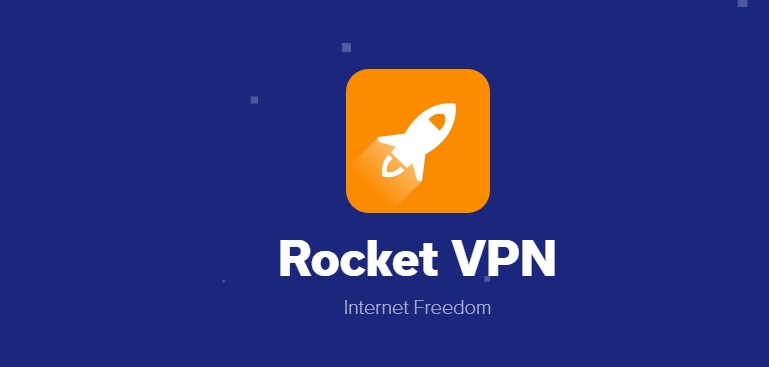 Rocket VPN Review: What is Rocket VPN?
Rocket VPN is a stunning application that lets the users of Android and iOS devices to browse through the internet connection on mobile swiftly. They can access the restricted content and navigate through different websites at quick speed. The users of mobile devices can easily encrypt their mobile data, change their geographical location, avoid being monitored by the 3rd parties, and stay anonymous throughout the web. Moreover, you get 250MB free data usage for every 30 days. You can extend it by upgrading from its free plan.
Top Notch Features of Rocket VPN App
The Rocket VPN comes packed with a variety of exclusive features. You must install this VPN app on your device to utilize each of its prominent features. Here are some of the most versatile features of VPN app mentioned in this Rocket VPN review.
Easy to Use User Interface
Rocket VPN makes use of color and transitions that adds appeal to its interface. You can navigate through its features from the home screen as it is kept simple and clean. You can find your monthly usage, select the location for connection, and access other apps from the home screen itself. Overall, the user interface is kept clean and simple.
Access the Restricted Content
The government of your country or your ISP might have blocked few websites from opening at your location. You can easily bypass this censorship while using Rocket VPN. This can be done by choosing any virtual location in its interface apart from your country. This location can even be changed according to your choice.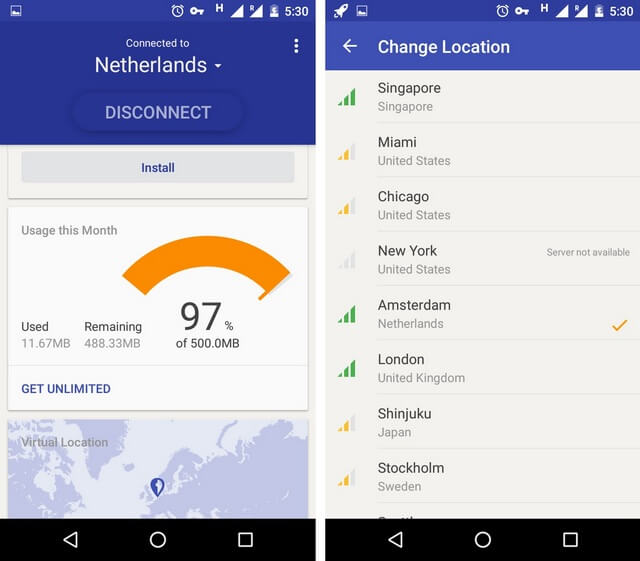 The Security & Privacy
The Rocket VPN has set a high standard of security by ensuring that you access the internet safely without any interruption of third party services or spies. All your personal information and the data transfer you do is encrypted. The third party applications cannot spy what you are doing. Even your ISP can't identify you.
Quick Launch Apps
The 'Quick Launch Apps' section is located on the homepage. Here, you can add the applications that you wish to run through the virtual location. Connect to this VPN app and launch the applications you want to run. You can choose from 10 different locations. Its servers are located in Japan, Germany, US, UK, Netherlands, Sweden, Singapore, and few other countries. To experience the fast speed in connection, you must choose the location that is nearer to you.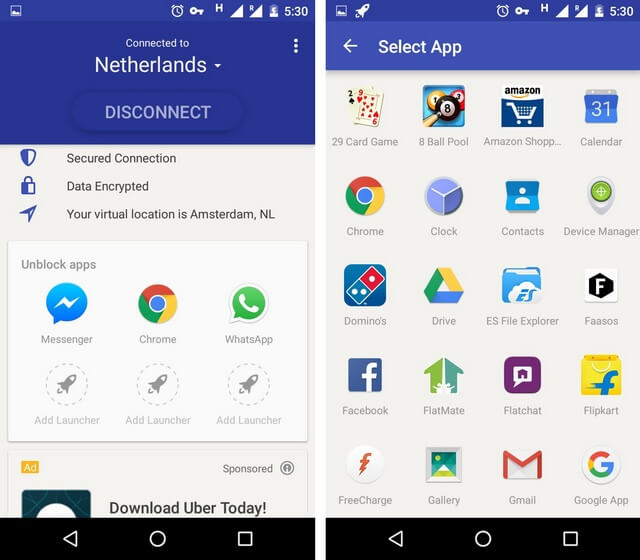 Performance & Speed
The Rocket VPN performs well without any lag. You don't require any specific hardware configuration to make this app run on your smartphone. The speed of your connection depends upon the location you choose. If you are far away from the chosen virtual location, you may experience speeds lower than the average. To experience quick speed, select virtual location that is nearer to your location. Here are the speed test results for Rocket VPN.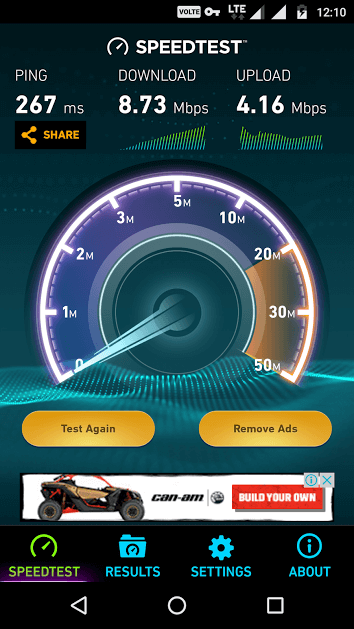 Multi Platform
It is a multi-platform app that can easily run on smartphones, tablets, and iOS devices as well. The user interface may change a little for iOS devices. Rest everything is common in its app. Its app is available for Android as well as iOS devices.
Pricing
Though the initial 250MB bandwidth you consume is free, but for using unlimited bandwidth, you need to upgrade the plan. It will be costing you $2 per month if your plan is billed for a year. If your plan is billed per month then the price might be higher. Also, the extra MBs left each month cannot be carried to next month.
The Last Words
The Rocket VPN is one of the most fascinating applications available for iOS and Android devices. You can install this app from Google Play Store or iTunes Apple Store on your smartphone to browse through the internet securely . Rocket VPN review has been given over 4 star rating on the Google PlayStore as well. Now, the choice is yours.