When it comes to scaling teams, organizations face a question that has a significant impact on their bottom line and current development: should they recruit new employees or outsource parts of their operation to a different company, often located far away?
According to the Arvato UK Outsourcing Index, outsourcing agreements worth a smashing £718 million were signed only between January and March 2018!
What is outsourcing and why should you care?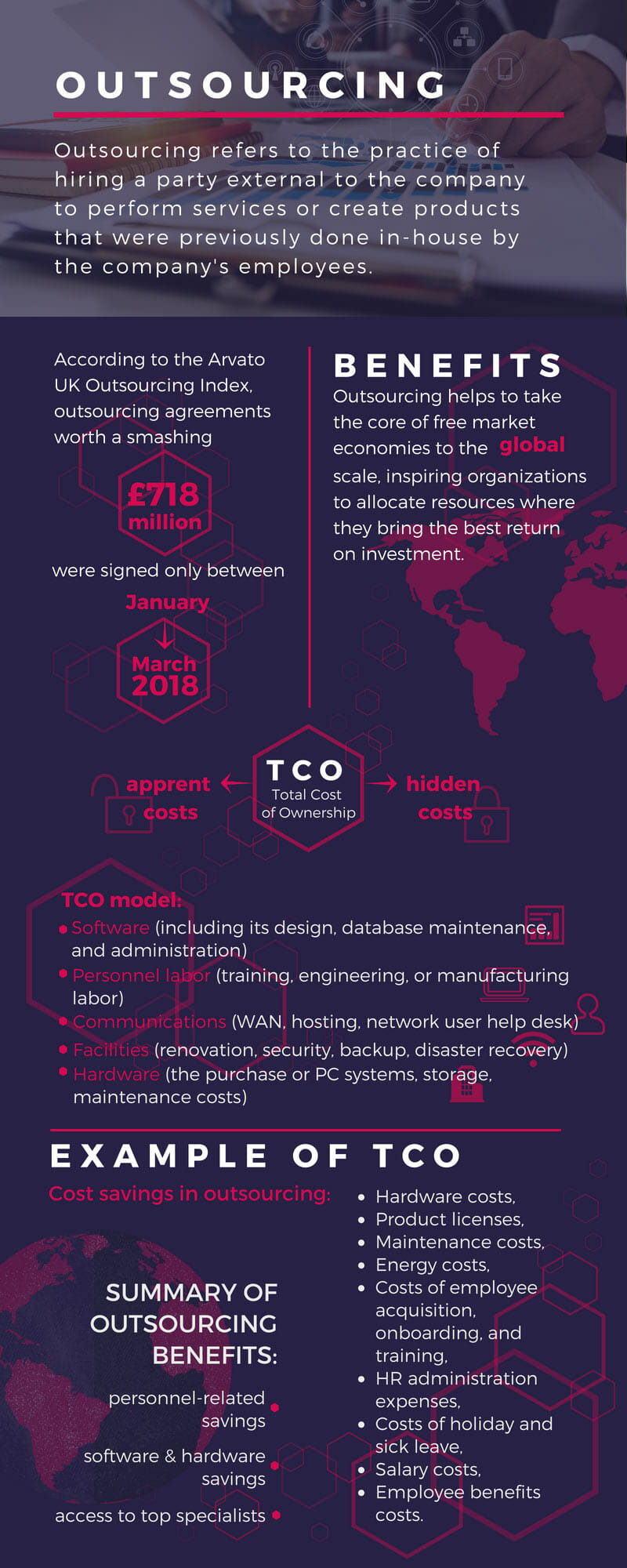 The idea behind outsourcing is hiring a party external to the company to perform services or create products that were previously done in-house by the company's employees. Outsourcing is a cost-cutting tactic that became an integral part of Western economies already in the 1990s, exploding with the arrival of the internet and technologies such as the cloud.
Outsourcing helps to take the core of free market economies to the global scale, inspiring organizations to allocate resources where they bring the best return on investment.
Today outsourcing comes in many different forms that offer various benefits to organizations such as offshoring or nearshoring.
There's no denying that outsourcing is a definite trend, but does it mean you should be investing in it? One way to analyze the potential of outsourcing for your company is by looking at the Total Cost of Ownership.
Example Total Cost of Ownership in the UK market
A Total Cost of Ownership (TCO) analysis is based on a comprehensive cost model which covers the resources and activities due to ownership that are part of each cost category.
When creating a TCO model, you'll be dealing with two types of costs:
Apparent costs – costs that are part of planning such as purchase and maintenance expenses.
Hidden costs – the less apparent costs due to ownership that are easy to overlook when planning, for example, upgrade fees, setup and deployment costs, or user orientation, expenses.
In general, your TCO model should include expenses related to:
Software (including its design, database maintenance, and administration)
Hardware (the purchase or PC systems, storage, maintenance costs)
Personnel labor (training, engineering, or manufacturing labor)
Communications (WAN, hosting, network user help desk)
Facilities (renovation, security, backup, disaster recovery)
Here's a sample TCO model for a mid-sized organization under regular circumstances:
| | | | | |
| --- | --- | --- | --- | --- |
| £ in 1,000s | Acquisition costs | Operating costs | Change costs | Total |
| Software | 213 | 63 | 107 | 383 |
| Hardware | 418 | 75 | 55 | 548 |
| Personnel | 43 | 6889 | 4621 | 11,553 |
| NW & Comm | 113 | 421 | 356 | 890 |
| Facilities | 0 | 12 | 12 | 24 |
| Total | 787 | 7,460 | 5,151 | 13,398 |
One glance is enough to see that personnel costs stand out. That's the reason why so many organizations choose to outsource parts of their operation.
Total Cost of Ownership vs. Outsourcing
An organization that chooses to outsource a task or set of tasks will see significant savings coming from the combination of all the areas covered by the company to which it outsources, such as:
Hardware costs,
Product licenses,
Maintenance costs,
Energy costs,
Costs of employee acquisition, onboarding, and training,
HR administration expenses,
Costs of holiday and sick leave,
Salary costs,
Employee benefits costs.
As you can see, many of these savings concern the most expensive element from the Total Cost of Ownership model we presented above: personnel. Here's a more detailed analysis of what organizations stand to gain from outsourcing parts of their operation to external companies.
TCO and Outsourcing – Comparison
Personnel-related costs
When outsourcing, organizations no longer need to carry expenses related to the personnel. For example, there's no need to purchase more office space, organize workspace, and hire new employees. Choosing to outsource tasks, organizations no longer need to compromise to accommodate the schedule of their staff – including holiday and sick leaves, training, Onboarding, and many other occasions when employees aren't able to dedicate 100% of their time and energy to the task at hand.
Software & Hardware Savings
Moreover, outsourcing comes with its fair share of benefits such as access to expensive hardware and software licenses, often exceeding the financial capabilities of organizations. Companies that offer outsourcing opportunities provide excellent customer service and are flexible enough to allow organizations to scale their operations efficiently.
Access to Top Specialists
But most importantly, outsourcing is an excellent solution if organizations are looking for experts in specific fields who are hard to source and expensive to acquire in their local markets. Employee acquisition costs are very high in challenging markets. By opening itself to the possibility of outsourcing expert tasks, an organization can take advantage of professionals who specialize in a particular area and take advantage of their knowledge at a cost that is significantly lower than employment. Moreover, such experts can share their expertise during training sessions with company employees, instantly boosting the total value of knowledge available inside the organization.
Conclusion
Calculating the Total Cost of Ownership at your organization is the first step to understanding how much your company is really paying to stay afloat and how much it could gain if some of their costs were reduced thanks to outsourcing.
Outsourcing every single area of company operations is impossible. But some lend themselves readily to outsourcing and bring organizations significant savings that can be allocated in their development and growth.
If you're not sure whether outsourcing is a good solution for your organization, don't hesitate to reach out to us or take a look here. We advise organizations from all over to help them choose the outsourcing options that bring maximum savings and support their growth strategies.
This article was created in collaboration with Startnearshoring.com.