How to recover deleted facebook messages photo: Everyone knows about Facebook. Facebook is a top social sharing website. I think everyone uses Facebook on his smartphone, computer or laptop or any other devices. But this is not my discussing point today; my today topic is related to a very common problem which mostly Facebook visitors face many times on Facebook.
This problem is How to recover deleted Facebook Messages. If you are facing this problem today then this post can help you, because here I am sharing every single step by which you can easily recover deleted message quickly without any critical process.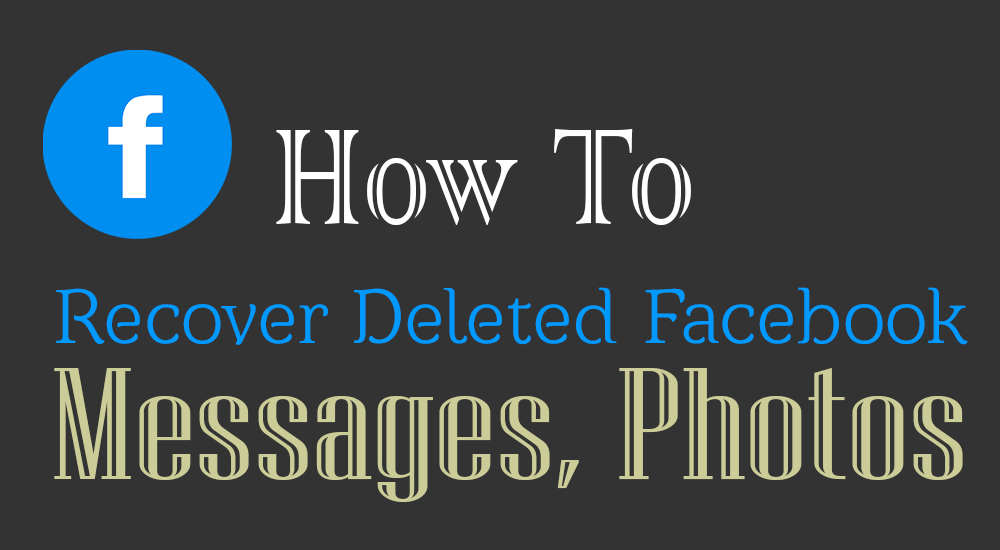 I think Now you having one question into your mind, why I am discussing this problem because before couple days when I was checking my messages then accidentally I deleted my all messages from my Facebook message box.
After some research and tried Facebook support, I found one Answer for this problem. And This solution and Giving bellow into complete step by step process.
Read Next: How to Make Google My Homepage
Hope bellow given steps will proving helpful for you then you may recover you lost data like deleted facebook messages, delete facebook photos and some extra stuff which you want to recover.
Note:
If you are looking any Facebook marketing tool which can give you best facebook automation service, then you can read my another post related to ninja blaster.
How to Recover Deleted Facebook Messages, Photos, and Notification Step by Step:
1) Before anything you need some information your Facebook account username or password, If still you have then visit http://www.facebook.com and put your login information like username or password into valid text field on facebook web page, If your login username or password will be valid then your profile page will be login front of you. same as bellow given image.

2) If your first step is done then now time for main steps, Now you need to go on top right side down error button then hit this button, after this process you can see bellow some extra option will be open here you need to select 'Setting' option
If you successfully hit 'Setting' link then this process will move to another window where you can see various profile settings related option.
But here our primary target to recover deleted facebook messages then we only do necessary steps.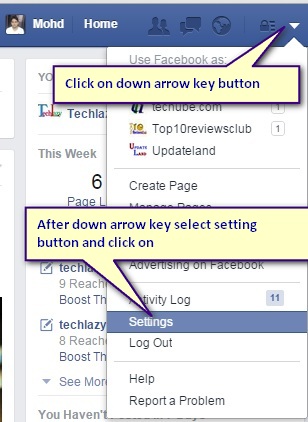 3) If you hit 'Setting'  link then you can see same windows like given bellow front of your facebook website screen, here you need to click on 'General'  link, Here I click on 'General' link because our required option are available into this option.
This 'General' windows having various profile related options like general, security, privacy, timeline and tagging and etc. But here your requirement is recover delete messages then you need to go on bottom, here you can see 'download a copy ' of your facebook data.
click this link and done this step.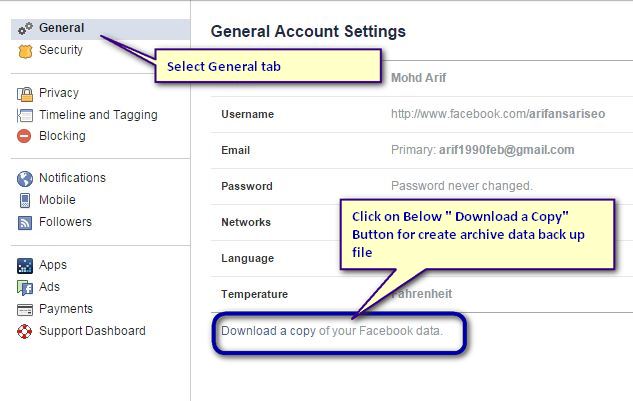 4) Now this is main process for recover deleted facebook messages, This step is responsible for generate your previous data archive file, by this file you can recover your facebook deleted message.
Read Next: How to Root Your Android Phone or Tablet Without Computer
But here you need to wait for some time Under this step you can get information about archive file which you can see below image.
Notification is " We're generating your personal archive. We'll email you when it's ready."

5) Now time for next step, here you can see new window, same like as bellow, this windows having one button, that button is responsible for make your data archive file here you need to click on this button 'Start My Archive', That's why click on button.

6) If you successfully hit this button then you can see  bellow similar windows here you need to verify your identity like you are not a robot or any spam program which not having any real identity, that's why here you need to put your login password then press 'Submit' Button.

7) If your account verification is done, you can see same notification box on your windows which having some text and two buttons, one button for 'Start my archive.' Here same as upper you also need to click on 'Start my Archive' button.

8) Under next step, you can get notification message for you about your Facebook data archive. When archive is done then Facebook send you on your mail address. Below I am showing notification image.

9)      After short time Facebook send you email about your data archive file. Then check your email address.

10)   Under email address you get a link. By this link you can download your archive data file then you should click on link or copy given link and put into new tab url and hit enter.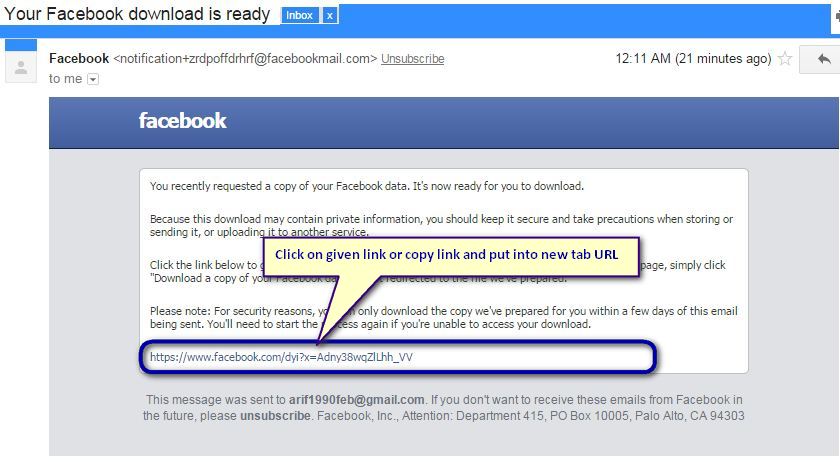 11)   Now time is download your backup archive file, below I am showing image file same as you get at this step time, then you need to click on download archive button and check you all data.

Read Next: Trace Unknown Mobile Number with Owner Name
How to open my Data File or How to Use Archive Files?
If you are not a technical user and not having any sufficient information how to read or open archive file then don't panic because I am sharing one very simple way by which you can open this file and can get your deleted facebook message or photos or any other.
First of all, you need one software, by the help of this software you can open you data file, This program name is WinRAR. That's why first you need to download this program and install into your computer.
Download Link: http://www.rarlab.com/download.htm
If you have installed this program into your computer then you need to 'select your data file' then 'right click' and select 'extract file' or 'extract here' or any other option which you feel better for you.
Holla.. your Data are available for you, open extract folder and this folder having various directories and various supportive HTML version file.
Now you can find your deleted data here into anyone directory.
Hope you like my post "How to recover deleted Facebook messages, Photo, Notification, Latest update" and this will prove helpful for you to get your deleted data.