Do want to surf the internet securely? Want to protect your privacy? In today's digital age, cyber criminals have access to your private information more than ever before. It's important to safeguard your personal data and your company's sensitive information.
While people are becoming more aware of the importance of surfing the net with a VPN, there's still a lot of misinformation about virtual private networks.
Many people use them to break barriers set by their country's government, or to access blocked websites and surf the 'secret' web, but VPN's are best use to protect your privacy. There are many VPNs on the market today, but one of the best we've come across is Private Tunnel.
What makes Private Tunnel unique is that it was authored by OpenVPN Technologies Inc., one of the most trusted open-source security softwares on the market today.
Private Tunnel should be used as your last-mile security, helping to protect your systems from security threats and prying eyes that might be present in your home or business network.
Here are some of Private Tunnel's features: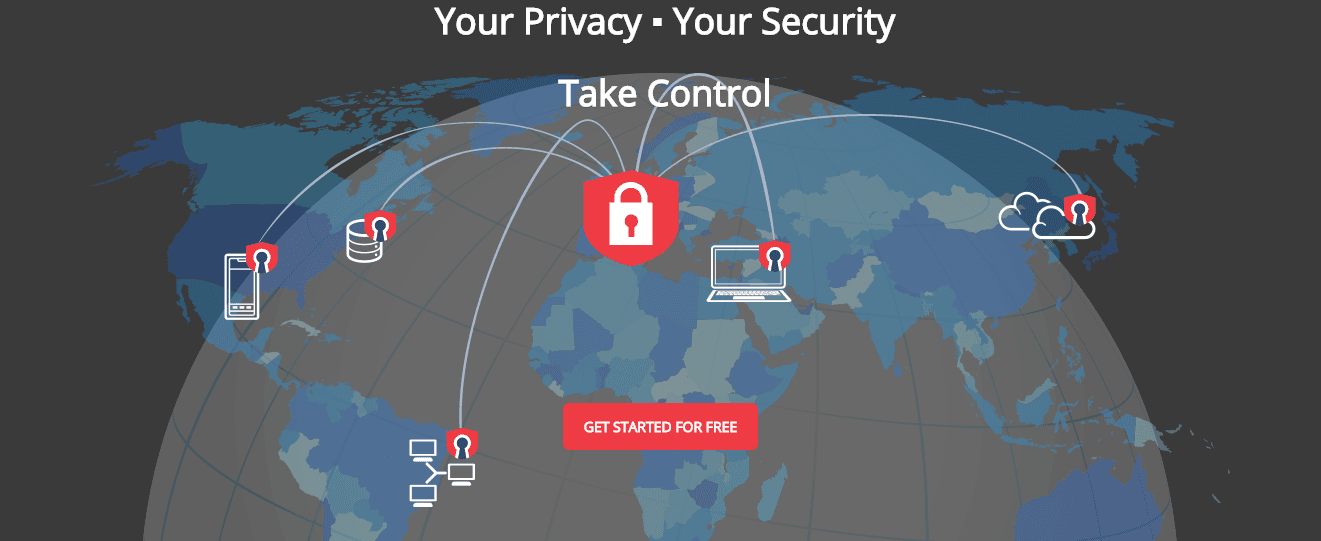 Private Tunnel Review – A Know How
The Private Tunnel has a unique business model. It hides your location and charges you for the data used. It is the commercial spin-off by the OpenVPN Technologies. It is a powerful alternative to PPTP and L2TP/IPsec protocols that are used for tunneling traffic through encrypted links. It can provide you an everlasting experience while you are browsing anonymously. The servers can handle the traffic well and provide you with great speeds. It is also available on the Android app.
Private Tunnel Setup
Once you have created an account with Private Tunnel, all you have to do is download the client for your system. I use Windows, so I downloaded Windows VPN client. After download is complete, proceed with the installation and launch it. Now, follow these steps to get connected with Private Tunnel VPN.
Once you have launched Private Tunnel, following dialog box will open.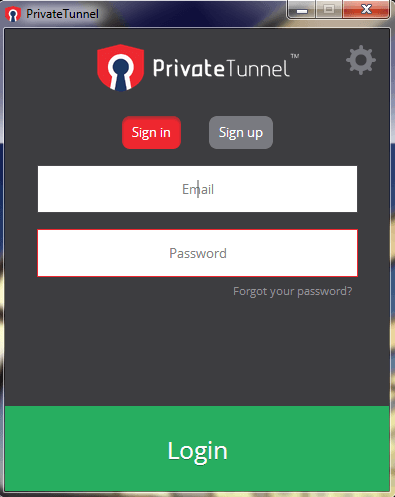 Enter your login details to proceed. The following screen opens.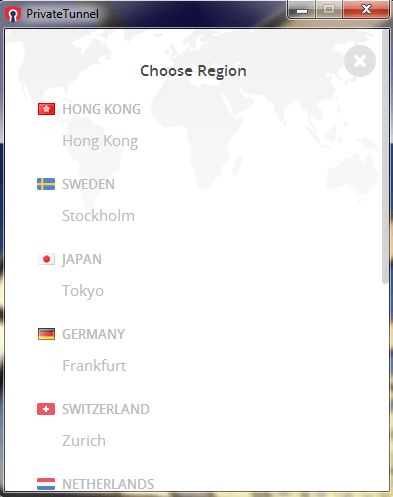 Now, you can choose from different regions and acquire the IP of that region. Your ISP will not be able to detect you.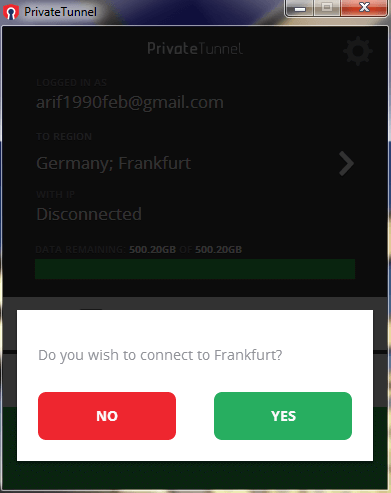 Once you have chosen the location, it will ask you to connect with the location. If you wish to connect press 'Yes' or else press 'No'.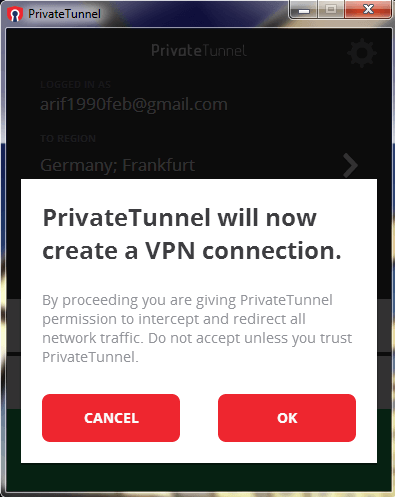 Private Tunnel will now start creating the encrypted VPN connection for you. Press 'OK' to create a VPN connection.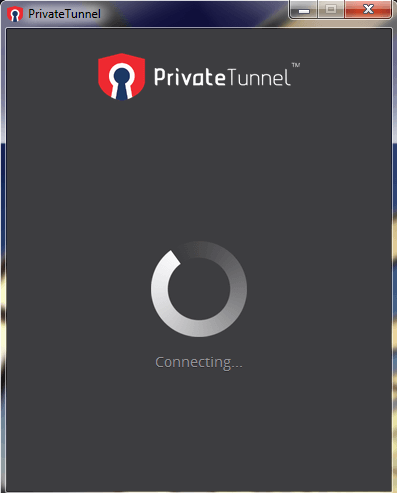 It won't take long while you wait to get connected.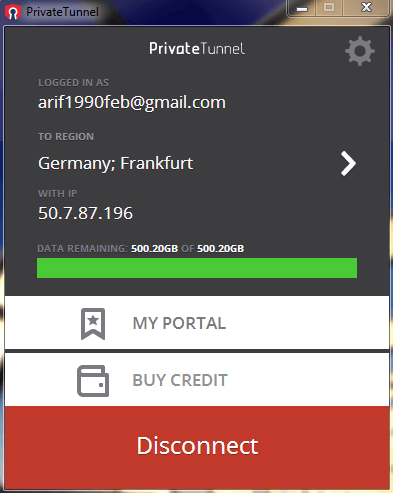 Once you have connected, your IP will be displayed in front of you. You can start browsing under the secure environment. You can press 'Disconnect' to be disconnected anytime.
Top Features of Private Tunnel VPN
Private Tunnel is one of the secure VPN networks that are popular for its advanced level security. Moreover, the low data usage cost makes it popular among the users. Let us explore some of the greatest features of this VPN in Private Tunnel review.
Made for Different platforms
The Private Tunnel provides the VPN clients for Mac OS X, Android, iOS, and Windows, and also a downloadable file that you can use in any of the OpenVPN client such as NAS or Linux device. One of the best things is that you can log into the VPN service directly from your web browser. Once you are connected, you can run other sites within browser inside your browser. Sound a little odd! But yes, it's true.
Servers
Some may argue that Private Tunnel doesn't have enough VPN endpoints, but still the server network is spread across US and quite a few countries in Europe. The servers are located at UK, USA, Switzerland, Canada, Netherlands, Sweden, Germany, and Hong Kong.
Strict Logging Policy
Unlike many of its competitors, Private Tunnel logs the files browsed by users. It guarantees that the data will not be misused as they will use it for the improvement in servers, fixing the software bugs, identifying the security breaches, and enhance the overall performance of the servers.
Security
The Private Tunnel protects your data transmissions with the 128-bit-AES-GCM encryption. The GCM (Galois/Counter Mode) support avoids the excessive speed restrictions without doing any compromise with the security of connection.
Support
Most of the Private Tunnel reviews have stated that its support is average. But I when I asked for support, my queries were solved within few asks. You can get the support on email and through chat as well. There working days of the week is Monday to Friday. Also, there is a FAQ page to provide you with desired support.
No Limit for Simultaneous Connections
Unlike most of the VPN providers, Private Tunnel doesn't impose any limits on connecting multiple devices simultaneously under one plan. You can connect from as many devices as you want (including its unlimited plan for which the device limit is 10). All you have to do is install VPN client on your device and login to the account from them.
Pricing & Plans
Private Tunnel offers you 3 different plans starting from $9.99. It is the most basic plan and you are given 20GB of data. You can connect to unlimited devices with this plan. An unlimited plan is also offered providing you unlimited data at just $29.99/year, but you can connect to just 10 devices. You can choose the plans according to your needs. Moreover, if your plan validity is expiring and you renew it before date, the data left will be carried forward. This means the data that was remaining in the plan can be added to new purchase. You are also given a 200 MB free trial package for testing the VPN network.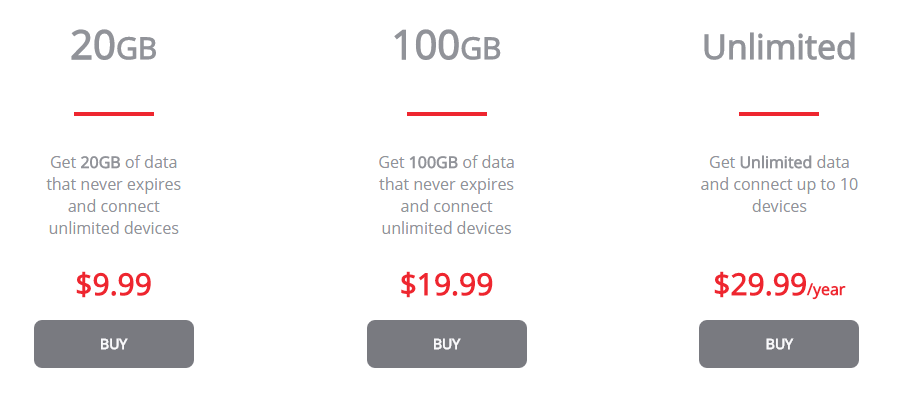 Affiliate
It provides you with an option to earn the data as well. You can refer your friends and for each new person who joins through your referral link, you earn 200MB of data for free. It also provides you an option to share your referral link from the dashboard to your Facebook or Twitter account directly.
The Last Words
The Private Tunnel VPN network is one of the best VPN networks to get acquainted with. You can trust its services and opt for them as well. The advanced level of security and GCM support represents the quality of service. You can give it a try now and anonymously access your favorite websites that are banned in your country.