Ninja Blaster Review – best facebook marketing automation tool: Hi readers, today I am here for one best social marketing tool, which name is Ninja Blaster. If you don't know anything about Ninja Blaster then first of all I am giving you brief introduction about Ninja Blaster, this software is a bundle of various social or email marketing services like you can send email, can post status on Facebook groups or pages and also you can publish pin on pintrest. If you have question into your mind, What type social or Email marketing services then bellow I am giving here full features and features description.
What is Ninja Blaster?
Ninja Blaster is a software bundle, which providing various social marketing services like email subscriber list builder, bulk mail sender, Facebook page posting scheduler, Facebook commenting on status, unlimited group auto posting and various more.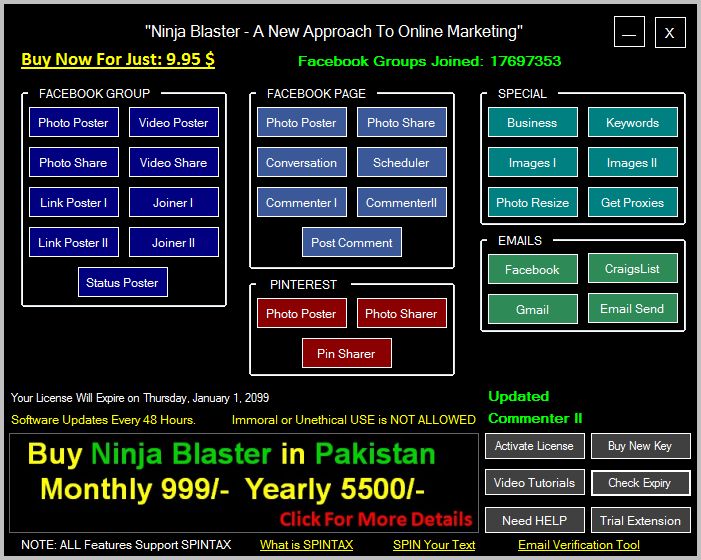 Note:
Inside last year 2015, Facebook banned unlimited posting by Facebook API. That time Facebook allow only limited posting per day,
Facebook New Policy:
If you have API access facebook group posting then you need focus some recommendation which I giving bellow.
1.You can Post 4 Post/ Hour
2. By help of single a/c you can 99 post/Day
It you hit your daily target then Facebook can banned your profile for some time. I think you don't want to block on Facebook.
If you are internet marketer then you already know Facebook is a big social community where every day millions of users visit his profiles. That's why Facebook is a best place for getting big exposer for your product or business services.
Couple day before I wrote one review related to Facebook Auto Posting, these review you can read here " Postradar Review". But these days postradar website main services group auto posting is failed, for this reason postradar loosed big no of daily traffic.
Note
If you have Hootsuite online automation service then you already know, HootSuite giving you posting service into limited group. Because hootsuite use API service that's why hootsuite doesn't gives you unlimited group posting service.  A Hotsuite yearly charge is very high as compared to Ninja Blaster.
After Postradar service I didn't have any good alternatives, by which I can submit my post into multiple group without time loosed, finally after some research I found best software which is fully secure and best service provider, I personally test this software all service and my experience is this software is awesome.
How Ninja Blaster proves best social marketing software for you?
This software only gives you fully independence about facebook changes and protects you from facebook policies, by which you can resolve facebook account ban problems. This is a single software and having multiple features, by which you can increase your social engaging activity with in very short time and can get huge targeted traffic on your facebook page or websites.
Key Features of Ninja Blaster
1. Unlimited Facebook Group Posting
2. Facebook Page Automation and administration services like Post scheduling, commenting, status sharing, page like and many others.
3. Pintrest services like sharing pin, bulk pin poster, bulk image poster.
4. Increase you visibility on Facebook Business Community by Help of Business Features
5. Keyword research and check competition.
6. Download best engaging images by help of keyword and can resize images.
7. Get best proxies address, which always live and faster for high speed surfs.
8. Facebook Unlimited email list builder according to keyword which can increase your conversion rate.
9. Gmail subscriber list builder and email sender.
10. CraigsList Builder for more business and many other.
This software providing you fully flexibility for choose plan, if you want to access monthly plan then you can select here or if you want to buy this software for lifetime then Ninja Blaster also giving you this service. You can buy Ninja software for lifetime validity with auto update.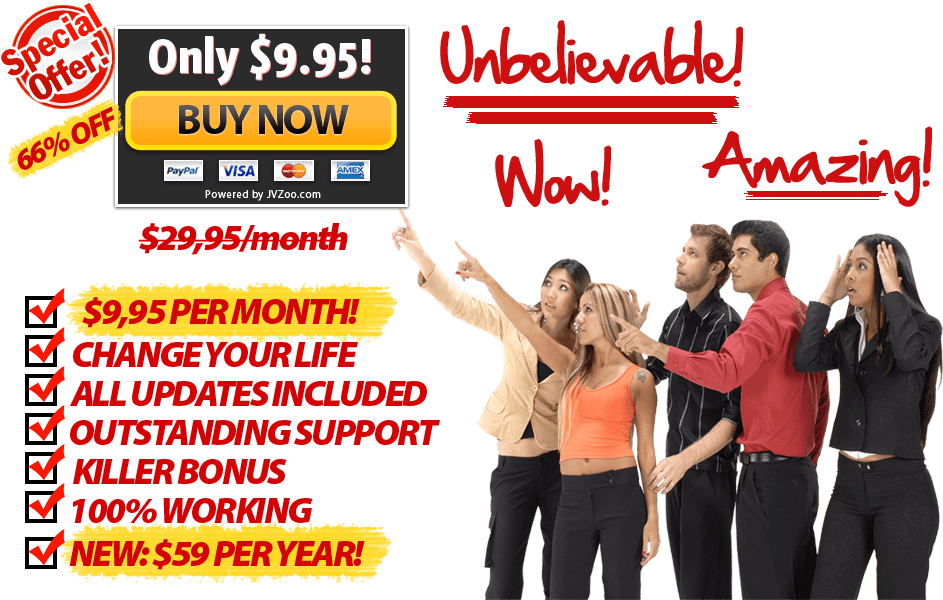 Ninja Blaster Subscription Plans
| | | |
| --- | --- | --- |
| 1 Month | 1 Year | Life Time |
| Get 30 Days license only in $9.95 with all latest updates and features. | Get 30 Days license only in $59.00 with all latest updates and features. | Pay onetime fee $97.00 and use ninja all latest updates and services or features for lifetime. |
| | | |
My Personal Experience for Ninja Blaster
After postradar online group auto posting service, I didn't have any good alternative, by which I can share my post on Facebook, but now I have best software which giving me full automation service.
First day when I bought Ninja Lifetime License then I didn't have any experience about Ninja interface, finally I schedule my first post by help of this software and configure at a time 700 groups, and finally I got best result.
That day I got 5000+ traffic on my website but facebook banned my account as spam activity. Then I mailed to Ninja Support and after some minute I received mailed from support side. And he told me if you want publish status into big number of group then you need to follow some instruction.
My wrong Activity which I removed in next configuration.
1 set properly posting delay time. 
Set sleep time after some no of group posting.
Note: Standard time : 5 min. sleep after 5 Post
After both settings, I resolve my first Facebook account ban problem, Now I am regular working with Ninja Software and regular getting big no of traffic on my multiniche website, my last 10 days AdSense earning is 300% increase as compared to before.
All these credit I want to giving you, Ninja Blaster.. it's awesome software I personally want to recommend you, at least use this Ninja Blaster 3 day trial version.. You can increase you daily traffic as like me and can increase your earning into very short time.
| | |
| --- | --- |
| Money Value | |
| Performance | |
| Features | |
| Customer Support | |
| My Response | |
Step by step Configuration I will update very soon…
Most Reading Article:
www-gmail-com Gmail login|Sign up or create New Account
Hide All IP VPN Software Review: Solution for Anonymously surf on Internet
Top online video tutorials courses and Trainings websites
Ninja Blaster-Best Facebook Marketing Tool
How to root your Android phone or tablet without computer
Social Bookmarking SEO Complete Guide
Postradar : Facebook Auto Poster Complete Guide
Hide My IP Review: Best IP address Changer Online(Surf Anonymously, anywhere without Block Problem)
How to make Google My Homepage
Deep Web Secretes | Complete Guide of Hidden Web
Latest Hidden Sites Deep Web Links Directory Updated 2015