Millions of kids, from toddlers to pre-teens to teens, have access to the internet via various mobile devices such as laptops, iPad, tablets, and mobile phones. The internet gives way to millions of other users to have a channel of communication with your kid. As a parent, keeping up with what your kid does or views on the internet is quite tedious. You are, then, left unaware of the various influences that are impacting your kid. It is frightening if you think about it.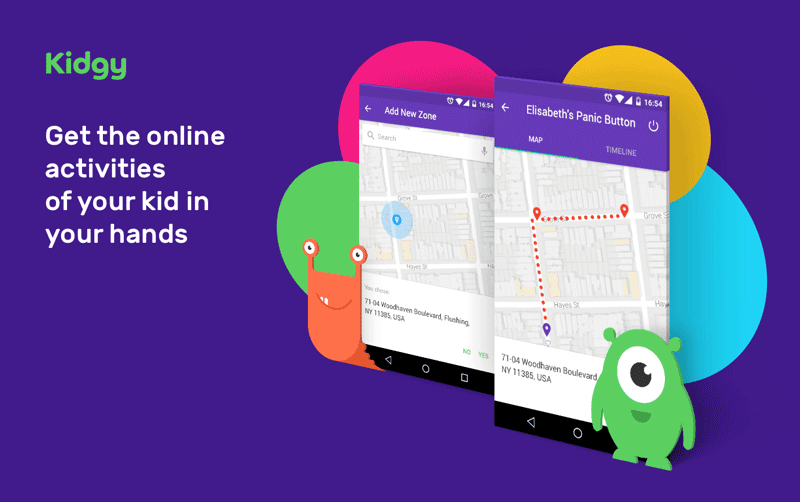 Nonetheless, do not be troubled. Kidgy has come to the rescue of parents globally. Inappropriate and harmful content such as pornography can easily be kept at bay. Kidgy parental control app has software that enables parents to restrict, oversee and track their children's actions on the internet. The application caters to the needs of responsible and protective parents to guard their children against evil and deceptive things at an early age.
Features of the Kidgy Parental Control Application
The Kidgy application software has a number of features that equip 21st-century parents for anything. These features include:
1). Real-time GPS navigation system.
GPS tracking system is the best way to truly know where someone or something is. Kidgy has incorporated this system into its software allowing parents to know the real-time location of their kid's device at any time they choose. Kidgy is also able to decipher the addresses of all the Wi-Fi networks your kid has logged into on a particular day. If this is not enough, it sends the route history of your kid directly to the personal report file in your phone. Therefore, if your kid is going to a friend's place and has not called in to let you know he/she arrived safely, there is no need to bother him/her with endless calls or texts. All you need to do is log into your phone and confirm his location via the Kidgy GPS tracker.
2). Access to the instant messages received and sent from your kid's phone.
Monitor the messages your child receives and sends as this application delivers them all directly to your phone. Parents get details of the incoming and outgoing text messages on their children's devices complete with time stamps. They are also able to view deleted text messages. Do not tire yourself out wondering what or to whom your child is sending and receiving texts from or what has caused the sudden change of mood in your kid after reading something on his/her phone, just install the Kidgy app and read the messages at your own pleasure.
3). Manage calls made and received on your kid's device.
Receive detailed information about incoming and outgoing calls on your child's phone to yours. Kidgy enables you to block calls from contacts that parents consider bad influences. They are able to view the time and date a particular call is made or received. You can directly view who your child's close friends and influences are.
4). Geofencing system.
GPS geofencing aids parents in alerting them when their kids leave for the library or arrive at the movies. This feature allows you to set safe zones as well as prohibited zones. Hence, if your child is in a prohibited zone, you are alerted immediately with the exact location and time of the breach. This helps in ascertaining that your kids are where they say they are.
5). Block inappropriate applications.
Kidgy equips parents with the tools to get access to and manage all the applications installed in their kid's devices. They get extensive reports of the most used apps in the personal report folder in their phones. The app also gives them the power to block any irrelevant apps that might be installed on the child's phone. This reviewing and management of applications aids in curbing bad and illicit behavior as some of these applications downloaded from the Play store or Apple store contain links to gambling and pornographic sites.
6). Access to a panic button.
This parental control application sends a unique SOS message to the parent's phone any time their child is feeling threatened or insecure. This message is sent via the mere click of the button. For instance, when your kid is at a friend's party and they begin to use illegal drugs, your child may call you via the panic button to prevent criticism from his/her friend's. You can easily whisk your kid to safety without any needed complications.
7). Internet filter
The internet is the home of many cyber bullies, child molesters, kidnappers, rapists; the list is non-exhaustive. Therefore, there is dire need to protect your kids when they access it. Kidgy offers an internet filtering feature that helps parents block inappropriate websites/URLs.  This feature is only available for Chrome, Firefox, Yandex and Opera browsers.  The filters sieve out harmful content on every website and aid you to view the websites your kids have visited.
Parental responsibility includes making certain that their kids are safe in whatever endeavors they undertake; the internet is no exception.  It is crucial for digital parents to secure their children's online experience, and there is no better way to do this than with Kidgy parental control app.