'Good Artists Copy, Great Artists Steal'. This is one of the most popular quotes by Pablo Picasso, who was a renowned painter. The same thing applies in SEO too. You need to have the prying eyes if you are willing to succeed in this industry. You need to be clever enough to spy the competitor activities and track your own keywords as well. But not everyone is like you. Some might not be able to see what their competitors are up to. For them, the iSpionage tool comes to rescue. It is one of the newly launched SEO tool to compete in the SEO market. Let explore more about it in iSpionage review alongside.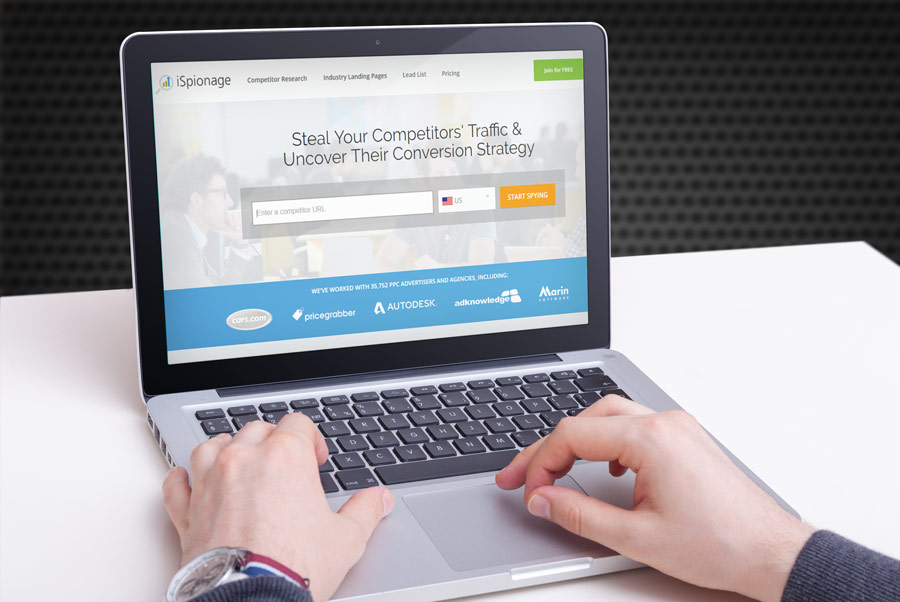 iSpionage Review – A Brief Knowhow
iSpionage is one of the newly launched SEO tools that allow you to do competitive analysis and keyword management. Not only this, it is also helpful in PPC campaign building. It has worked with 35000+ PPC advertisers and the agencies and utilizes its vast experience to deliver the best results. Moreover, it is featured on websites like entrepreneur.com, searchenginejournal.com, kissmetrics.com, and few more. Go through iSpionage review to know more about it.
iSpionage – Top Features
iSpionage is an efficient tool in itself. You get a plenty of features while using this tool. It helps you to monitor what your competitors are doing and how well they are ranking on different keywords. Let us explore other features of this tool in iSpionage review.
Competitor Research
It allows you to spy your competitor without letting him know. This tool is good enough to monitor the keywords your competitor is ranking for. Not only this, you can also monitor your own keywords and check out how well your competitor is doing by targeting the PPC keywords. It has two different options that have been discussed here.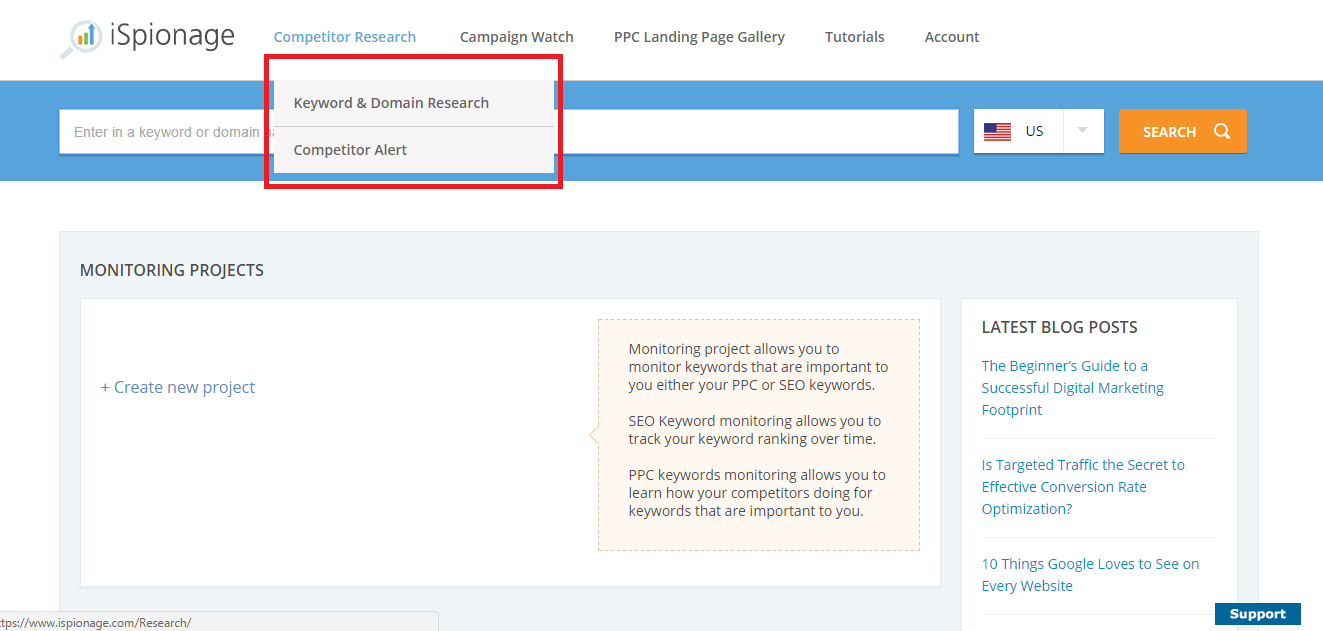 Keyword & Domain Research
You can get the research data on the particular domain or keyword. All you have to do is enter your query in the search box.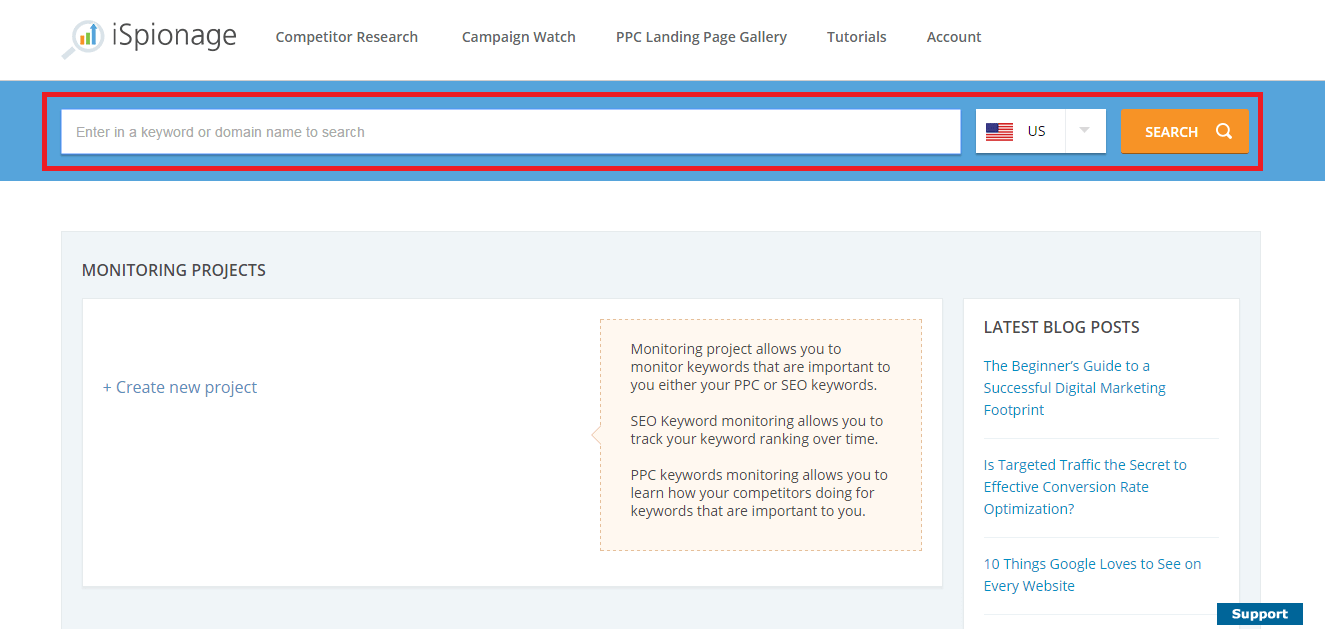 Enter the keyword or domain for which you wish to perform the search. Now press the 'Search' button. You will get the detailed analysis report within seconds.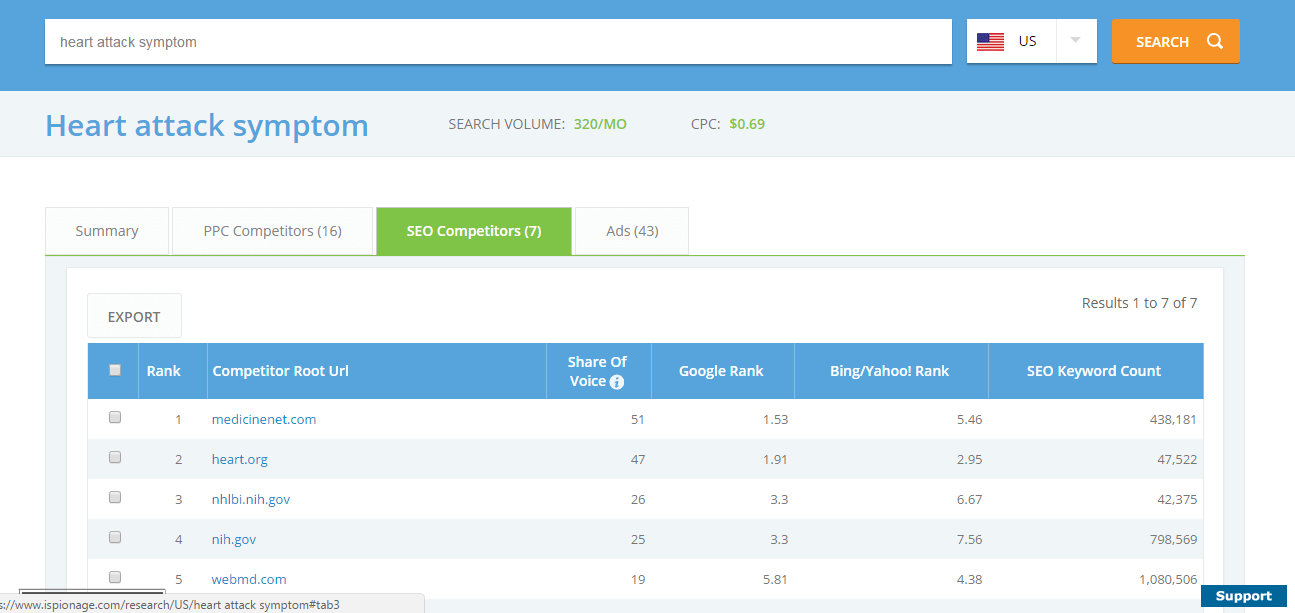 So, you can either track the keyword/domain of your competitor or of your own to get the detailed analysis report.
Competitor Alert
It is a great way to stay ahead of your competitors. You can add the URL and this tool will alert you whenever a new keyword is added to the URL. Not only this, you will be informed about the new advertisers, ad copy, or new organic listing for the keyword.
Firstly, enter the 'URL' you wish to get the alert for.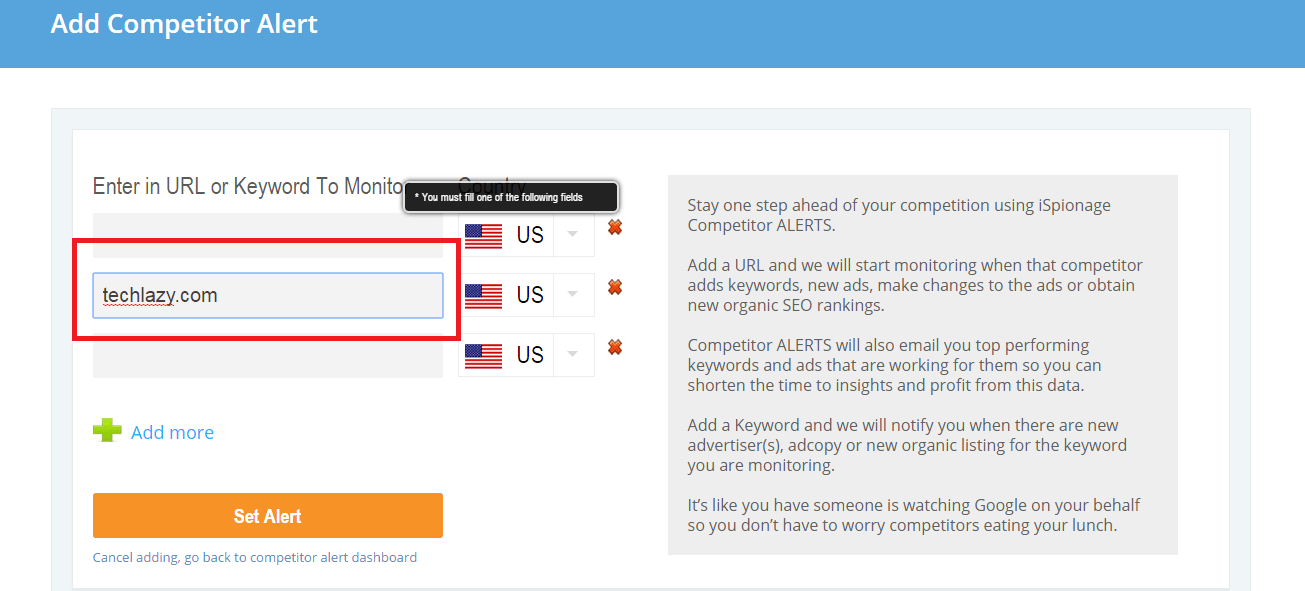 Now press 'Set Alert' button. The complete report for the competitor blog will be displayed in front of you.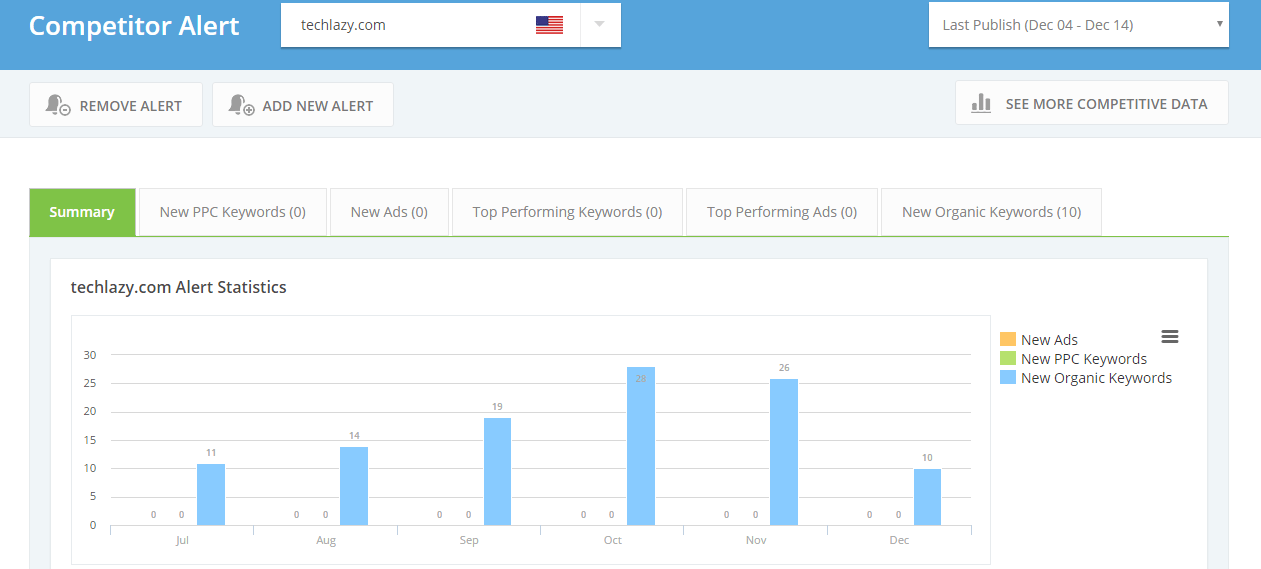 You can scroll down to get more frames of the report generated by this tool.
Campaign Watch
The campaign watch option allows you to check out your competitors' ads copy, landing pages, and specific web pages. Moreover the organic ranking and the PPC activities of your competitor can also be monitored. All you have to do is create a project and fill in the necessary details asked by this tool while creating the project. All details must be true to get the desired analysis reports.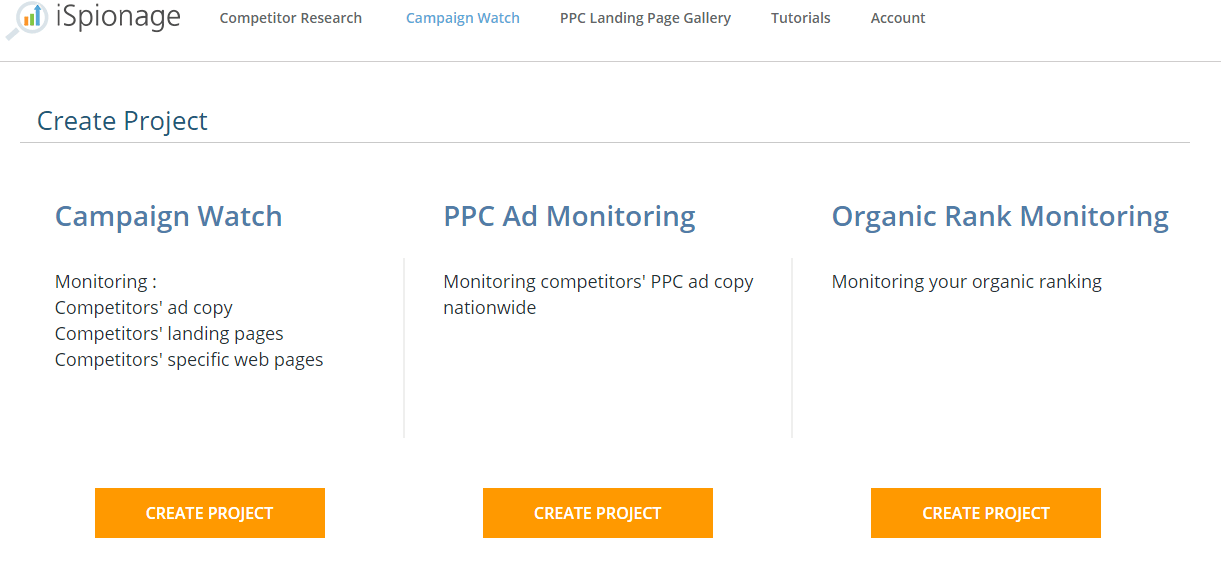 PPC Landing Page Gallery
It displays the PPC landing pages created by different websites on various niches. You can even track the landing pages of your competitors' website(s) by just entering the domain name of your competitor in the search box. If there would be any PPC landing page, it would be displayed.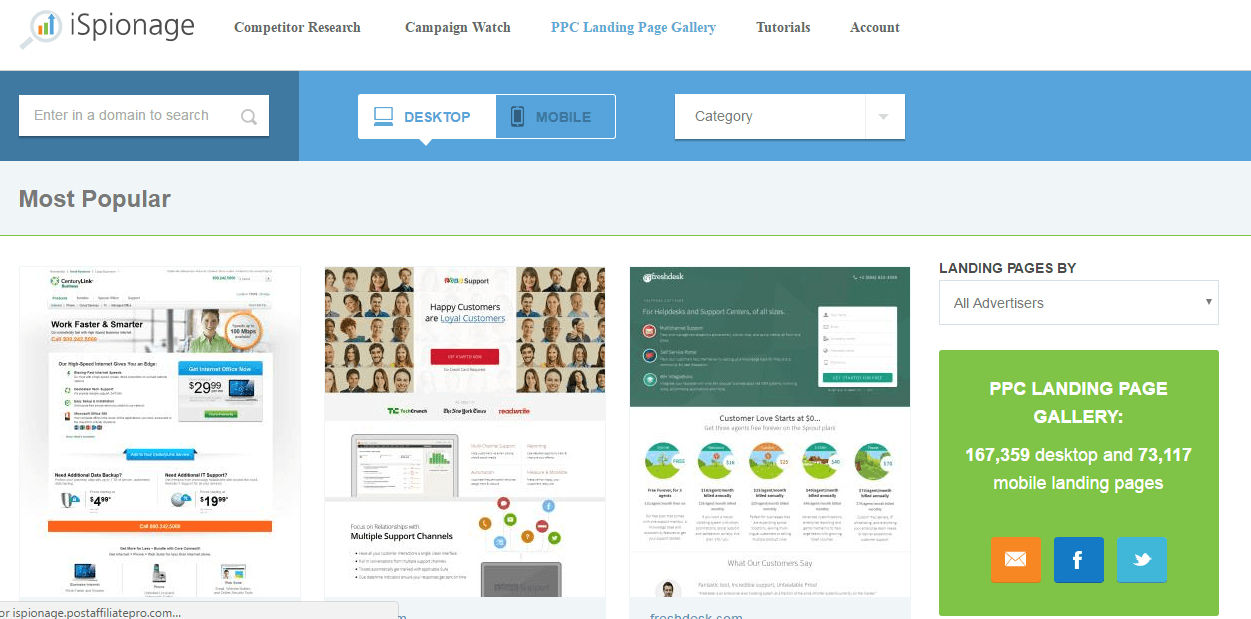 Why you should Use iSpionage?
You might have found plenty of reasons to use this tool in iSpionage review, you just read. If not then we have listed a few for you:
Enormous Data Range: Its keyword data covers the three major search engines – Google, MSN, and Bing that includes 45,000,000 domains, 92,000,000 keywords, and 102,000,000 copy variations.
Impressive Prospects & Closer Insights: The tool offers the most impressive insights that can also be downloaded in PDF format and kept safe for further use. Most of its competitors have improved up to 25% through its competitive analysis reports.
Learning Opportunity from Top Competitors: You can easily learn from your top competitors as iSpionage provides you with the PPC data and monthly spending of your competitors. You can take an idea from it and start your next step.
Get Profitable Keywords: iSpionage lets you find the most profitable high-valued keyword through its interactive interface. It is the die-hard competitor of Google Adwords and might seem better than it.
Improve CTR and CPC: iSpionage is brilliant enough to identify the most productive ad copy on your competitor's website through Ad Effective Index (AEI) algorithm. You can check it out and work accordingly.
Identify Newer SEO Terms: You don't only have the competitor data, but you also have the list of SEO terms for which your competitor is ranking. Utilize it to perfection.
What's so Unique at iSpionage?
You still might believe that there are tools that can compete with iSpionage, but you may end up totally wrong when you compare some of its overwhelming features of with other tools.
Here are some of the most unique features of iSpionage:
The user journey report gives a deep insight to the users about the landing page, offers, and design layout including the keyword-adcopy. This report makes it really easy for you to analyze the competitors and learn powerful SEM strategies from them.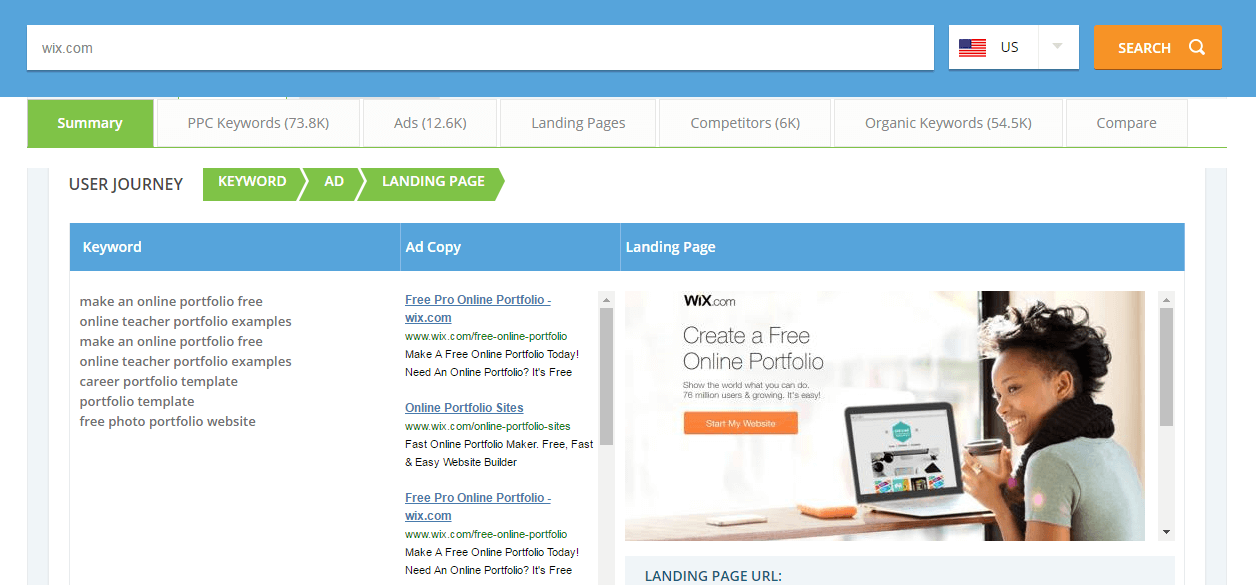 The KEI (Keyword Effectiveness Index) allows the users to find the most effective keywords that are used by the competitors. It saves the trial and error cost of the user during a campaign and helps him to fine tune with the campaign easily.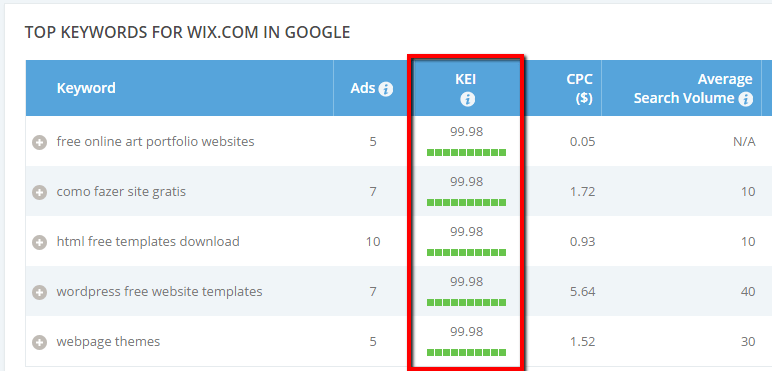 Pricing & Plans
iSpionage is a wonderful tool to analyze the competition and work accordingly. But you know that everything is not free. You need to pay some amount to get the quality. iSpionage offers 4 plans to its users. Moreover a 30-days money refund guarantee also persists for the users who have not downloaded more than 1000 keywords. Here are some of the bets plans offered by iSpionage to all its customers.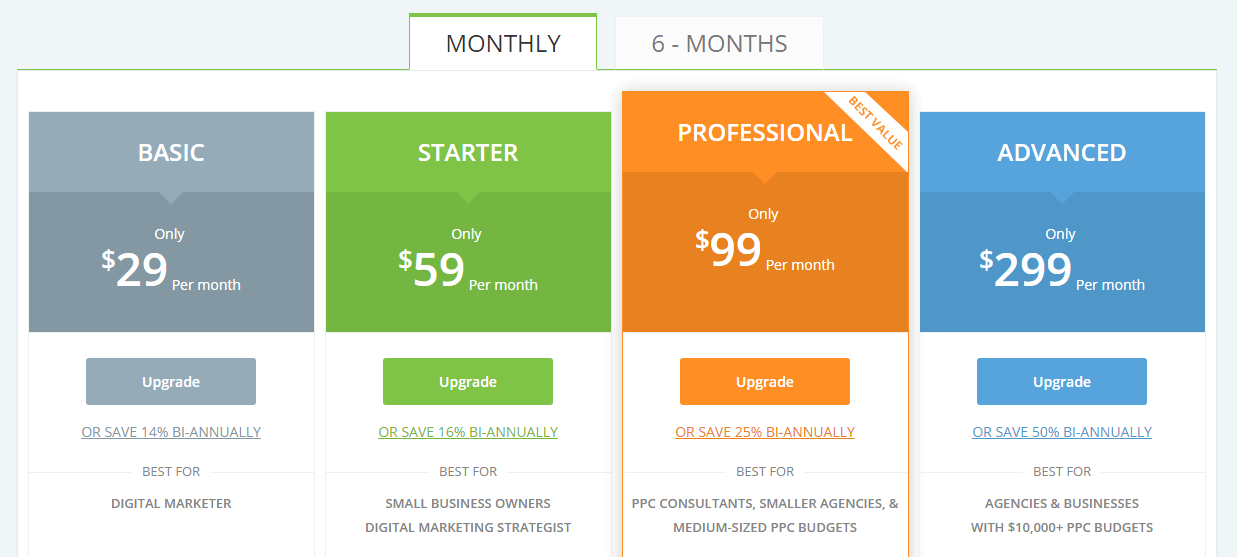 The Last Words
iSpionage is a powerful tool to analyze the most valuable keywords either from the web or from your competitor's website. Though the tool is relatively new, but it has already attracted thousands of customers in recent times. A number of people have started using this tool. iSpionage review given by a number of customers has received the positive ratings. Even the most popular SEO websites on the web have given it the positive ratings. You must give it a try for once.