ezTalks Cloud Review: Video communication becomes a must for me today since I often use it to hold meetings with my colleagues in different offices, and even discuss projects with customers. I tried several software, either of them are not professional enough or too expensive and I'm happy until I find ezTalks Cloud video conferencing service.
Its outstanding features meet all my business needs and what's more, it offers a free version with all premium features with 3 participants, without time limitation. Below are some of the most useful features I find.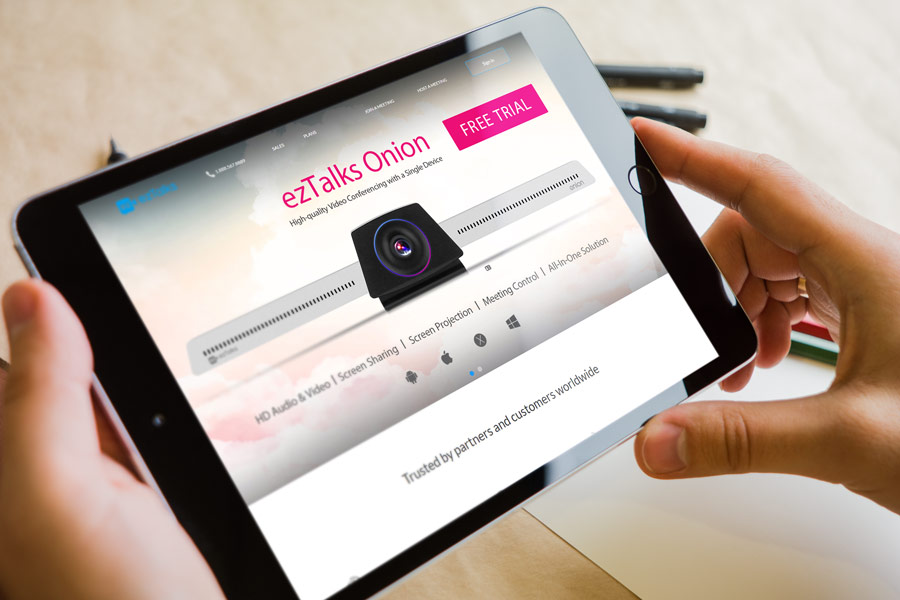 Quick Access to Meeting
Joining a meeting is extremely easy. When I send a meeting invitation to my customers, they can easily login the meeting by browser, without registering.
This is very important because I always have new customers and they may not want to install a software or register an account to join a meeting with me. That will take extra time. I want them to enter my meeting very easily, quickly, no hassle.
When I send them an invitation either by email or copy them the meeting details, they click the link, enter the meeting No. and their names, within 1 minute, they can get in ezTalks cloud meeting.
One more thing I have to mention is that, ezTalks cloud is also available for Mac, iPhone, iPad and android phone, anyone join a meeting from these terminals need to download the app, but still there are options for others users.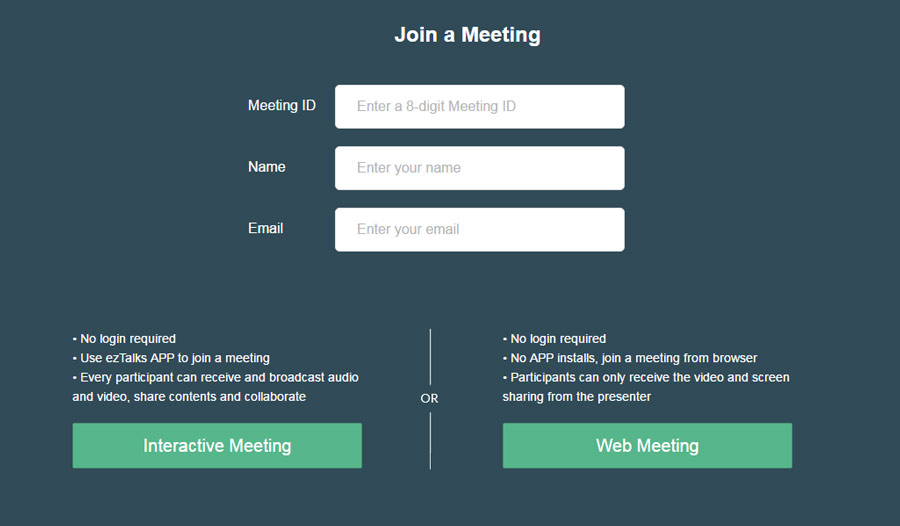 You can paste your meeting ID, name and email there, and choose "Web Meeting". In this way, you can enter the meeting quickly, you can receive the video and screen sharing from the presenter.
But if you want more interaction, you can also choose "Interactive Meeting" — download the apps, you can receive and broadcast audio and video, share contents and collaborate.
Super HD Video and Audio Quality
For an online meeting, video and audio quality is the most important and basic feature, and in my experience, the smooth of the conference takes the same important role. ezTalks Cloud satisfies both.
ezTalks Cloud offers up to 1920*1080p HD resolutions, which gives really crystal clear video and audio transmissions. However, there are also other resolutions like 1280*720, you can choose anyone suitable for you depends on your bandwidth.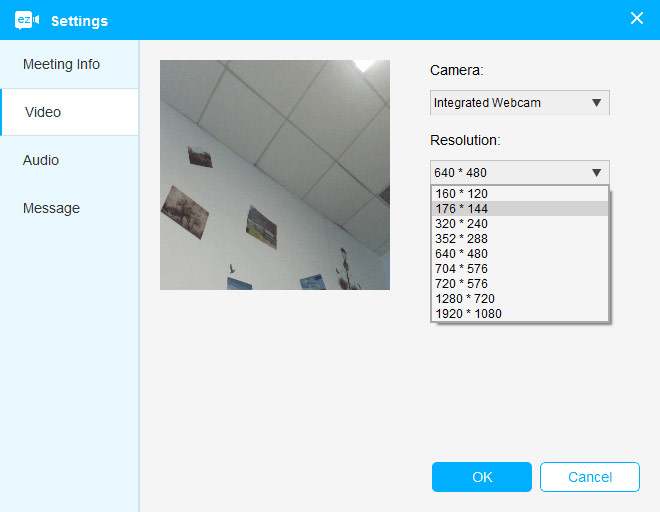 I think this is a very considerate setting, firstly, I want a HD conferencing experience, but sometime my bandwidth cannot allow that, at least I have a chance to keep the meeting go smoothly. I don't always need 1080p, most of the time 720p is enough for me.
Convenient Screen Sharing and Annotation
This is another feature of ezTalks Cloud I cannot live without! A video conference can save my time from travelling, and this feature help to enhance my productivity.
It's extremely important for me to present my PPT, PDF and word files to my colleagues after I work out a proposal draft and need their ideas to finalize them.
I just fire up an ezTalks Cloud meeting, simply open my file and click "share screen", I start to present my ideas and discuss with them.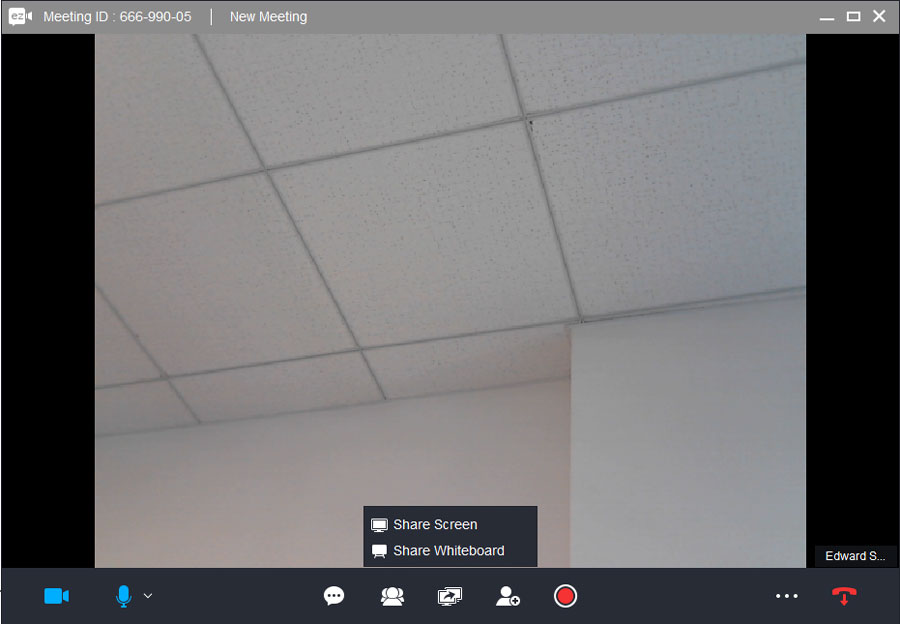 Why I like it some much? Because most of the time after I go through the files with them, I also got almost a final draft proposal done. I make them as a presenter of the meeting. In this way, they are able to take annotation. This saves a lot of my time.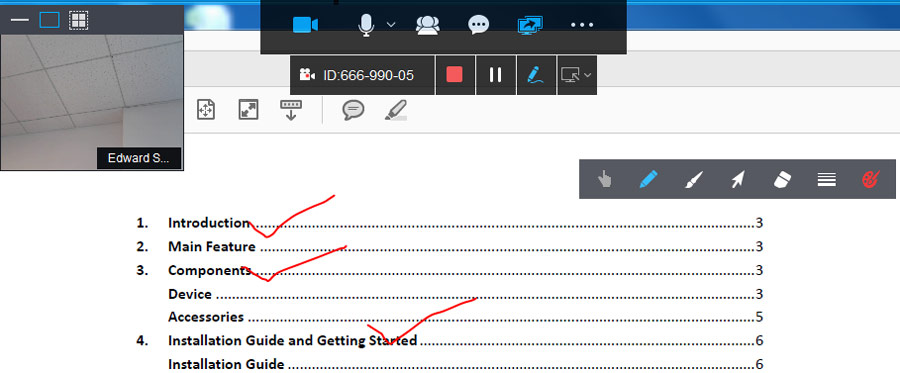 Record Meetings
Why I record meetings? Well, there are 3 of us need to use ezTalks Cloud, and sometimes the third one may failed to join our meeting due to some personal reason.
So we recorded the meeting from the very beginning and save the file for him to check later. I don't need to explain to him every detail again.
Sometimes, I just want to keep the meetings in record in case I need to go back to check some details one day. I do not have a secretary to take note for me, this feature perfectly helps. The longest meeting I recorded was 2 hours, and the record was saved to a WMV file.
After you finish the meeting , just click "stop", the video will be automatically saved to your PC. You can reply the videos or send them to other participants anytime.
I'm not very sure about the longest recording time, but I used to ask about it, they told me that even if the meeting is too long, it will be automatically saved to different files. So no worries about the recording time.
Besides above features I used a lot in meetings, there are also other features make using the software very easy. The software's work flow is simple and easy to understand.
Schedule a Meeting
I can schedule a meeting in advance and send the invitation to participants. In this way I can make sure everyone has an idea on the meeting.
Basically, I will tell them meeting time , give them a rough idea, and tell them to get prepared. Also, I confirm who will attend the meeting for sure.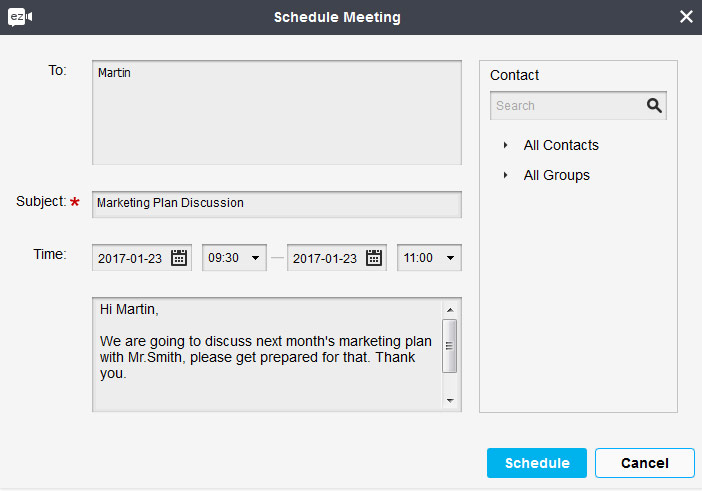 Then I click "Schedule", an email with the meeting information will be sent out to Martin. In one email, he will get to know everything about the meeting. I can also select several participants' from my "contact", or enter more email address directly. By one click, I can inform every participant about the meeting.
Text Live Chat
Maybe you think we can just talk face by face, but text live chat is also needed. I need to send out some URLs or need to text someone in the meeting privately without disturbing another. So I will either need to text publicly or privately to participants.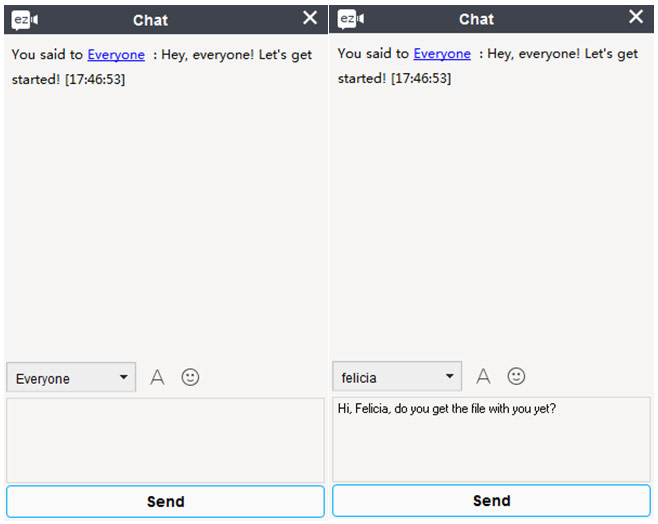 When you are video conferencing with ezTalks cloud, you will feel like you are not only meeting people face by face, but also you are communicating like using a chatting tool. So far, I'm really happy with the overall experience.
Control Participants and Meeting Settings
As a host of the meeting I have the right to control the meeting, I can lock the meeting , I can mute anyone, I can kick anyone out (although I seldom do so). I can also make another one as the presenter when I need him to share files or screen from his end. All these features make the meeting very professional.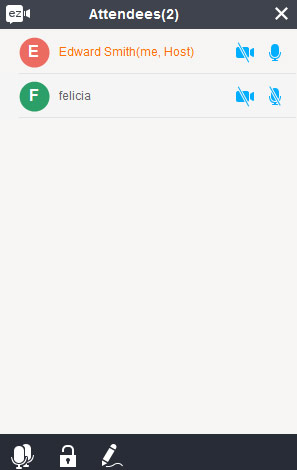 Is it worth trying?
The answer is definitely yes. As I mentioned before ezTalks Cloud provides a free service with 3 participants, no time limited. With this account, you can try out everything you want.
If 3 participants are enough for you, just enjoy the easy free service. There is no cost for you to try it out. And When you need more participants, there are Premium 10/30/50/100 monthly/annual plan starting from $6.99 only. You can choose the best suitable for you. The price is very reasonable compared to other tools.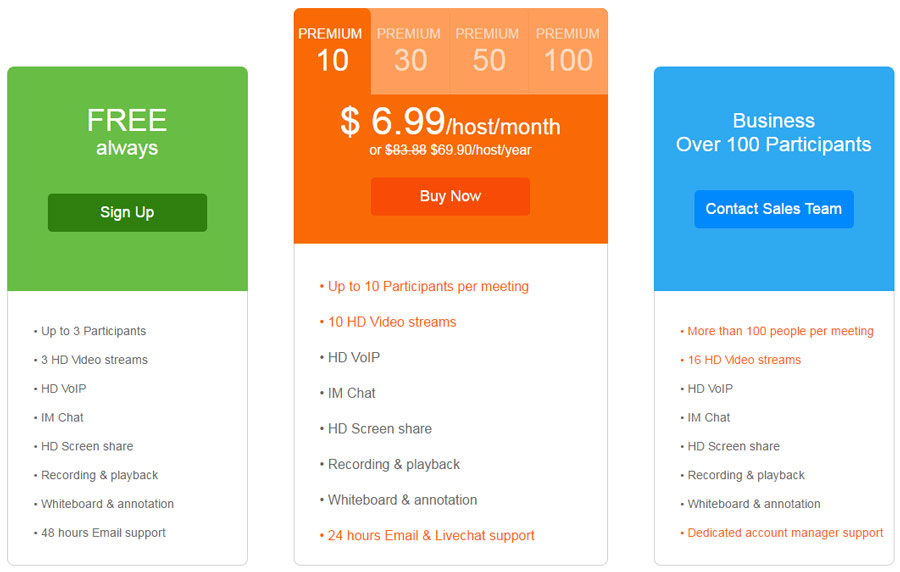 One more thing I have to add is that, although it says "48 hours email support" for the free version, I usually got response within 24 hours.
There are 3 ways to reach them: Email, phone call and live chat. Their live chat responses very fast and really helpful and informative. ezTalks Cloud service is one of the best I've ever come across. I never expect a free service to give a normal user like me so much help in time.
Final Words about the ezTalks Cloud Review:
ezTalks Cloud Video Conferencing Software is one of the best video conferencing service you can ever use. No matter you are doing international business or just want to meet up teams in different places in the same city, you will need it. With ezTalks cloud, you can either join a meeting by your iPhone, iPad or android phones. Even if you are on your way to airport you can pick up your phone and join the meeting, share your ideas with others anytime.
There are still some features I would love ezTalks Cloud to improve. For example, I don't know why it doesn't provide MP4 format, I think many users would prefer it. So far, I'm good with this but if they can add that, it will be better. For example, I hope I can also share screen from my iPad but they schedule this feature in later versions. However, considering other powerful existing features, it's ok.
There are really a lot of similar tools for business video conferencing in the market, and video conferencing is not a new technology but choosing the suitable one for your business is very difficult. ezTalks cloud is the one I choose because of its professional meeting features, cost-effective plans, and super customer service. I cannot think of any reason why I don't use it for work.
If you are still looking for video conferencing tools for you business, try ezTalks cloud first. The best way to get more ideas on it is to try it yourself, and you can also visit https://www.eztalks.com/shop/index or Email them directly by support@eztalks.com.