Cryptology (https://cryptology.com/) is one of the leading digital currency exchanges (DCEs) that prioritizes simplicity. Because it is built for ease of use and includes enticing features to make navigation easy, the platform fits both rookie and professional traders looking for crypto coins to buy. Customers from almost all geographical regions, except for Japan and the United States, can access the site, which is maintained by a business incorporated in the Republic of Seychelles.
"Cryptology Earn" function allows users to make a cash flow from digital assets in addition to the standard crypto exchange and trading services.
Platform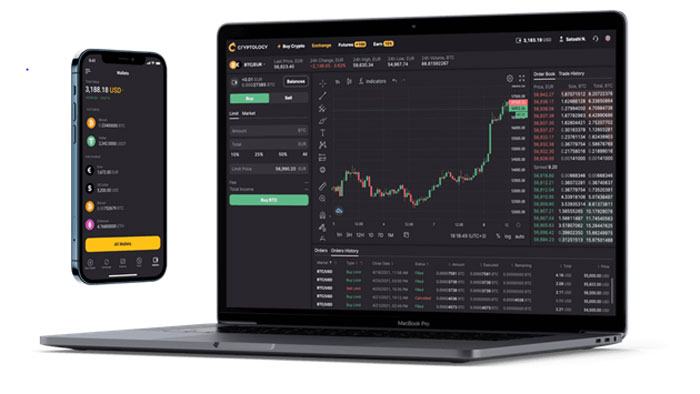 The user-friendly platform to buy crypto is available in the web browser and mobile app versions. To begin trading, customers may use any connected device with a browser to access the platform or download the required software for their Android or iOS phones. The multilingual platform is available in 12 different languages to encourage easy interaction for consumers from diverse geographies, including English, Russian, French, Spanish, Korean, Chinese, Japanese, German, Hindi, Portuguese, Polish, and Bulgarian.
Accounts
Making an account on the site is straightforward. Users must first provide information such as their email address, country of residence, and selecting a password for their account, which is then followed by a KYC procedure. The platform has two stages of verification, the first of which requires users to satisfy basic KYC criteria, which include entering personal information such as first and last name, proof of identification, and a photo of the user with the identity document for verification. Users that comply with the KYC requirements will gain access to trade up to $100,000 on their accounts.
Those who wish to go beyond the usual restrictions must go through the second level of verification, which requires them to produce proof of residency documents that include their name, address, and the issuer. To confirm your residential address, you must provide a utility bill, bank statement, and/or a government-issued document.
After completing all of these steps, customers will be allowed to begin accessing all of the services.
Cryptology Features
Buy Crypto
If customers can pay in USD, EUR, or RUB, they can purchase Crypto for the first time. On the crypto front, the site presently supports BTC, ETH, LTC, USDT, XLM, XRP, and ZEC. However, the site's crypto assets are always being increased, so additional currencies will be added as the site grows. Furthermore, the platform provides a fast conversion between BTC and USDT.
Cryptology Exchange
The exchange offers a wide range of crypto trading pairs via a customized trading interface. Market charts and analytical tools are included in the program. Users may trade popular cryptocurrencies against fiat and stablecoins using limit, stop-limit, and market orders.
BTC, ETH, XRP, DYDX, XLM, BCH, LTC, ZEC, USDT, DAI, USDC, TRX, BAT, KVI, PSC, 1INCH, EURS, EUR, USD, RUB, and more trading pairs are now available.
Crypto Futures
The Futures Market allows users to make long-term trades with leverage of up to 100X. When trading futures, users can select between cross-margin and isolated margin positions. To decrease the risk of default in high volatility situations, all futures trading platform transactions are protected by risk mitigation measures. The platform has developed a specific insurance fund as well as auto-deleveraging procedures to protect the interests of all parties.
With this platform, you can keep pace with Nasdaq BTC Futures, for example.
A futures contract is an agreement between investors that requires a trader to purchase or sell an asset within a particular time frame, for a specific quantity, and at a specific price.
Bitcoin futures contracts provide arbitrage possibilities because the investor will not have ownership of the currency until the expiration date. Instead, they are traded like any other asset since, just like the value of bitcoin, the value of various bitcoin futures contracts changes.
A futures contract position can be closed in three ways:
Offsetting: an investor creates another futures contract of similar value and size, resetting its liabilities as they balance;
Rolling over: the same as an offset, but with a longer expiry date;
Expiry: when a contract reaches its end date and the contract's parties purchase or sell at the agreed price.
Cryptology Earn
The platform's one-of-a-kind core feature, Cryptology Earn, enables users to create a passive income stream while hoarding their crypto holdings. Users may deposit their BTC, USDT, USDC, DAI, and EURS holdings and get up to 15% yearly returns, which is higher than any bank's interest rate in the world. Cryptology Earn gives customers a variety of lock-in time choices. Deposits can be locked for 30, 60, or 90 days and then paid out when they expire. During the whole period, profits will be recorded in the accounts on a daily basis.
Low Barrier to Entry and Attractive Fees
This is truly a platform that anybody may use. Regardless of past trading expertise, when a user joins the site, they may instantly begin using all of the available trading features. To promote participation, the app has a modest minimum order size of $0.10 or equivalent, allowing inexperienced traders to engage in low-risk trades without worry.
Furthermore, this is one of the platforms that offer low trading fees and commissions, which is an additional benefit for clients. The site now costs a creator and taker fee of 0.002. There are no rollover or overnight fees on open futures orders. For fiat and cryptocurrency transactions to and from the site, users must pay a modest deposit and withdrawal fee.
Deposit and Withdrawals
Before they can start trading on any platform, users must fund their accounts. Users on the site/app have the option of using either fiat money or cryptocurrency. Popular Visa and MasterCard debit and credit cards, Boleto, Loterica, Deposit Express, EUR SEPA, Wire transfer, and a range of cryptocurrencies like ERC20, TRC20, and Omni standard USDT crypto tokens are available for deposit on the site.
Users may also withdraw funds from their accounts in all accepted cryptocurrencies except BCH or by wire transfer.
Support and Security
This app has a robust customer service system that allows the support team to react to client questions in as little as 10 minutes when the situation is straightforward. Users may expect their complaints to be addressed in less than 24 hours, regardless of location or time.
Users can contact customer service by email at support@cryptology.com or by filing a ticket by clicking the support icon at the top of the website. In addition to contacting customer support, consumers may get answers to the majority of their concerns by browsing the vast FAQs section.
In terms of security, this platform employs all industry-standard cybersecurity measures, including SSL on the platform and 2FA for account access.
Conclusion
Cryptology achieves a balance between functionality and simplicity of use by combining all needed features onto a platform with a simple, easy-to-use interface. The website not only serves the existing crypto community but also attracts first-time crypto users by allowing low minimum orders of $0.10, accepting several payment methods, and providing passive money produced by the Cryptology Earn feature.