Finding a good writer becomes really difficult at times. You might not find a writer that is worth hiring for your job. Even if you find a skilled writer for your job, he/she might charge a high amount. So what to do in such a situation? Is there a way to find a quality content writer at affordable price? Yes, ContentMart is the website you should visit to find a skilled qualified writer. Not only the clients, the writers can also find big projects of great value from here. Let us discuss more about this awesome website below.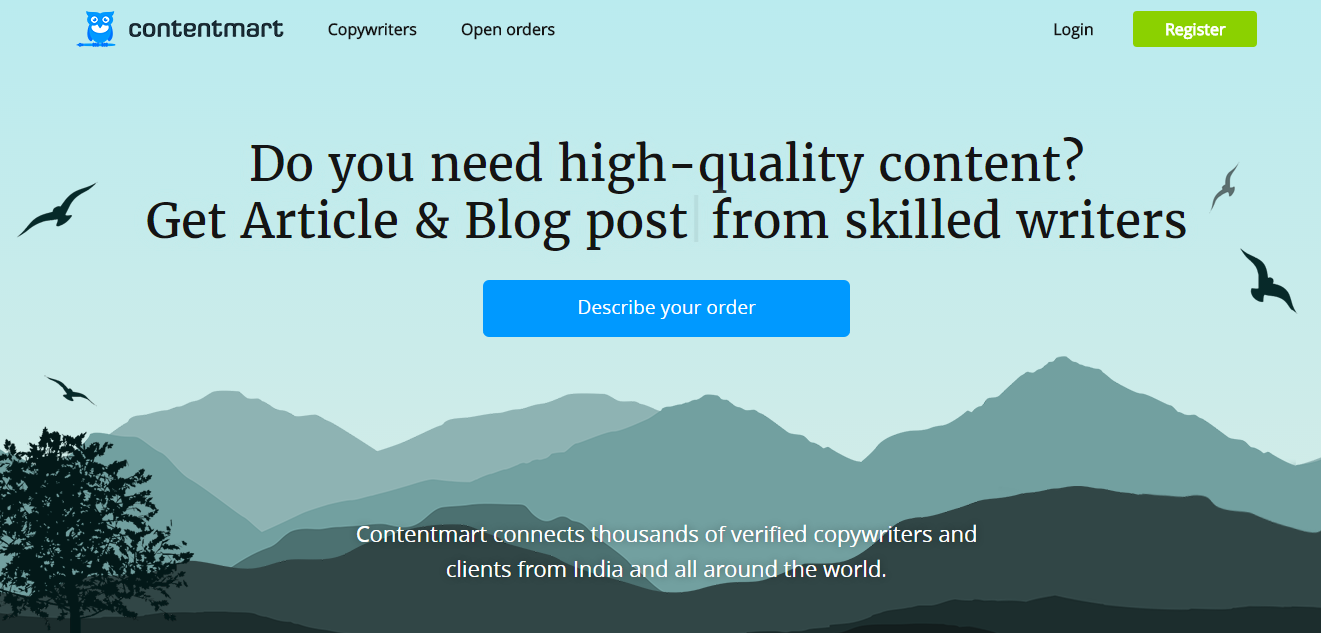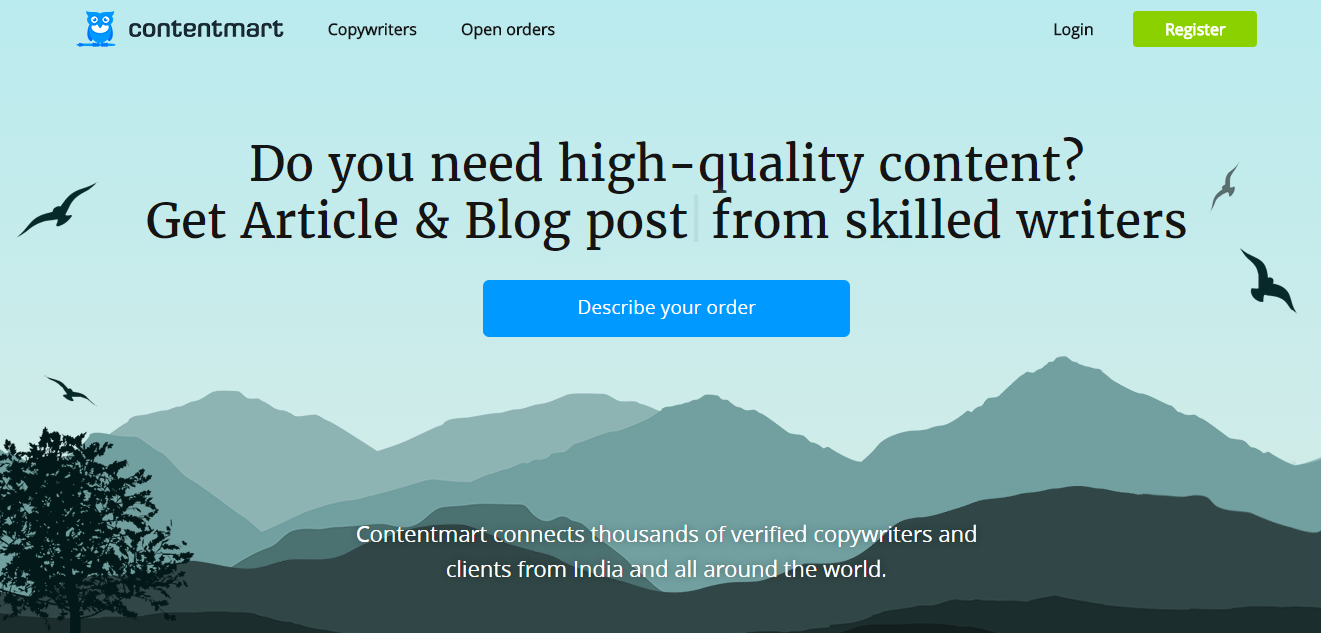 ContentMart – For Clients & Writers
ContentMart is a great marketplace for both clients and the writers. The clients can easily search for well-qualified content writers who can provide them top-notch content in desired niche. The site has gained immense fame in quite a little time. Today over 45000 writers and more than 43000 clients are connected with ContentMart. Let us look how well it behaves for clients as well the writer.
ContentMart for Clients
As a client, you will not have any difficulty in posting your content requirements at ContentMart. You need to register yourself on ContentMart first to place your order on the site. You need not provide your credit card details while registering with ContentMart. Once you fill in the details, you will be asked whether you wish to join as a 'Writer' or a 'Client'. You must choose 'Client' option.
You have an option to register through your Facebook id. If you are not willing to do so, you can also register through your email id. Once you have registered successfully, following page appears: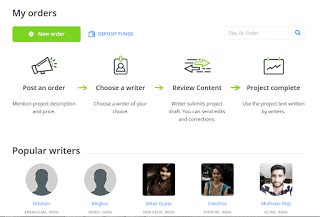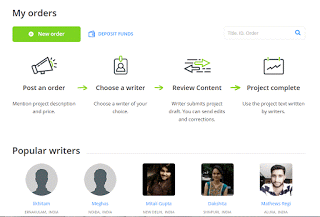 Now you must go to 'New Order' and follow the below mentioned steps to place your order on ContentMart.
Placing an order on ContentMart is not at all a cumbersome process. It is very much easy to place an order at ContentMart. Here are few steps for placing the order at ContentMart.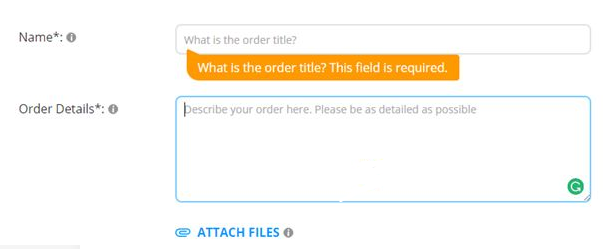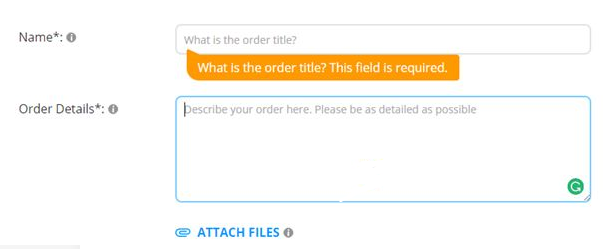 You must give a 'Name' to your order. After that describe the details of the order in 'Order Details' section. It will help the writers to see what are your requirements and if they can apply for this project. Now move on to the next section.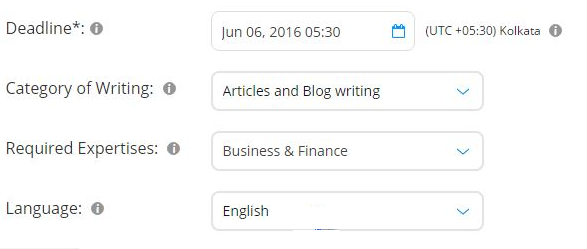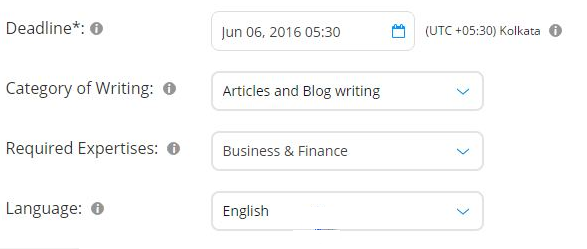 Fill in the vital details like 'Category of Writing', 'Deadline', 'Language', and 'Required Expertise'. Move ahead after filling these details.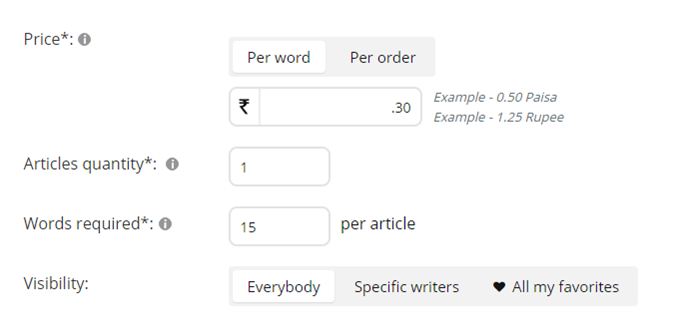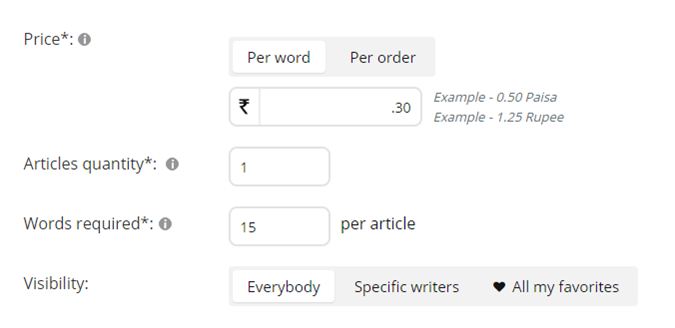 Mention the things like price per word, quantity of articles, words in each article, and the writers to whom you want your post should be visible.
Click on 'Publish' for posting your order.
After your order had been published and approved by ContentMart's team, the writers will start sending you the bids.
Now it's the time to hire the best writer for your project.
Once you have hired the writer and assigned him/her the work, the writer will deliver you the work on deadline. Failing to do so, the client can cancel the order. If the writer submits work on time, the client will have 5 days times to accept or reject the content after viewing. If the articles are accepted, the amount for the work will be transferred to writer's account. If they are rejected, the amount is refunded back to client's account.
ContentMart for Writers
ContentMart serves the writers equally well as they serve the clients. While signing in, you have to select 'Writer' rather than selecting 'Client' to work as a writer. Register by filling your credentials correctly. Once your account will be activated, you need to fill the important details like work preferences, education and other details to impress the clients. You even upload the work sample so that the client can look at your previous work.
Once you have successfully provided all the details, you can start bidding on all the orders that meet your interests. The bidding is completely free. Now, it would be up to the client whether he/she chooses you as the writer for the project or not.
If you are selected as a writer by the client, make sure that you complete the task assigned to you in the time constraints given to you. Once the client accepts your content, the payment will be transferred to your ContentMart account. You can withdraw the payments from your account only if they reach above 3000 INR. ContentMart will charge 10 percent of your total earning from the project. If your work is rejected by the client, no payment will be given to you.
Why Clients should choose ContentMart?
As a client, you need not pay any commission for getting your work done at ContentMart unlike any other content providing platform.
Well-Qualified writers are available at ContentMart in large numbers. You can easily receive a number of bids on your order and hire the best writer for the project.
It is easy to find which writer to choose as all the writers are graded according to their English Grammar knowledge and are also rated by previous clients.
You are given complete freedom to reject the work if you don't like it. You can even send it back to the writer for any editing.
Why Writers should choose ContentMart?
Over 43000 clients are associated with ContentMart. So, it provides a great opportunity to writers to find the good projects here.
The writers can withdraw the payments to their bank account directly when the payment reaches to threshold of Rs.3000.
It has safe billing. Once you are assigned the work by the client, the payment gets locked so that if the client cancels order in between or are unavailable at the time of payments, you get paid.
Unlike most of the freelancing platforms, this platform is solely dedicated to content writing.
Affiliate Program Offered by ContentMart
A person joining ContentMart can also earn money through its affiliate program. This affiliate program is totally free to join and if someone joins through your referral link, you get paid the 10 percent of your referral's income throughout the year. You can easily find the referral URL in the dashboard after signing in with ContentMart. Moreover, this affiliate program is optional.
Final Words
ContentMart acts as one of the sole content providing platforms that are totally based on content writing. A client can find number of freelance content writers here and hire the most suitable writer for his/her project. The writers can find a number of writing jobs from here and start making decent income on a regular basis with ContentMart. So, if you haven't tried it yet, it's the time to give a try to ContentMart.