The Android arena is peppered with a variety of trivia-style games for players to enjoy. Many captivating game concepts currently exist, including bubble shooter-style games where players are tasked with using tactics and strategy to blast their way to higher levels of the game, score points, and solve increasingly complex puzzles along the way. A multitude of bubble popping games currently exists at the Google Play Store, but one that stands out prominently is Bubble Shooter Classic.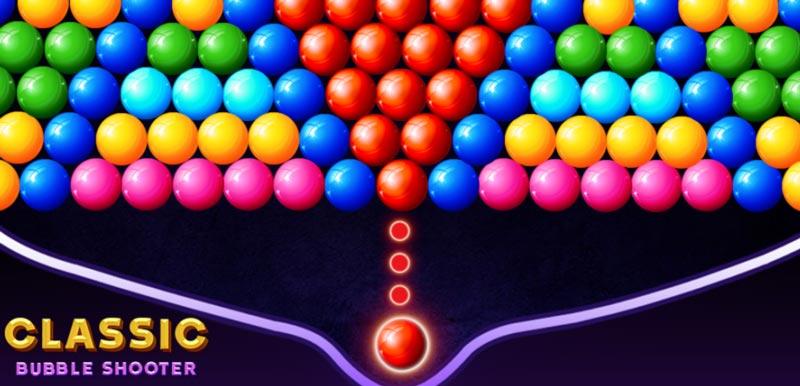 For starters, this game by developer llyon is highly regarded by players. With a 4.3/5 rating from over 6,138 players, it commands the respect and admiration of gamers across the Android universe. There are many enticing features in this game, including 800+ action-packed levels of power-ups and boosts. Its classic gameplay style is its biggest drawcard. You simply match and pop the same colour bubbles, in a pinball-style game format where you fire away to clear levels as quickly as possible.
Features of Bubble Shooter Classic
Bubble Shooter Classic is rated E for everyone. It is 100% free to download and install, and within moments you will be able to transform your Android smartphone or tablet into a mobile gaming universe. Of course, you'll have to contend with various advertisements and other in-app purchases since this game is available at zero cost. Nonetheless, the gameplay is superb. The game developer has poured tremendous time and effort into making this as captivating and interactive as possible. You have 800+ levels to play through – that's enough to keep you entertained for hours and hours on end.
So, how does it play out? You simply match 3 of the same colour bubbles to remove them from a game level. As soon as you clear all bubbles on a screen, you advance to the next level. Once you clear a level, you will receive 3 stars. The more stars you receive, the better your ranking in the game. As you advance through different levels of this strategy-based puzzle game, you will be able to enjoy things like power-ups and boosts along the way. Perhaps the most exciting features of the game are the fireball and bomb elements. When you pop 7 bubbles at once, the fireball will light up your screen and blaze a trail before your eyes. When you are lucky enough to pop 10+ bubbles at the same time, a bomb will explode and eliminate all the surrounding bubbles on the screen.
There are also several special bubbles available; these include the slime bubble which slips and spreads, the chained bubbles which require you to break the chain before you can pop them, the stone bubbles which are only susceptible to bombs and fireballs, and the diamond bubbles which need to be dropped instead of popped. These great features are now available in this classic bubble shooter game
Stats About Bubble Shooter Classic your Way, this Android Game
To date, this great puzzle-style game has been downloaded and installed between 1 million and 5 million times. You will require an Android 4.1 and up to run this game since it features high-quality audio-visuals and interactive gameplay. Since it's rated E for everyone, it's great for the whole family. There are in-app products that range from $0.99 through $104.99 per item, but overall you can get through the game without laying out a cent. The HD audio-visuals make for a captivating session of gaming.
The bubbles are set against a black backdrop, highlighting the colours and the features that you will see when the fireball and bomb elements are activated. There's something uniquely appealing about bubble games, and Bubble Shooter Classic has certainly tapped into our collective psyche to make this one of the most intrinsically effective Android games. Perhaps it harkens back to bubble popping itself – there is a lot of science and psychology behind the addictive nature of popping bubbles, shooting at bubbles, and playing bubbles-style games. Scientists believe that these types of attractions are ingrained in our psyche. Whatever the science, psychology and evolutionary connection, this Android game is a sure-fire winner!