Best Twitter Management Tools: Hello everybody, today I am going to introduce you 7 Best Twitter Management Tools, which will help you to manage your Twitter profile up to a great extent with a lot of additional features which you cannot get with just a simple Twitter profile.
Before going to get the list, let us have a short debate, why we need the Management Tools for our Twitter account. Twitter is a powerful Social Media Network with millions of active users all across the globe and also used a professional marketing tool and promotional tool by many of the webmaster, SEOs, bloggers and other people.
There are millions of Twitter profiles. The most important thing that mostly decides the potential of a Twitter profile is its number of followers. Now, there are a lot of ways to gain Twitter followers. Advertising is always an option, but we are talking about the organic conversions.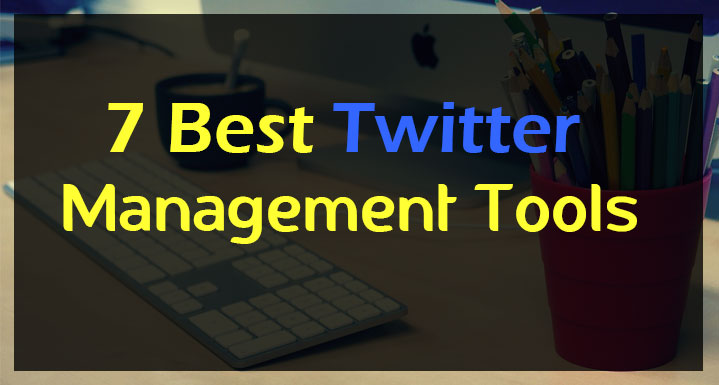 Organically, if we follow users, a lot of them are most probably likely to follow us back, if we keep on this follow-following thing, no doubt it will increase the number of our followers, but on the other side we are also raising the number of people that we are following.
Everybody wants that his or her Twitter profile may have maximum followers and minimum people who they follow. Though, there are very rare cases in which these things are possible such as in the case of Twitter profiles of the popular celebrities. But if a normal Twitter user has to keep a balance of the followers and the people, they follow they need to have a proper plan that can easily be maintained by a Twitter management plan. This is the primary reason that why we should be using Twitter Management Tools to manage our Twitter profile.
There are many other things that a Twitter Management Tool can help us to do with our Twitter profile. Most of the Twitter Management Tools are known for their automated Twitter profile management. They can manage our Twitter profile without our help; they can work even when we work or sleep.
They can send direct messages to the people who follow us, such as the Thank You messages for following or other promotional messages as well. They can post on our Twitter profile regularly on our behalf. They can analyze our Twitter profile on the basis of various statistics and can help to find a possible way to grow our Twitter profile or for maintaining its standard.
As of now, there are a lot of Twitter Management Tools available to help you to automate the work related to your Twitter profile to save your precious time that you can instead use somewhere else to grow your business or to have success in your profession.
Many of the webmasters, Social media marketers or other Twitter profile holders when wanted to have such a tool to manage their Twitter profile, they get confused which tool they should be using. That's why to help those people or everybody else who is reading this article; I am going to list a well-compiled list of 7 Best Twitter Management Tools.
7 Best Twitter Management Tools
Finally, you have reached up to the list for which you are awaited for, the list of Ultimate 7 Best Twitter Management Tools. Many of these tools have a lot of similar features. These features may be call as the essential features as these are the key features that every Twitter Management Tool should have to help in growing your Twitter profile. Exceptionally, there are some great tools that have some unique and special features that are going to impress your mind directly. Let's see the list.
1). ManageFlitter
2). Tweepi
3). SocialBro
4). BuzzSumo
5). HootSuite
6). Crowdfire
7). SocialBearing
Let us now discuss the features of each of these Twitter Management Tools. As, we already know, all of these tools will help you to Manage and grow your Twitter profile, and I have already described all of these things in a summary above, now I am going to list quickly, the features of these remarkable and incredible Twitter Management Tools. After this list of features, we'll also discuss a little about the pricing offered by each of these 7 Best Twitter Management Tools.
1). ManageFlitter
Website: https://manageflitter.com/
Here are the major features offer by ManageFlitter, one of the Best Twitter Management Tools and best twitter unfollow tool.
PowerPost feature allows you to get your Tweets reach to more and more of your followers.
Helps you to compile all of the Analytical Details of Your Twitter account so that you can achieve new goals.
You can unfollow your non-followers or manage your other existing followers and people whom you follow yourself easily. This way you can increase the number of followers of your Twitter account and can also maintain the level of people you following on Twitter.
Using their search feature, do the most out of your Twitter profile.
Offers Multiple Twitter accounts management.
So, these are some incredible features offered by ManageFlitter to manage completely your Twitter profile. ManageFlitter is already being trusted by thousands of people and you can try it for your Twitter profile as well and can feel the positive change.
2). Tweepi
Website: https://tweepi.com/
Tweepi is an ultimate Twitter Management Tool, which can help you to manage and grow your Twitter profile in multiple ways. Here are some of the features offered by Tweepi.
Find the relevant users who might be interested in your content and might be the probable ones to follow your back.
Interact with the users via this tool and mentioning them, and also get them noticed via the notifications. This is an awesome way to increase your number of followers.
You can easily unfollow those people whom you followed but are they are not following you back. In short, you can unfollow your non-followers and can have a neat and clean Twitter profile.
It includes some unique and awesome features that everybody would like to have for their Twitter account. One of such features is multiple account management. This is a good feature for the people who want to manage multiple Twitter profile at the time of doing their other important works as well.
3). SocialBro
Website: https://audiense.com/
SocialBro is another great tool to manage up your Twitter profile. Some of its features are listed below.
You can search for the people who you might follow or whom should follow you. Means you can find the relevant followers for your Twitter profile.
Explore your Competitors who are competing with your Twitter profile.
You can easily optimize your Tweeting Schedule to get more and more organic impressions for your Twitter profile.
Get the insights for your audience and well-compiled Twitter analytics.
One of the good things about SocialBro, its interface that is pretty easy to navigate through and use.
4). BuzzSumo
Website: http://buzzsumo.com/
BuzzSumo is not just a Twitter Management Tool; it is much more than it. Mainly it is known for its Content Research features. The features of BuzzSumo are listed below.
Get Content related ideas to post on your Twitter profile.
Find the content that is shared the most.
Build a list of influencers.
Research about your competitor's content.
You can export all of the data into spreadsheets or Excel
You can create various types of content alerts.
BuzzSumo is good Twitter Management Tool if you mainly focus on producing genuine content that your readers might have been interested to read or see.
5). Hootsuite
Website: https://hootsuite.com/
Hootsuite is an incredible Social Media Management tool that you can use to manage your Twitter account. Some of the features that Hootsuite offers are:
Increase Engagement of users towards your profile by various methods such as the auto post scheduling.
Monitor your Twitter account up to a great extent.
Get all of Analytics and Insights that may help you to grow your Twitter profile.
You can add multiple members to manage your Twitter profile. Good to manage profiles of Businesses.
Keep everything protected with their ultimate Security that they offer.
Not just Twitter, you can manage over 80+ applications using Hootsuite.
6). Crowdfire
Website: https://www.crowdfireapp.com/
Crowdfire is a smartphone application and not a web browser based service that can help you manage your Twitter as well as Instagram account. Some of the features offered by Crowdfire as listed below.
Find you non-followers and unfollow them quickly.
Find the people who follow you but you don't followed them back.
Find the people to whom if you follow, you are likely to followed back, thus directly grow the number of your Twitter profile.
Make various types of users list.
Send automated messages to the users who follows you.
You can search tweeps by location and keyword also.
Crowdfire is a beautifully designed app and on just PlayStore it has more than a million downloads expressing its popularity among the users to manage their Twitter and Instagram accounts in a smart and efficient way.
7). SocialBearing
Website: https://socialbearing.com/
Here are some incredible features of SocialBearing.
Get the data of real-time Twitter search and other complete insights and analytical details regarding your Twitter profile.
Find the interested Twitter profiles for your account.
Sort the Twitter profiles by a number of factors such as by reach, engagements, and languages.
Find your Top influencers, mentions, and hashtags.
Tweet photos on your Twitter profile wall and the search of a variety of things like user Timelines, followers and the people whom you follow as well.
Thus, SocialBearing has almost each and every feature to manage and grow your Twitter profile.
So, these are the 7 Best Twitter Management Tools. Some of the features of the above tools are free and for some, you have to pay as well. Most the Best Twitter Management Tools which can manage your Twitter account flawlessly needs a pro membership that you need to have for paying some money. But all of the tools offers the ultimate features which worth for your money.
So, this was my article of 7 Best Twitter Management Tools. If you have any confusion, question or any other query, please feel free to ask from me via the comments. If you are already using a tool to manage your Twitter profile, which seems to be the Best for you, Please suggest us it also via the comments and also points out from the above the list, the name of the tool that impresses you the most or which you would like to have for you to manage your Twitter profile.
Thanks for reading. If you enjoyed reading, please share this article at Facebook, Google+ and Twitter etc. and let other know the Best Tools to manage their Twitter accounts, help others to get most out of their Twitter profiles.